Patriots win big over the Ravens in the wind and rain
Harris shredded the Baltimore defense for 121-yards from scrimmage, while Burkhead tallied two receiving touchdowns
The second half of the NFL season kicked off with a battle between dual-threat quarterbacks as the 6-2 Baltimore Ravens traveled to Foxborough to take on the 3-5 New England Patriots. The Sunday night duel featured heavy rain, cold temperatures and wind speed up to 58 mph. Harsh weather conditions typically result in a larger reliance on the ground game, which meant stopping Lamar Jackson and the Ravens' rushing attack from advancing the ball was a focal point in the Patriot's gameplan. 
Stephon Gilmore missed his third straight game, while linebacker Ja'Whaun Bentley was also inactive with a groin injury. N'Keal Harry suited up after missing two games due to a concussion. The Ravens were without defensive powerhouse Calais Campbell (calf), snapping his streak of 98 straight starts. 
Heading into the matchup, Damien Harris ranked second among all running backs according to Pro Football Focus. Since returning from injured reserve in Week 4, Harris trails only Dalvin Cook in PFF grade. In only his sophomore season, Harris has carved out a name for himself and solidified his role as the Patriots' top back.
After a pedestrian first quarter from both teams, the Ravens opened up the scoring with a dump-off pass to Willie Snead for the 6-yard touchdown. The momentum from last week's big win in New York seemingly carried over, as Cam Newton took to the field and responded with a quick 19-yard pass to Jakobi Meyers. Ryan Izzo also got in the mix, snagging a soaked 20-yard strike over his head to put the Patriots in Baltimore territory. The Patriots displayed confidence in Newton's hot-hand and called on him to throw the ball in the red zone — something he's struggled with this season. Their confidence paid off and Newton delivered a 7-yard touchdown pass to Rex Burkhead, Newton's first passing touchdown since Week 3.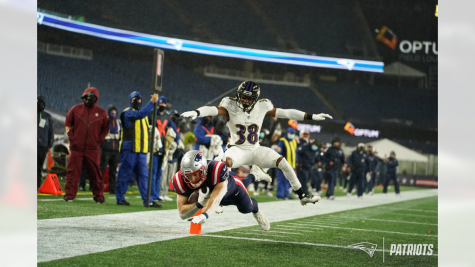 Jackson's ability to run the ball did not falter in the rain, as he slipped through the hands of defenders to advance the ball downfield. His success as a runner commanded more attention from the Patriots' secondary, and in turn, allowed receivers to find themselves wide open. The Patriots' defense was able to force a stop in the red zone, while Baltimore settled for a 24-yard field goal that Justin Tucker impressively converted in poor weather.
With the rain picking up and the ball becoming more and more difficult to catch, Harris comfortably stepped into his role as the workhorse, taking 6 carries for a well-earned 39-yards on the drive. Throughout the entirety of the contest, Harris was able to bowl his way through the stout Baltimore defensive line, and rip through tackles. He ran the ball with a sense of urgency every time he touched it and made it a chore for defenders to take him down. Meyers was also able to move the chains, as he converted a crucial third down and four with a 4-yard catch. Later on that drive, Meyers performed a trick play to perfection as he caught a backward pass from Newton and then launched a 24-yard bomb to a diving Rex Burkhead for the touchdown. Meyer's skills as a high school quarterback shined as he produced the Patriots' biggest offensive highlight of the season.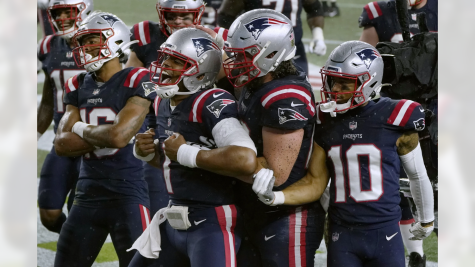 With a minute left in the half, cornerback J.C. Jackson picked off Lamar and prevented Baltimore from gaining any momentum before heading to the locker room. Jackson now leads the entire NFL with six interceptions on the season and set a franchise record with five straight games tallying an interception.
New England came out of halftime with a full head of steam, as Harris picked up where he left off, taking two back-to-back carries for gains of 16 and 25 to get the offense rolling. Newton then stepped up in the pocket and threw a perfect ball deep left to Meyers for 26-yards. Baltimore had no answer as Newton took the snap for 4-yards and the score, giving New England a double-digit lead which they would not relinquish.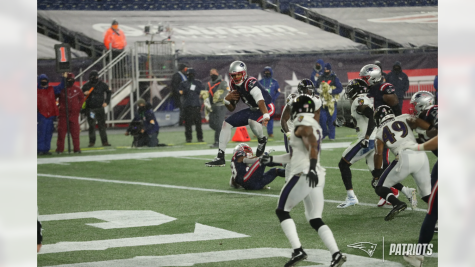 Despite another Raven's touchdown, New England was able to cling to their lead and win the game 23-17 thanks to Mother Nature, who created a monsoon that drowned out the Raven's comeback aspirations. Harris usurped a large workload with ease and feasted on the Raven's secondary with 121-yards on 22 touches. Burkhead commanded the majority of the targets in the backfield and completed the game with 4 catches for 35-yards and two touchdowns. Newton finished with a passing and a rushing touchdown for the 41st time in his career, on top of completing 13/17 passes for 118-yards; which was an impressive feat considering the torrential downpour. His top target, Meyers, finished with 5 catches for 59-yards and one spectacular passing touchdown. That being said, the Patriots' offensive line did a fantastic job of protecting the ball and created massive gaps that Harris was the prime beneficiary of.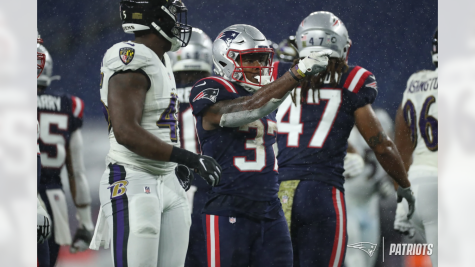 This season has been rough at times, but Newton has certainly won over the hearts of his teammates, the coaching staff, and Patriots fans everywhere. He has been far from perfect, but regarding his comeback from surgery nearly a year ago to testing positive for the coronavirus, Newton has performed better than most any other quarterbacks would perform in his position. The Patriots could very well have a 6-3 record if Newton did not get stuffed at the goal line against Seattle or fumble the ball against the Bills. Minor mistakes have made all the difference this season, and the Patriots did a sure job of correcting them in Sunday's big win. They also proved the tight win against New York last week was no fluke by beating an impressive Ravens team. They will look to add on to their win streak next week against a vulnerable Houston Texans squad.