Patriots' playoff hopes diminish as they fall to 4-6
Rex Burkhead fears to have torn ACL in loss to Houston Texans
After an impressive victory in the rain, the New England Patriots traveled to warmer weather in Houston to take on the Texans. Stephon Gilmore returned to action after missing the past two games with a knee injury and had his hands full containing the speedster and former Patriot, Brandin Cooks. Sony Michel was activated off injured reserve on Saturday, but was a healthy scratch for the away game, further exemplifying Damien Harris' role as an RB1. Houston gave up 231 rushing yards last week against Cleveland, so Harris will aim to make a splash early.
New England's offensive first quarter statistics are ranked worst in the league in total yards and passing yards, and their only first-quarter touchdown came against the Jets in Week 9. This is something the team will hope to correct facing a middle-of-the-pack Houston defense.
After some solid run defense from defensive tackle Lawrence Guy and company, New England's offense got down to business. James White put his speed on display and was able to take a pass behind the line of scrimmage for 34-yards, thanks to some excellent blocking from the offensive line. Harris found success the way he usually does, running up the gut and breaching through holes in the secondary. The impending threat of Harris' run forced Houston to stack the box, which allowed Cam Newton to perform the play-action to perfection and delivered a strike to Damiere Byrd for 17-yards. The drive was perfectly executed from start to finish, and Harris was able to waltz into the endzone untouched for the 9-yard touchdown.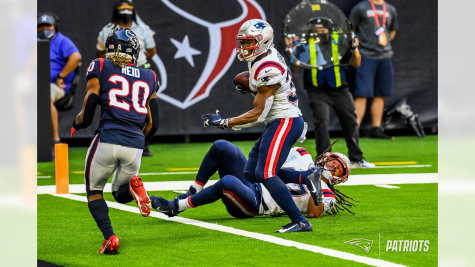 Deshaun Watson took the field for the Texans and was able to find a wide-open Cooks deep downfield for 44-yards. This long gain set up a 3-yard passing touchdown to Randall Cobb, to tie the score at 7 apiece.
After punts from both teams, New England devised some trickery to get themselves downfield. Rather than catching the ball like he did last week, Rex Burkhead threw a backward pass to Newton, who tossed the ball to Jakobi Meyers for a 20-yard gain. This gadget play set up a 45-yard field goal from Nick Folk, his sixteenth consecutive make without a miss. 
 Although the win column does not show it, Watson has quietly been having a career year. He decided to prove it against the Patriots. His skills were on full display as he dissected the New England secondary for completion after completion. Watson showed his abilities as a runner when he put his shoulder down and laid a bruising hit on Devin McCourty for the 4-yard touchdown. Watson's reign of terror did not end there, as he was able to get the ball back and connect to his two tight ends, Jordan Akins and Darren Fells, to get the ball downfield. A nullified touchdown from Cook would not be enough to slow the Houston offense down, as Watson collected himself and delivered another touchdown pass, this time to receiver Keke Coutee for 6-yards. This score concluded the half and left the Texans firmly in the driver's seat, leading the Patriots 21-10.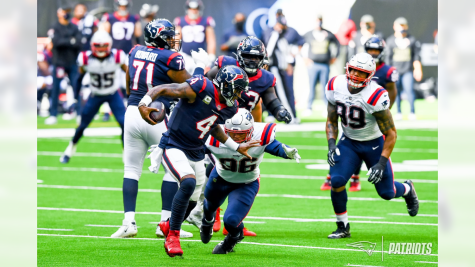 After the half, New England became stagnant and failed to get anything going offensively. As a result, Harris was phased out of the contest as the game script did not work in his favor, and White began racking up the backfield catches. During the opening drive of the second half, Burkhead took a tough hit and sustained a devastating knee injury that would take him out for the remainder of the game.
With nothing clicking on offense, Damiere Byrd became Newton's primary target. Byrd was able to gain separation downfield and convert on a crucial third down in the third quarter with a clutch 30-yard catch. After a couple of short passes to White, Newton threw a long ball downfield to Byrd for a spectacular 42-yard touchdown catch over his head.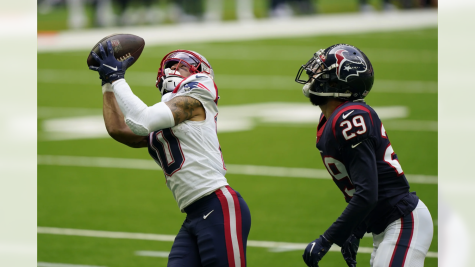 Both teams traded field goals, and New England received the ball with 4 minutes left and a chance to win the game. N'Keal Harry got active after going catch-less last week, snagging two consecutive passes for gains of four and six to move the chains. The offensive line failed to pick up the blitz, and Newton was forced to operate under pressure on several of his throws which resulted in incompletions. This put Newton in a 4th down and four situations on Houston's 24-yard line to win the game. Newton was trapped by the blitz that killed New England all game and threw up a wild pass that hit the dirt. Newton tossed a 50-yard hail mary that Ryan Izzo was able to come down with, but was 12-yards short of the endzone. For seemingly the hundredth time this season, New England drops another nail-biter in heartbreaking fashion. 
With the loss, the Patriots now fall to 4-6 on the season, and their playoff hopes are fading fast. The Dolphins are on a five-game win streak, and the Bills are sitting pretty atop the AFC East with a 7-3 record and a bye this week to rest up. The offense struggled to protect Newton, who had no choice but to throw the ball without setting his feet on several occasions. The defense failed to apply pressure to Watson, who had all day to operate from the pocket and scramble for first downs. In turn, the secondary could not cover receivers, and tight ends often found themselves wide open for large gains. 
Newton completed 26 passes on 40 attempts for 365-yards, his largest passing total since Week 2 at Seattle. Newton also threw his first touchdown pass to a wide receiver this season in Byrd. Byrd was Newton's top target and concluded the game with 6 catches and 132-yards and the long touchdown. This encouraging performance through the air resulted in a season-low 3 carries for a season-low 6-yards, and was not enough to put the Patriots out in front. The Patriots will take on MVP candidate Kyler Murray and star receiver Deandre Hopkins when the Arizona Cardinals travel to Foxborough.
Email Michael at [email protected] or follow him on Twitter @araujo_michael