UMass must do more for the Racial Justice Coalition
It's time for UMass to show support through actions, not just words
Chancellor Subbaswamy has neglected his responsibilities in regards to the Racial Justice Coalition and UMass for Black Lives. Both groups presented a joint list of demands to him and other administrators on July 20th of last summer and received a response in August. Since then there has been a back-and-forth between the administration and students to get the demands implemented. In the two accountability meetings between the "Senior Leadership Team" and students, it became quite clear that there are those in this administration that are willing to work with students and those that aren't, even serving as impediments. 
These individuals report to the Chancellor, and thus far he hasn't taken true action beyond delegation. One such instance is that a few of the demands are related to the school's Center for Multicultural Advancement and Student Success (CMASS), which has a mission to "support the student success and sense of belonging of first-generation, students of color, multiracial students, and low-income students." They do this mainly through four cultural centers: Malcolm X Cultural Center, Josephine White Eagle Cultural Center, Yuri Kochiyama Cultural Center, and the Latin American Cultural Center. 
These demands include: "Increase funding for academic resources for Black, Indigenous, People of Color (BIPOC) students;" "Ensure the safety and accessibility of all Center for Multicultural Advancement and Student Success (CMASS) centers;" "Empower student voices within the Center for Multicultural Advancement and Student Success (CMASS);" and "Administer annual internal assessment of the cultural centers and the Stonewall Center and reconfigure operations accordingly." As of now the only demands that have some sort of progress are the ones about the internal assessment and safety and accessibility. The others seem to be non-starters, as Subbaswamy and those responsible for these demands have made it clear that they aren't a priority. 
The demand for increased funds most likely won't happen because there has been a systematic effort by the administration for years to undermine the centers, first through the creation of CMASS as an umbrella organization for the different cultural centers that were in place under the guise of "multiculturalism." The "empower student voices" demand is also a non-starter because Wilma Crespo, the Director of CMASS does not treat her student employees fairly, nor does she believe the students that work under her are autonomous or deserving of autonomy. This is proven in the way she treated the MXCC staff in the spring of 2020 before the pandemic shut UMass down. 
I helped to organize the Black History Month dinner the MXCC puts together every February, and we weren't given much guidance by Crespo until the day of the event. About a month before she had stopped into the MXCC to see where the staff was in terms of progress and had asked us to take on roles. I picked being the MC for the night, and since I had to take time off of class that day for it I needed her to write a note to my professor explaining the situation. I had told her this beforehand, and she ended up writing the letter, but not without telling me about how my education had to come first going forward and I couldn't sacrifice it for events like the dinner. 
The dinner was on February 27, 2020, and I showed up about an hour early to see what had to be set up. Wilma hadn't arrived until about 10-15 minutes before the event was going to start, and luckily most of the prep work was already done beforehand. The night went off without incident, but it's moments like this one that made me question her commitment to the cultural centers, CMASS as a whole, and the needs of minority students on campus to ensure their success.
She also compared the supposed lack of effort we were putting into what the other centers had done up to that point in an email. Additionally, at the end of the semester, the MXCC and the YKCC did a joint conference on the history between the Black and Asian/Asian-American communities, and how best to unite under a common goal. I worked directly with staff from the YKCC to plan it and to get the word out as much as possible. Crespo seemed hesitant to go with it at first but she came around. Five days before the event Crespo reached out to me and asked to add in a panelist she knew personally, one that did not come from either community and to me wouldn't add anything meaningful to the conversation. The panelist did have some good points, but most of the time she sat in silence while the others did most of the talking. 
While Crespo is certainly a symptom of the problems facing CMASS and the centers, she is not the cause. She works for Assistant Vice Chancellor for Academic, Inclusion, and Support Programs Shelly Perdomo, who works for Student Affairs & Campus Life Vice Chancellor Brandi Hephner-Labanc, who works for Chancellor Subbaswamy. Not once has the Chancellor stepped in to let Wilma, Shelly or LaBanc know how valid these concerns are, nor does he care. He talks a big game but refuses to listen.
A separate set of demands were created by cultural center student staff and sent to Hephner-Labanc, Perdomo, and Crespo. The Cultural Center Demands outline what is needed for the centers to be fully functional to best support students of color and other minorities on campus.
I understand the pandemic continues to put a lot of things on hold, but these demands are not new. A similar version was sent in 2019, and the response to those were much the same. To me, these answers are extremely insufficient and represent a pattern of behavior that goes back to the Chancellor and his lack of empathy with minorities on campus. If he truly cared about giving them a chance, he wouldn't hesitate to do what's right regardless of the consequences. Yet so far he hasn't, and he probably won't. Money and stature are the names of the game, and he subscribes to it heavily.
Email Zach at [email protected]
About the Writer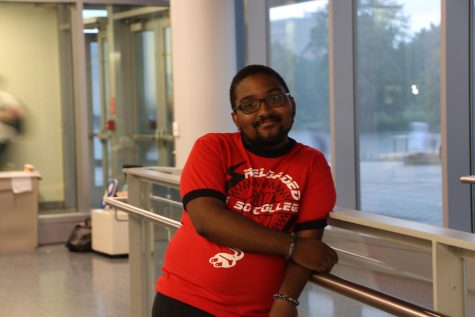 Zach Steward, Politics & Op-Ed Editor
"A man who stands for nothing will fall for anything"

- Malcolm X