The Return of SuperCam
Can Cam Newton overcome 2020 and surge back to prime status in 2021?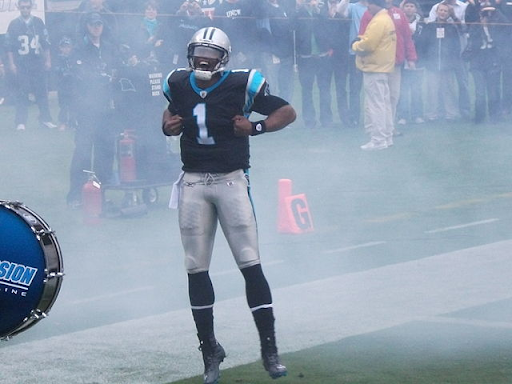 Brash, confident, and unapologetically himself. These qualities helped Cam Newton rise to the top of the ranks in 2015 en route to being named the MVP of the National Football League. He won the title his way, regardless of who it upset, along the path to Super Bowl 50.  Six years and several injuries later, Newton is now seen as a backup plan for some New England fans. No longer controversial for his on-field personality, Newton has divided the Patriots fanbase after a disappointing 2020-2021 campaign. It's glaringly obvious that the issues with the team went far beyond Newton and he'll need a spectacular 2021-2022 season to redeem himself, akin to what we're used to seeing from him.
Arguably, his supporting cast is where the greatest faults lie in the "new" New England franchise. Newton had the worst tight end group in the league by a wide margin. The Patriots' tight end corps totaled 18 catches as a group. Tight end"1″ Ryan Izzo had 13 catches for 199 yards on 20 total targets, Devin Asiasi had a touchdown and two catches for 39 yards and Dalton Keene had a fumble and three catches for 16 yards. Together, this group had 33 targets which was the lowest in the NFL far behind the next lowest contender,  66 by the Buffalo Bills. This wasn't exactly surprising considering Asiasi and Keene are both 3rd-round rookies and Ryan Izzo is historically a blocking tight end, but for Newton, he's always loved throwing to his tight ends (specifically Greg Olsen.) He lacked go-to guys this past season. For context, during the 2014-2016  seasons, Olsen became the first tight end ever to reach 1,000 yards in three consecutive seasons and Panthers tight ends had 148, 151 and 149 targets respectively. Targets are an odd way to measure the use of a tight end group but it's pretty telling when you're throwing to them at the lowest rate in the league.
In addition to a weak tight end team, Newton was working with a young, inexperienced receiver corps. Before his eventual retirement last week, Julian Edelman played six games until a knee injury sidelined him for the rest of the season. N'Keal Harry still struggled to generate separation consistently. Damiere Byrd showed potential as an outside receiver but seems to be a depth receiver at best and a mix of return specialist Gunner Olszewski. Late season pick-up Donte Moncrief and practice-squad promotion Isaiah Zuber left a lot to be desired in terms of receiving depth. Luckily, Edelman's injury opened the door for Jakobi Meyers to get some snaps in. Meyers showed he deserves to be a part of the Patriot's long-term plans. From week six onwards Meyers averaged 65 yards on 5 catches with a very solid 12 yards per reception each game. He was money at converting third downs, gave Newton a reliable security blanket, and threw two touchdowns for good measure. I'd like to see him get more receiving touchdowns, any number to start, but Meyers should be a mainstay in New England for years to come.
This is a stark contrast to what Newton will get to work with for the upcoming season. The Patriots invested in skill positions on the offensive side with the additions of Nelson Agholor and Kendrick Bourne this offseason in free agency. Combined the pair had 1563 receiving yards and ten touchdowns last year. In addition to Agholor and Bourne, the Patriots added two Pro-bowl caliber tight ends in their prime; Hunter Henry and Jonnu Smith. Henry is an elite run blocker who can eat up the middle of the field similar to Rob Gronkowski's previous accomplishments in New England. Smith adds a similar blocking quality while simultaneously lining up in varying positions across the formation whether it be as an inline tight end, in the slot or even in the backfield as the running back. Smith totaled eight touchdowns last season and has a tendency to score in the Redzone, something the Patriots so desperately need. Last season, the Patriots scored on 54 percent of their Redzone trips which was good…  for 24th in the league. Adding guys who know how to score on top of a strong rushing attack spearheaded by Damien Harris makes this Patriots roster potent offensively.
To many, this is all a bit of a moot point. There are still people who see the mistakes that Newton made last year and feel that those were indicative of his skillset. They might believe we have seen the last of Newton's best years. To that, some perspective would help. New England fans are used to perfection in the quarterback position. For decades the region was graced with the mechanical arm of Tom Brady who threw every pass exactly the same and knew how to maneuver a pocket with no wasted steps. Newton is just not that guy, and he never will be. He may improve his mechanics a little bit over the offseason, but seeing a guy ramp up his accuracy in a manner similar to Buffalo Bills quarterback Josh Allen is almost unheard of. Newton has always had a low release that tends to get blocked at the line. He's always had a tendency to miss some passes.
That doesn't mean he can't be a good quarterback for this team. He showed that he can stay healthy for a full season and those freak injuries were just that – freak injuries. His ability to create plays with his legs is still there. If anything, he seemed to trust the team a little too much last season. When going back to watch the games, Newton often held the ball for longer than he should have. He was left waiting for a receiver to get open that never quite would. If Newton committed more to scrambling last season, he would have seen far more success. Beyond Newton's needed improvements, the offense must be more focused on taking deep shots and trusting weapons rather than playing conservatively and hoping for the defense to put the offense in a good position.
I don't want this to come across as me being a Newton apologist. I love Newton and the swagger he brings to every game. I want nothing more than him to be the next quarterback to bring a championship to New England, but he was not perfect last season. There were missed throws, bad reads and plenty of turnovers. On the plus side, Newton gave strong leadership and enthusiasm in a losing season, showed the ability to make some breathtaking throws and a cerebral connection with receiver Jakobi Meyers. The pieces are there for Newton to thrive this season, and it will be up to him to seize that opportunity. Will we see the return of Supercam?
Email Taylor at [email protected]