UMass Amherst to pursue investigation into sexual assault allegation
After Chancellor Subbaswamy sent an email Monday night about Sunday's protests amid sexual assault allegations at Theta Chi, an investigation is taking place, per UMass Communications Director.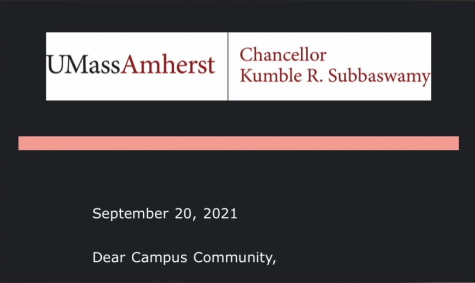 After two days of protests and demonstrations led by University of Massachusetts-Amherst students in response to a sexual assault allegation made against the Theta Chi fraternity, university officials have confirmed that a formal investigation is ongoing. 
According to UMass Communications Director, Ed Blaguszewski, the university is trying to gather as much information as possible.
"We're in the process of assessing the situation and encouraging people, if they know anything, to reach out and tell us," said Blaguszewski.
The allegation stems from a post made on an anonymous social media platform, Yik Yak, in which a user reported that a girl was drugged and sexually assaulted at the Theta Chi fraternity house on Saturday, Sept. 18. 
The post went viral and word quickly spread around campus. A series of protests and demonstrations were held this past Sunday and Monday in response to the reported assault. 
Theta Chi was suspended in February of this year for hosting large parties, disregarding the university's previously instated COVID-19 restrictions. 
Over 300 students attended the protests Sunday and over 1 thousand on Monday; most could be heard calling the fraternity brothers "rapists" and demanding that the university disband the all-male student organization. 
A petition was also formed calling for the suspension or termination of the UMass Theta Chi chapter. The document has garnered nearly 22,000 signatures. 
The reported victim has not spoken out publicly about the incident. Theta Chi members have also refused to comment on the incident.
UMass Chancellor Kumble R. Subbaswamy released a statement Monday evening condemning the sexual assault allegation.
"We condemn sexual violence of any kind and are committed to providing robust support services to survivors and to vigorously investigating all allegations of sexual assault," said the email. 
Chancellor Subbaswamy went on to denounce protestors who showed destructive behavior Sunday night, as fraternity windows and walls were damaged. Some Theta Chi member's cars were also flipped over during the protest.
Subbaswamy said that violence is "not the answer" and those found guilty of vandalizing Theta Chi property will adhere to "applicable laws and the Student Code of Conduct."
Blaguszewski said the university is committed to making the campus a safe and secure space for students.
"There are clearly problems and trauma the students have suffered. We have the obligation and duty to support them and address the structural difficulties that they emerge from."
The university encourages those who know of a sexual assault incident, or are victims themselves, to report to the Equal Opportunity Office.