Chancellor Subaswammy Announces His Retirement For July of 2023
In an email to the UMass community on June 2, 2022, Chancellor Kumble Subbaswamy announced that he will be retiring at the end of June 2023.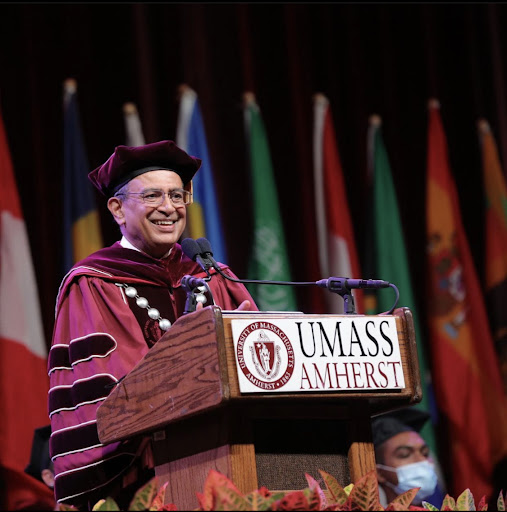 In his email Subbaswamy detailed how far the University has come since his arrival in July 2012, and how proud he is of the ability of students and himself for having "worked together building on that excellence." His email was ended by thoughts of his appreciation for the support he's received thus far, and his excitement to continue working with the community in the coming year furthering the commitment to excellence that has been fostered.
Achievements of Subbaswamy's tenure include attracting more diverse high-achieving students, increasing graduation rates, and furthering impactful cutting-edge research. Subbaswamy commented on how "by channeling our revolutionary spirit, we have become one of the fastest rising top-tier public research universities in the country." 
His focuses for the coming year include expanding UMass Flex, which makes courses accessible to those also exploring off-campus opportunities, advancing UMass Carbon Zero, an initiative that targets powering campus on 100% renewable energy, addressing DEI issues (diversity, equity, and inclusion) and getting started on the new UMass fundraising campaign. 
Rising junior and Campus Liaison for the Student Alumni Association Philanthropy Branch Lucia Beurer said, "the University has seen Chancellor Subbaswamy as a symbol of the University and a friendly face to see at events around campus. I think the school will miss him after his retirement."
When asked what he would like to say to Chancellor Subbaswamy, rising junior Youssef Shaker responded "UMass sincerely thanks you for all the hard work you've put in to ensure the successful progression of our community. We wish you the best of luck in whatever your future holds."
Fahad Farukh, a rising junior, said "I'm going to miss having Subbaswamy as Chancellor of UMass. He instilled many great qualities amongst the students on campus and promoted a hardworking and safe environment for us students to enjoy."