Webster Hall residents start gender-neutral bathroom accessibility campaign
A collective of genderqueer students in Webster Hall's Gender-Inclusive Housing program are seeking to change the low number of gender-neutral bathrooms in their residential hall.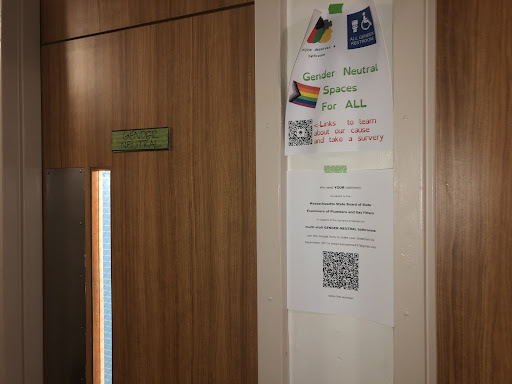 A grassroots campaign demanding better bathroom access for genderqueer students in UMass Amherst's Webster Hall began September 8, with activists working to change perceived inequities and inaccessibility in Webster Hall's living spaces.
Shortly before move-in began for on-campus students last August, several students enrolled in UMass Amherst's Gender-Inclusive Housing (GIH) program. The GIH program allows participants to room with others, regardless of gender identity or gender expression, in an effort to ensure students who are transgender, gender nonconforming or genderqueer receive comfortable living accomodations. One of the GIH programs takes place on the second floor of Webster Hall, a residential hall for first-year students who live in the residential area of Orchard Hill. 
However, second floor residents quickly realized there was a glaring issue: There are only two single-user toilets and showers designated as gender-neutral in the entire residential hall. With over forty second floor residents identifying as transgender, non-binary or genderqueer, as well as a number of other genderqueer Webster Hall residents relying on the second floor bathrooms, residents quickly felt troubled by the lack of comfortable bathroom access.
Kairo Serna, a second floor resident, noted that genderqueer Webster Hall residents often wait in long lines just to use a toilet or shower in one of the gender-neutral bathrooms, calling the living conditions "existentially terrifying." They further noted that gender-neutral bathrooms at Webster Hall were originally designed as single-use for those who are handicapped. 
This means when a Webster Hall resident who is not handicapped must use one of the handicapped bathrooms, it takes away bathroom access from those with disabilities. Serna believes UMass Amherst has failed to live up to standards students expected of the GIH program, explaining, "[The university] promised living space, and our living space is not livable. It's just indicative of an overall pattern of making promises, and then not following through on those promises."
Because of the lack of gender-neutral bathrooms, Serna and several other Webster Hall residents sought to take action in changing the gender-neutral bathroom composition. On September 8, Serna spoke personally to the supervisor of Webster Hall; they reached a compromise to temporarily designate more bathrooms on other floors as gender-neutral. 
That same day, Serna and several other Webster Hall second floor residents wrote a letter to the entire residential hall community, listing their demands and goals for obtaining equitable bathroom access. While Serna believes that the plan has been successful, there is still much work to be done beyond working with UMass administration to achieve equitable bathroom access.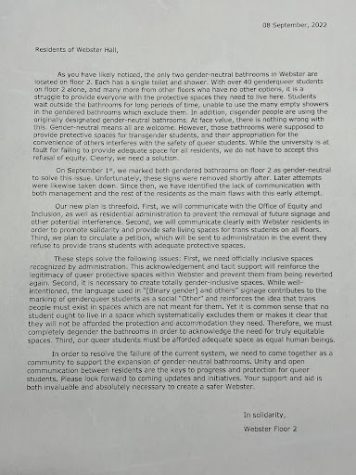 One large task Webster Hall activists are fixated on is permanently adding more accessible gender-neutral bathrooms in Webster Hall through variances. In Massachusetts, variances are granted from the Board of Plumbers and Gas Fitters to make adjustments to an existing bathroom layout. Members of the Board of Plumbers and Gas Fitters are appointed by the Governor, and are responsible for overseeing plumbing code in Massachusetts. Anything not explicitly noted in the plumbing code is not permitted.
In a UMass Amherst residential hall, a certain number of bathrooms must be designated for both men and women per plumbing code; gender-neutral bathrooms are excluded from this quota due to being omitted from the code.
While there are a number of gender-neutral bathrooms that exist across UMass' campus in other buildings, older residential halls like Webster Hall lag behind in accessibility due to having to follow existing plumbing code. But with the assistance of public testimonials and university administrators, Webster Hall activists hope to obtain a variance and more readily create a safe environment for all residents.
Contact Mark at [email protected]