Injury-riddled Post Malone faces tough decisions during ongoing tour
Can the star rapper fight through the pain or will it be too much?
On his first North American tour since 2019, rapper Post Malone's "Twelve Carat Tour" has not gone exactly as planned. Covering 33 cities throughout the United States and Canada over a two month span, the artist has run into several problems in the opening weeks, putting future shows in serious doubt.
While performing at the Enterprise Center in St. Louis, Missouri on Sept. 17, Malone took a hard fall after tripping over a hole in the stage. As he lay on his back in serious pain, medical professionals tended to the star for nearly 15 minutes, causing an extensive delay in the concert. Suffering multiple rib injuries, Malone somehow bounced back after a quick break, even in extreme pain and discomfort. Dre London, Malone's manager, praised the rapper's determination, sharing "in true Posty fashion loving his fans he finished the show! I truly don't know any artist like him".
Before exiting the venue, with tears in his eyes, Malone thanked the St. Louis fans for their support and understanding. He also revealed that the "hole" in the stage which caused his injury was designed for his instruments to be lowered into. 
The next morning, Malone posted a video on Twitter, providing an update about his health status and offering his apologies for the interruption. The 27-year-old is a true class act, as he shows how much his fans mean to him, especially during tough times.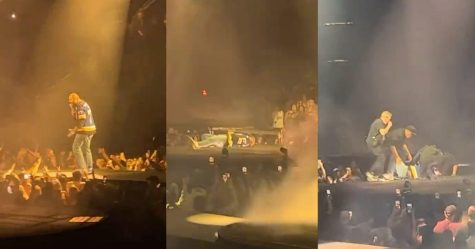 Following this brief hiccup, Malone seemed to be back to his usual, energetic self. Selling out shows in Columbus, OH, Toronto, Canada, and Boston, MA days after the incident, the rapper looked stronger than ever with no visible signs of his injuries affecting him. However, the saga came back to haunt Malone. 
Hours before his second scheduled performance in Boston on Sept. 24, Malone canceled the concert due to "stabbing pain," as a result of his injuries sustained a week before in St. Louis. Fans were left disappointed and searching for answers. 
Addressing the public via Instagram, Malone described what he was feeling on Saturday afternoon, writing "on tour, I usually wake up around 4 o'clock PM, and today I woke up to a cracking sound on the right side of my body". Requiring yet another hospital visit to receive treatment, the award-winning artist was left with no choice but to postpone the show.
Despite the sudden cancellation, Malone was quick to reassure fans that he will return to Boston in the near future. In the same post, he mentioned that "everyone's tickets will be valid for the reschedule that we're planning right now". The artist plans to work with TD Garden to find another date and notify ticket holders as soon as possible.
It will be interesting to see how the rest of Malone's tour plays out over the next few weeks, considering the extent of his injuries. Although the rapper is devoted to giving his all for every show, his health should come first to prevent more serious setbacks. In addition, artists with rigorous tour schedules rarely have time to relax, as Post Malone is no exception. Performing night after night can take a toll on their physical and mental health, which must be recognized regardless of unexpected accidents occurring.
On a more encouraging note, Malone continued his tour in Cleveland, OH on Sept. 27 after three days of much-needed rest. The show was completed without any stoppages or freakish stage malfunctions. Malone is scheduled to perform this weekend on Saturday, Oct. 1 in Detroit, MI and Sunday, Oct. 2 in Indianapolis, IN.
Email Sean at [email protected] or follow him on Twitter @seanpdunham.