"The Invitation:" No marketing tactic can save this movie
With such heavy marketing and advertising new horror movie "The Invitation" was set to be a most see blockbuster this Halloween season, but it does nothing but disappoint and leave a damper on classic vampire and Dracula lore films.
Directed by Jessica M. Thompson and written by Blair Butler, the movie "The Invitation" (2022) new iteration of the dracula tale has gotten a lackluster reviews. The marketing team for this movie was put to work with multiple appearances on a variety of different channels and talk shows. One of the stars of the movie Thomas Doheraty even premiered on  "Good Morning America" he described the movie as "the highly anticipated new vampire horror film….".  For a movie that seemed to be "highly anticipated" it has completely flopped with critics. Even with all the promotion this movie was getting it has just become yet another failed attempt to reimagine vampires and the dracula lore. 
The movie's premise is that a girl named Evie (played by Nathalie Emmanuel) is still grieving the loss of her mother and feels essentially like an orphan, and finds a long-lost cousin after taking a DNA test. When she accepts an invitation to visit her recently discovered family in the English countryside, she becomes involved with a mysterious lord, a vampire who wants to take her as his third bride. Evie must try to survive and stop her tragic fate. 
The first indication of concern was the trailer, which basically gave away the entire premise of the movie. The film could have been so much more suspenseful and interesting if the trailer didn't spoil itself. They could have had the audience wondering what was going to happen and what the truth behind these "mysterious characters" were.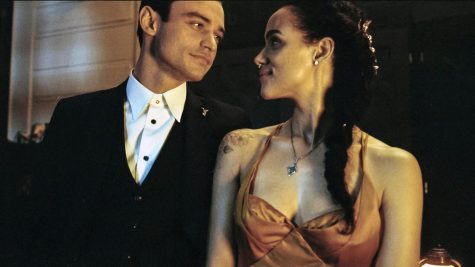 The trailer alone was more scary and cynical than the movie itself, which isn't an accomplishment. Most of the gory scenes are already revealed to you in the trailers, once again leaving you unsurprised and uninterested from even bothering to go spend the money on this movie. It seems that their efforts were to draw out those who are fans of the vampire genre and dracula lore which were successful as they made $7 million in their weekly and domestic gross in the first, topping an overall poor reception from other low rating movies, such as Bullet Train in the number two spot making around $6 million its first week and Beast making close to  $5 million its first week as well. With all these numbers being extremely low, would make it easier for a movie like this "The Invitation" to reach the number one spot.  
We can look at other vampire and dracula movies in order to fully understand how this success is nothing compared to those movies. In regards to the movie itself there is not much to talk about, it's that forgettable. While filmed on  a clearly expensive set, nothing  could not save this film from its bland  plot that made the idea of reimagining laughable.