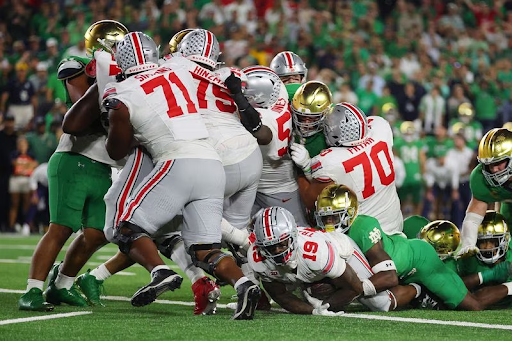 Following the end of week four, most college football teams are a third of the way through their season. After dramatic losses for Notre Dame, Ole Miss, and Oregon State, the rankings have experienced a shake-up. My rankings are primarily based on play this season, with a small amount of weight given to preseason expectations for teams.
25. Oregon State Beavers (3-1)
The Beavers fell short on Saturday to Washington State 38-35. Washington State took a 35-14 lead in the fourth and an OSU comeback attempt fell just short. They will have a chance to move back up in the rankings when Utah travels to Corvallis on Friday night.
24. OIe Miss Rebels (3-1)
For the second season in a row, quarterback Jaxson Dart and the Rebels fell short of Alabama. A solid performance by the defense led by senior secondary members Zamari Walton and Deantre Prince held Alabama to 24 points. The Rebels face a tough challenge against LSU at home this week. 
23. Fresno State Bulldogs (4-0)
Fresno State boasts two wins over power-five opponents: Purdue and Arizona State. Transfer quarterback Mikey Keene has excelled at his position as he has thrown for over 1,200 yards and 12 touchdowns. The Bulldogs will begin their in-conference schedule against Nevada on Saturday in a game they will be favored to win. 
22. Kansas State Wildcats (3-1)
Following a three-point road loss to Missouri, the Wildcats returned home and won by two scores against a potent UCF offense. The defense is led by seniors Austin Moore and Khalid Duke, who have combined for 13 Tackles for a loss this season. The Wildcats travel south to Oklahoma State looking to improve to 2-0 in Big 12 play this season.
21. Louisville Cardinals (4-0)
The Cardinals boast two ACC wins this season against Boston College and Georgia Tech. California transfer quarterback Jack Plummer has been instrumental in the Cardinals' success with ten touchdowns this season. The Jeff Brohm era is off to a good start in Louisville but will face a tough test against 3-1 NC State on the road.
20. Kansas Jayhawks (4-0)
Kansas has been impressive to start the season. They boast a conference win over BYU and a non-conference win against Illinois. Coach Lance Leipold is looking to match last year's 5-0 start. However, the Texas Longhorns stand in their way on Saturday night. 
19. Missouri Tigers (4-0)
The Tigers are off to a hot start primarily due to an elite connection between quarterback Brady Cook and five-star receiver Luther Burden. Harrison Mevis has proven to be one of the best kickers in college football exhibited by his game-winning 61-yard field goal against Kansas State two weeks ago. Missouri will look to continue their winning ways on the road against Vanderbilt this Saturday.
18. UNC Tar Heels (4-0)
Quarterback Drake Maye has led the Tarheels to a 4-0 start despite a 5 TD/4 INT ratio. The Tarheels survived an upset attempt by Appalachian State three weeks ago and won their first conference game against Pittsburgh last weekend. UNC will face another tough challenge this weekend against undefeated Syracuse.
17. Notre Dame Fighting Irish (4-1)
Notre Dame once again fell short on the biggest stage knocking their record against ranked opponents down to 4-7 since 2020. A last-second touchdown by Ohio State caused the Irish to lose 17-14. While holding OSU to 17 points is a solid effort, the game will be remembered for a last-second collapse and poor time management. Notre Dame will travel to Durham, North Carolina, and face Duke on Saturday night.
16. Miami Hurricanes (4-0)
Quarterback Tyler Van Dyke has taken the next step forward and captained the Hurricanes to a 4-0 start including a convincing 48-33 win against Texas A&M. The Hurricanes defense has only allowed 12.5 PPG which is good for 13th in the country. The Hurricanes start conference play on Saturday when Georgia Tech comes to town. 
15. Duke Blue Devils (4-0)
The Blue Devils' 4-0 start has rewarded them with ESPN's College Gameday coming to Durham for the first time in history.  Quarterback Riley Leonard has electrified their offense with 228 yards on the ground this season. The defense is fast as well and the secondary led by safety Jaylen Stinson and cornerback Myles Jones has been locked down. Duke will look for their first 5-0 start since 1994. 
14. Washington State Cougars (4-0)
The Cougars picked up their second-ranked victory of the season against Oregon State. Cameron Ward has excelled in his second season with the Cougars.
Ward threw for 404 yards against OSU and with sixteen total touchdowns this season, he has put his name on notice for the Heisman Trophy. WSU will face another tough challenge this week as they travel to the Rose Bowl to take on UCLA.
13. LSU Tigers (3-1)
While LSU fell short in week one to Florida State, they have picked up conference wins against Mississippi State and Arkansas. The defense, led by Harold Perkins, Maason Smith, and Mekhi Wingo, has struggled giving up thirty-plus points two times this season. The LSU defense will face another tough defensive challenge against Ole Miss this weekend.
12. Oklahoma Sooners (4-0)
The Sooners have turned things around from last season on both sides of the ball. Dillon Gabriel has put his name in the Heisman race as well with 14 touchdowns on the season. Second-year head coach Brett Venables has turned the defense around mainly due to the play of linebacker Danny Stutsman who has recorded 53 tackles and eight tackles for loss on his own this season.
11. Utah Utes (4-0)
Despite missing quarterback Cam Rising, the Utes have picked up wins at home against Florida and UCLA. Their defense has dominated, only allowing 38 points in total across four contests. However, the playbook will need to open for quarterback Nate Johnson if Utah hopes to beat Oregon State on the road this week.
10. Alabama Crimson Tide (3-1)
Despite a double-digit loss to Texas and a close finish with South Florida, the Crimson Tide dominated against Ole Miss this past weekend. With confidence reinstated in quarterback Jalen Milroe and Nick Saban at the helm, there is no doubt that Alabama can fight against any team in the country. They will travel across state lines to play Mississippi State under the lights on Saturday.
9. USC Trojans (4-0)
The Trojans led by 2022 Heisman winner Caleb Williams have dominated on offense so far this season but defensively struggled against Arizona State late Saturday night. USC will travel to Folsom Field to take on Coach Prime and the Colorado Buffalos on Saturday afternoon. They will look to take care of any defensive woes that arise.
8. Michigan Wolverines (4-0)
Michigan won their first conference game of the season against Rutgers in a 31-7 outing. The Michigan offense has yet to hit their next gear scoring 30, 35, 31, and 31 through their first four games this season. The secondary is led by Will Johnson, Rod Moore, and Mike Sainristil. The secondary notched a score last weekend when Sainristil ran an interception back for a pick-six against Rutgers.
The Wolverines travel to Nebraska this weekend looking for their second win in conference play.
7. Washington Huskies (4-0)
Michael Penix Jr. has led the Huskies to domination in the season so far. The Huskies receiver trio of Rome Odunze, Ja'ynn Polk and Jalen McMillan have combined for 1,282 receiving yards this season. The Huskies have picked up solid wins against Michigan State and Boise State. They will look to improve to 2-0 in conference play with a win against Arizona this weekend.
6. Penn State Nittany Lions (4-0)
The Nittany Lions dominated in their annual whiteout game last weekend as they destroyed Iowa 31-0. The running back tandem of Kaytron Allen and Nicholas Singleton have combined for 504 yards this season, but need to find the next gear if Penn State can take down Michigan and Ohio State later this season. For now, they set their sights on Northwestern next weekend.
5. Oregon Ducks (4-0)
The Ducks decimated Colorado last weekend with a 42-6 victory. Oregon is led by running back Bucky Irving on offense who has run for 311 yards along with 11 touchdowns in the air from quarterback Bo Nix so far this season. Alabama transfer Khyree Jackson has become a leader of the Oregon defense, as he has posted two interceptions and four pass breakups this season. The Ducks travel down to Palo Alto to take on Stanford in a conference matchup.
4. Florida State Seminoles (4-0)
The Seminoles have been chaotic this season posting a dominant win against LSU, but close victories against Boston College and Clemson. Injuries to DB Akeem Dent and OT Robert Scott Jr. have played a factor, but FSU needs to get healthy and back to winning handily. FSU will play Virginia Tech this weekend in their third conference game of the season.
3. Georgia Bulldogs (4-0)
The Bulldogs do not have a trademark victory and struggled in their one victory against a power-five opponent. However, ranking the back-to-back national champions any lower feels disingenuous. The Bulldogs are 14th in points for this season and tenth in points against. Injuries have hit Georgia hard this season including starting tackle Amarius Mims and starting receiver Ladd McConkey. Both players are expected to remain on the sideline for this weekend's game against Auburn.
2. Ohio State Buckeyes (4-0)
Ohio State picked up a very impressive win last weekend against Notre Dame. First-year starter Kyle McCord looked composed as he led the Buckeyes down the field for a game-winning rushing touchdown from Chip Trayanum.
The pass-rushing duo of Jack Sawyer and J.T. Tuimoloau has also made noise this season. OSU returns to Columbus this weekend to take on undefeated Maryland.
1. Texas Longhorns (4-0)
The Longhorns still boast the best win of the season in my opinion on the road against Alabama. Quinn Ewers looks much improved this season and has made strong connections with receivers Xavier Worthy and AD Mitchell. The Longhorns defense has also stood out only allowing 40 points in total this season. With depth at all three levels, the defense will look to make noise this weekend at home in a ranked matchup against Kansas.
The CFB rankings are constantly changing and who sits at the top this week could change in an instant. Duke vs. Notre Dame, Ole Miss vs. LSU and Texas against Kansas have the largest implications for Week Six.