Transgender actress inspires Homecoming 2013 audience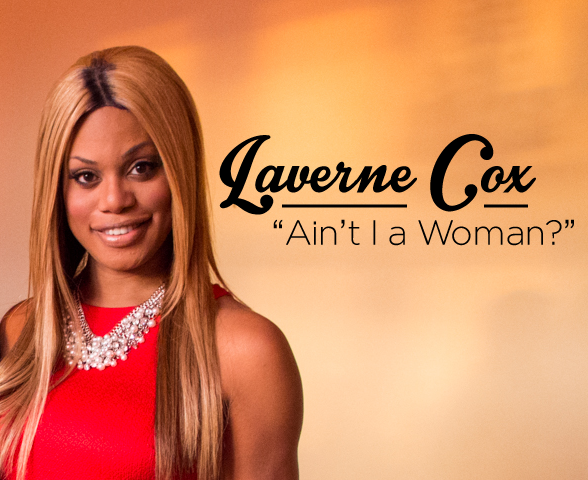 By Christina Gregg
A young Laverne Cox was chased home from school everyday because, as she recalls, "People thought there was something different about me and that difference should be punished."
From those days of bullying to addressing an at-capacity Student Union Ballroom as the 2013 UMass Homecoming speaker on Monday October 21, there is no doubt that Laverne Cox has come a long way.
Cox's claim to fame is her role as the incarcerated transgender woman, Sophia Burset, on the Netflix original series Orange is the New Black. The show is based on Smith College graduate Piper Kerman's memoir as well as the gender and race relations that exist in the female prison system. Cox is the first trans woman of color to have a leading role on a mainstream scripted television show.
Cox's success as an actress is impressive within itself, but the topic of Cox's lecture was not centered on her fame or her Orange is the New Black character's hair styling skills. Instead, Cox focused on her personal experiences while highlighting the importance of discussion, communication and love.
"I stand before you this evening a proud transgender African American woman who was raised by a single working-class mother," said Cox, "It is essential to name all these intersecting identities that I inhabit because I am not just one thing and none of you are just one thing."
Cox and her twin brother, who plays Cox's Orange is the New Black character before her transition, were raised in Alabama by a single mother who worked multiple jobs to provide for her family. Cox dramatically retold the story of a day in third grade when the school called her mother because Laverne was fanning herself during class like Scarlett O'Hara, from the movie "Gone With the Wind." As one can imagine, the crowd was in stitches after this reenactment. Cox was an actress from the start, so it would seem.
It was not all laughs for Cox though. She spoke of carrying a lot of shame and a point in her life where things got so bad that she swallowed pills and went to bed, hoping not to wake up.
Cox notes that it was when she started attending college at Marymount Manhattan in New York City that she felt her "gender non-conformity was valued." In one word she described the club scene of the 90s as "amazing." It was here that her young love for shaved heads, false eyelashes and the polyester bellbottoms that she called "salvation army couture" would not only be accepted, but appreciated.
"Everyone was telling me I was a boy, but I knew I was a girl," said Cox. "I stand here tonight claiming my womanhood in a cultural space that says I am not a woman."
When she started her medical transition about fifteen years ago, her mother's immediate response was, "but you have such big hands and feet." Cox laughed at this and said her mother is now the first to correct people's pronoun usage and hands out cards at her church letting people know whenever Cox is on television.
Whether she was discussing the struggles of the trans* community, the role that gender policing plays in society or the racial factors involved, Cox's eloquence and insight on each subject was unfaltering. To put it simply, the woman has done her homework. She harped back on Sojourner Truth's famous words, "Ain't I a Woman," and praised some of her favorite writers such as Judith Butler and Bell Hooks for shining light on questions surrounding preconceived ideas of gender identity. The crowd roared with applause when Cox quoted Simone de Beau, saying, "One is not born, but rather becomes, a woman."
Growing up, Cox said she thought being trans* meant she was not going to be successful, but now realizes that those ideas were "erroneous."
And how right she is. Before the lecture even began, the crowd's love for Cox was easy to spot. A steady line wrapping around the Student Union slowly filed into the standing room only Ballroom. According to the University Programming Committee, after handing out seven hundred wristbands, roughly one hundred fifty people were turned away because of fire hazards. Cox would later tweet at a student who didn't get into the lecture saying, "so sorry you didn't get in. Thanks for coming out to see me. Means the world to me."
UMass senior, Paul Gels, arrived almost three hours early to claim a seat.
"I am a huge fan of Orange is the New Black and I admire Laverne Cox as both an actress and activist," said Gels. "I don't think it should be groundbreaking that Laverne Cox is our homecoming speaker, but it is."
Director of the Stonewall Center, an LGBTQ center on campus, Genny Beemyn, first proposed bringing Cox to speak at UMass to UPC at the beginning of the semester. As ze said when ze introduced Cox, ze thought they would be interested, but did not expect that they would make her Homecoming speaker. Ze is a gender neutral pronoun used for individuals who identify as gender non-conforming or within the trans* umbrella.
UPC co-coordinators, Olivia Espinoza and Carrie Van Den Henden, said Cox immediately stuck out as a favorite for them to ask to speak at Homecoming.
"Having a transgender woman for one of our biggest events of the year is definitely a huge deal for everyone in the UMass community, as it shows tolerance for all people regardless of their gender, sexuality, or race," said Van Den Henden, "After the event, numerous people approached UPC members and thanked them for bringing someone influential and inspiring from the LGBTQ community to our school."
Cox touched on her Orange is the New Black role, saying, "When creating art, it is important that we create 3D human beings." She finds the character of Sophia to be "profoundly human."
Before leaving, Cox charged the audience with the task of speaking to their friends about trans* people. She then curtsied and waved while receiving an extended standing ovation.
"If we get to know people as human beings, any misconceptions we have about them will fade away," said Cox. "If all the trans* people got the kind of love I'm getting tonight, we could change the world."