Holiday episodes of seasons past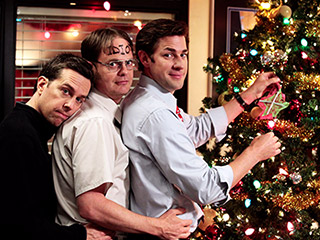 Hang on for a minute...we're trying to find some more stories you might like.
It's almost time for the holidays, which means show specials are in full swing. This year, take a walk down memory lane and gather everyone round the TV for these top holiday episodes of seasons past.
The O.C. – The Best Chrismukkah Ever 
It's been 10 years since The O.C. premiered in 2003. That means it's been 10 years since the world learned of Seth Cohen's Chrismukkah, which was introduced to us (and Ryan) during the show's first season. Seth, the son of a Catholic mother and Jewish father, decided instead of choosing between a candy cane or a menorah, he would combined them both for, in his words, "the greatest super-holiday known to mankind." And if the episode isn't enough to get you in a festive spirit, the show also spawned a Chrismukkah CD. It's $5 on Amazon complete with Jimmy Eat World, Ben Kweller and Rooney.
Doctor Who – A Christmas Carol
Christmas is a big deal for Whovians. The British Sci-Fi show runs a special episode each year for the holiday and with Cybermen and Sycorax, it seems London is not the place to be on Christmas Day. Until, of course, the Doctor comes in and saves the day. Season five's, "A Christmas Carol," is one of the series' best episodes. This twist on the classic story of Christmas past, present, and future has no ghost, but there is a time traveler, a crashing spaceship and flying fish.
Full House – Our Very First Christmas Show
This episode finds the family stuck in an airport on Christmas Eve and Stephanie is worried Santa won't be able to find them there. Snow, delayed flights, and lost baggage turn the whole thing into a traveler's nightmare. But, being "Full House" the episode has to give off some warm and holiday fuzzies and ends with Uncle Jesse giving a heartfelt speech about the true meaning of Christmas. Awww.
Seinfeld – The Strike
Before The O.C. had Chrismukkah, Seinfeld had Festivus (for the rest of us). But instead of trying to jam as much holiday in as possible, Festivus is the exact opposite. In order to avoid all the commercial and religious aspects of the holidays the Costanza family developed and adopted a different wintertime ritual that is introduced to us in the episode, "The Strike." It's a truly hilarious episode and parody of the holiday season. So when the stress of the holiday's starts to feel like too much, don't freak out. It doesn't have to be like this! Just grab your unadorned, aluminum Festivus pole and start airing your grievances.
The Office – Christmas Party
It's not The Office if there isn't an offensive office party. What starts out as a secret santa turns into a yankee swap when Michael doesn't get a gift he deems as good as the one he's given. Everyone throws "it's the thought that counts" out the window and vies for an expensive iPod. Maybe a little more representative of the holidays than Full House? But there is still a little holiday cheer when Pam chooses a thoughtful gift over a costly one.
Sam Gillis can be contacted at [email protected]