"Dear White People" delivers necessary social commentary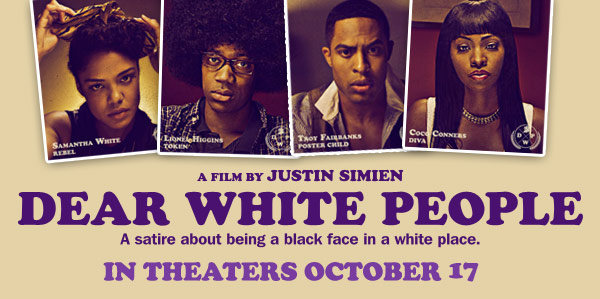 Dear World,
The film "Dear White People" serves as a satirical, witty public service announcement to all — we don't live in a post-racial society; people of color are still too often marginalized and unheard; and racism still exists.
Admittedly, the film struggles in its execution, but given its bold theme, it delivers a strong social commentary  about a topic that's often neglected.
The movie centers on the lives of four black students attending a predominately white Ivy League college. At the fictional Winchester University, Sam White (Tessa Thompson), and the Black Student Union fight to re-establish black culture after a new policy institutes housing randomization and their once all-black dormitory must accept random students. White has long highlighted racial issues on campus; she hosts a controversial talk radio show called "Dear White People," in which she criticizes the campus's white community and airs her personal grievances.
Her cause garners attention when she surprisingly wins over house president Troy Fairbanks (Brandon Bell), son of the university's dean of students. Fairbanks, whose whole persona is based off of his popularity and social network, suddenly finds himself at a loss when he's straddling two new identities—dad's excellent, compliant son and black student.
Meanwhile, involved in the conflict is Lionel Higgins (Tyler James Williams), a young, gay, black student who knows and understands little about the Black Student Union, much less black culture itself, but promises to cover black student activity on campus for the university newspaper. Also conflicted, Coco Conners (Teyonnah Parris) exists on the other end of the spectrum, purposefully denouncing her blackness until a reality TV producer forces her to regain it in the name of fame.
White's push for housing randomization creates conflict across the student body, and everything comes to a boiling point when in retaliation, a group of white students throw an offensive blackface party that hundreds of fellow students attend but do not condemn. The surprising part? While watching the film, I was sure this storyline was an exaggeration on filmmaker Justin Simien's behalf to underline his point. Unfortunately, to my shock, it wasn't exaggeration on the movie's behalf, and there actually exists a growing culture of young students using humor to mask racism.
In January 2014, an Arizona State University fraternity hosted a Martin Luther King party, where numerous white students stereotyped black culture with baggy clothing, gang signs, and even watermelon cups.  In 2013, a Dartmouth College fraternity held a "Blood and Crips" party; in Duke University, an "Asia Prime" Party; Texas Tech University, "Sexy Border Patrol Party"; California Polytechnic State University, "Colonial Bros and Nava-hos"; and Randolph-Macon University, "USA vs. Mexico". In 2012, University of Florida's Beta Theta Pi organized a "rock stars and rappers" party with numerous guests wearing blackface; and Penn State, a "Mexican Party." The list wears on. Brooke Marine's Complex article, "A Recent History of Racist College Parties," shows more crude examples.
"Dear White People" is not perfect. At points, the movie lacks conviction with its wordy, multilateral speeches and numerous chapters. With many different opinions and issues abound, it never comes to a succinct conclusion. But this is perhaps because the film inevitably battles with race issues just as much as its audience does.
The film grapples with exploring its own identity as it depicts its four leads delving into their own. Aside from critique, the film accomplishes  talking about an issue that remains socially ignored in an industry where black characters have served mostly as humorous, stereotypical counterparts; pained and abused women; or background, story-less characters.
Justin Simien has created a film that forces a gross truth on society: racism is alive and well, and it's present, even in a world filled with so-called progressive, educated youth. The line between humor and discrimination may seem blurry, but in the film, it's clear, and fearlessly shows how it is being crossed. The best part about "Dear White People" is that it's not afraid to talk about an issue clouded by a culture of silence. It's a blaring siren to everyone, and hopefully, it'll also create an open forum.
Be sure to check out the movie's trailer below!
Stephanie Ramirez can be reached at [email protected] or follow her on Twitter @stephjayare.