"Birdman" revives our spirits for better or worse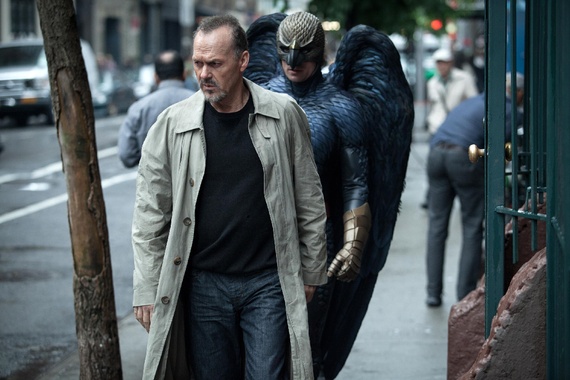 The latest project from Alejandro González Iñárritu, "Birdman (or The Unexpected Virtue of Ignorance)" is exactly the type of film you ought to see. It is intelligent, intriguing, self-aware, and—most importantly—it's a whole lot of fun to watch.
Michael Keaton stars as Riggan Thomson, a washed-up actor known best for his role in the "Birdman" trilogy. The series is a critique of the superhero genre, and an in-joke to Keaton's stint as Batman.
Thomson is unable to move on from the role—literally. The character provides an ongoing narrative, interrupting Thomson's thoughts with a barrage of unwelcome reality checks. It is unclear if Thomson is a fragile super-being or a hallucinating star, but either way he is a sufferer of his own fame and insecurity.
In a post-mid-life crisis, the actor looks to redefine himself.  He writes, directs, and stars in a Broadway recreation of Raymond Carver's "What We Talk About When We Talk About Love," a quaint and macabre tale of love and repercussion.
In need of a last-minute replacement, Thomson auditions acclaimed stage actor, Mike Shiner, played by Edward Norton. Shiner immediately captures Thomson's interest, though his approach to performance is not without flaw; as a method actor, he absorbs the personality of his emotionally volatile character.
On top of this, Thomson's daughter and assistant, Sam, played by Emma Stone, is a recovering drug addict. Her presence does more harm than good, but then again, so does everybody else. The film is an amalgamation of realistically broken characters, intertwined in a spider's web of comedy and drama—a perfect story with imperfect characters.
If Thomson is the viewer, then the Birdman is the sum of our greatest fears. The character is the embodiment of our innermost insecurities, a reminder of that which we inescapably are. In film speak, the character is a reminder that commercial appeal will always outsell that which is unique. The only person who cares about the revival of Thomson's career, is Thomson. Others sit idly by, waiting for the announcement of a fourth film in their beloved "Birdman" series.
This tone is the unending purpose of "Birdman." To say it does not take itself seriously is to mislabel its charm. The sensationalism throughout the film is not a result of negligence, but of artistic intent. The film is so obscure, so in-your-face, that it forces the viewer to step outside of their comfort zone.
"Birdman" is a polished work of art. The film is shot and edited to appear as a continuous take, and the masterminds behind the camerawork are worthy of their future praise. Those few who fail to be enamored by the feature will nonetheless marvel at its  precise cinematography and pacing.
It is often said of great art: that which is said best, is that which is left unsaid. "Birdman" could have been an exceptional art house drama, but it isn't. The film so strongly begs to be something that it is not—a traditional film—that one can't help question why.
A lone criticism would attack the length of time spent focusing on its critique. Sequences involving the Birdman feel drawn out in comparison to the theatrical counterparts, but even this feels intentional. The film gains depth through parody, and there is something to be said about a film that only creates discomfort in moments of reflection.
For a washed-up audience, "Birdman" is the "What We Talk About When We Talk About Love" of modern-day cinema—a revival of our spirits, for better or for worse. So while Marvel makes billions selling rehashed superhero plotlines, "Birdman" will be playing at Amherst Cinema.
Watch the trailer below:
Nicholas Hull can be reached at [email protected] or follow him on Twitter @Nhullus.