UMass baseball names captains for 2015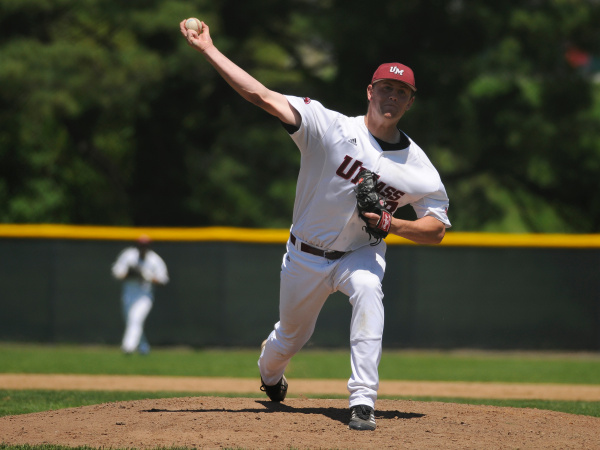 by Matt Gingras
Photo Credit: Thom Kendall, UMass Athletics
Snow still blankets Earl Lorden Field, the home of UMass baseball, but that doesn't stop the University of Massachusetts Amherst baseball team from preparing for their season in the coming weeks. The team announced recently that two senior pitchers, Andrew Grant and Conor LeBlanc, would start the season as captains.
"Me and Andrew are both on the same page, we think it's an honor," said LeBlanc. "We have a really close group this year, and it means a lot that they think of us so highly that they would vote for us."
The two have orchestrated team events to build up synergy before they play ball the first time. LeBlanc said that he and Grant have had team bowling and laser tag nights on Fridays before early Saturday morning practices.
"We want to get the young guys acquainted with everyone and build team chemistry," LeBlanc said.
Grant said that the chemistry is noticeable already. "Honestly, this is the closest we've had a team since I've been here," he said. "I don't know if it's just the group of guys that we have around, but I think that's going to definitely translate on the field if you trust the guys that you're playing with."
LeBlanc and Grant have been fixtures on the UMass baseball squad since arriving in the fall of 2011. Combined, they've appeared in 69 games and have started 50.
Grant led the team in strikeouts a season ago, punching out 43 batters. While the right-hander will take the strikeouts as they come, he says they aren't necessarily the goal.
"I've always just tried to get an out in four pitches or less. If the strikeouts there, I'll go for it," Grant said. "I have pitches that can get people out with, but that's normally not my focus.
A Westboro, Mass. native, Grant posted his best season to date in 2014. In addition to leading the team in strikeouts, the hurler had a 4.79 earned run average — the amount of runs he allows on average over the course of nine innings — and allowed just 49 hits in 53.1 innings pitched.
LeBlanc, the left-hander, is different on the mound. He has struck out just 65 hitters in his three seasons on the Minutemen staff in 180 innings, but still maintained the same focus that Grant has on his pitch count.
"I definitely focus on throwing a lot of strikes and letting the batters get themselves out," LeBlanc said.
Despite that, LeBlanc has a career high of 11 punchouts in a game against Harvard. LeBlanc got the nod that day in the Beanpot Championship, which he helped UMass win for the sixth time.
Last season, the Minutemen went 15-31 and finished tied-eighth in the Atlantic 10. However, the team won their final two series against conference powers VCU and Saint Joseph's.
"I mean last year, if there's anything we can build off of, we played well against the top teams like Saint Louis, Saint Joe's, VCU," LeBlanc said. "We just need to take the same attitude and approach that we do with rising to our opponents as far as when we play the worse guys."
The Minutemen start their season on March 3 before heading to Kentucky for a four-game set. "Honestly, we have enough guys returning, we have the pitching, we just need to score some runs," Grant said. "I think we'll be back in contention again for sure."
Matt Gingras can be reached at [email protected] and on Twitter at @RealMattGingras