Freedom Café serves coffee for a good cause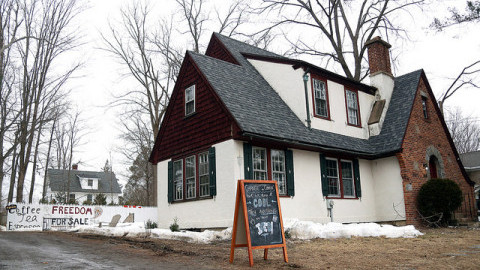 Tucked away in the back of the Chi Alpha Christian fellowship house, a typical coffee shop scene unfolds: coffee and espresso machines grind away, baristas behind the counter serve customers, friends are in line discussing classes, current events, and the busy week ahead. On the surface, it seems there's nothing special about the bustling café.
Well, there is.
On the left, a wall shows photos of victims rescued from human trafficking who recover at vocational centers in India. On the counter to the right, handmade bracelets made by those victims are for sale. The baristas behind the counter aren't employees, but unpaid volunteers. And customers aren't charged for what they order, they're simply asked to make a donation. This isn't Starbucks or Dunkin' Donuts. It's something very different.
The Freedom Café is a project committed to ending human trafficking and helping victims in India and around the world; an issue that affects over 20 million people worldwide, according to the United Nations Office on Drugs and Crime.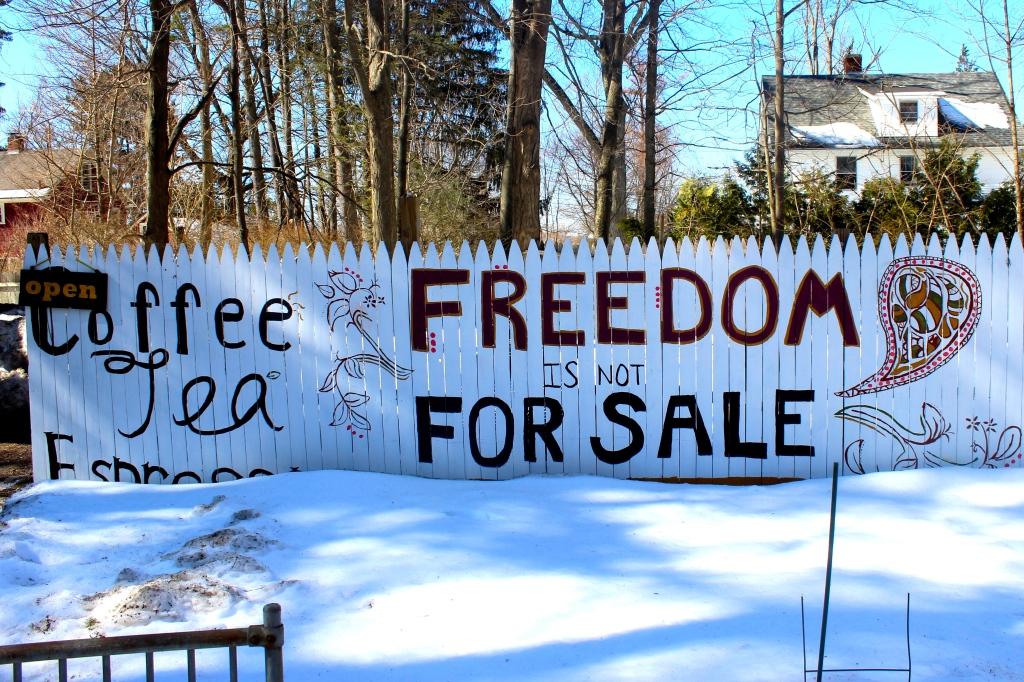 Dan Johnson, co-creator and general manager, hopes to raise $18,000 each year, enough to open and operate new vocational centers. Every donation goes toward that goal.
The project started with a fundraising event in Southwest called "Café Chi Alpha." The event was much like the Freedom Café, located just past the North Pleasant St. rotary. Volunteer baristas served coffee and the money raised went to charities for human trafficking.
Johnson was inspired by "Nefarious: Merchant of Souls," a documentary about modern sex trafficking in the United States, Europe, and Asia. Although he has never met a victim of human trafficking, the documentary helped him see how trafficking affects real people. Johnson wanted to do something to help these victims.
"I thought, 'How long could I stay in the dark about this, personally?'" he said.
The fundraiser was a success and The Freedom Café was opened in March 2013. The volunteer baristas raised $100 over the course of the evening. Johnson realized that he wanted to keep raising money, to keep helping.
"Afterwards, we realized, 'Why is this just a one-time event? Why isn't this our lifestyle, trying to do something to end [human trafficking]? What if we opened a coffee shop that raised $100 a day for our cause, not just $100 a semester?'" he said.
The café operates in the Chi Alpha Christian fellowship house, a part of a non-profit religious organization, the Amherst Project. Its affiliation with a religious organization allowed the café to run in a residential space, eliminating rent costs and allowing more donations to go directly to charity.
Currently, 67 percent of the money earned goes towards the charitable cause. The goal is to reach 100 percent.
In addition to raising money for vocational centers, Johnson believes in the café's ability to inform.
"The second part is educating the community about human trafficking," Johnson said. "And the third part is to create a culture of others-centered people: people who focus their lives on helping others as opposed to helping themselves. Those are the things we live for."
Sophomore communication disorders major Melissa Manning said she didn't know much about human trafficking before volunteering a year ago. Since then, she has learned some surprising things.
"I didn't know [trafficking] occurred in the United States. I knew it happened in other countries but it happens here, too. It's weird how close to home that stuff happens," she said.
Manning volunteered because she liked the cause and sympathized with victims.
"It's hard to think of myself in that situation. I [learned] they take little boys and I have a little brother eight years younger than me," Manning said. "I could never see myself without him in my life. Personally, I couldn't imagine myself going through that with any member of my family."
Sophomore mechanical engineering major GilBeom Seo said he volunteered to help establish vocational centers for victims.
"A lot of [victims] get rescued but they won't have a place to go and they don't know how to make money. That is where the vocational centers are very important. They provide a job and a place to stay," Seo said. It also doesn't hurt that he loves coffee too.
The Freedom Café brews 100 percent fair trade and organic coffee by the cup. It offers espresso drinks, seasonal specials, as well as alternatives like tea and hot chocolate.
Interested in brewing a cup of the justice java? Click here to volunteer.
Michael Hickey can be reached at [email protected]