How Shardonay Blueford blossomed from a dual-sport athlete into an important piece of UMass Athletics
Shardonay Blueford spent time in Harvard, Albany and nine years at Georgia Tech before finally landing at UMass Amherst.
At one point, Shardonay Blueford considered joining the military. She was young, fresh out of college and the job offers were not rolling in. Having gone to Norfolk State University, it just made sense to stay in the area and stay close to home. One of her mentors convinced her to stay patient and keep pushing and her last interview would be the one that stuck.
Blueford is currently the associate athletic director for governance and compliance at the University of Massachusetts Amherst. She came to UMass at the end of 2022, after spending nine years at Georgia Tech, two at Harvard University and two years at The College of Saint Rose, the aforementioned final interview.
Currently, her job requires her to help support athletes navigate the tougher decisions in their collegiate careers and protect them against violations from the NCAA (National Collegiate Athletic Association). This has become especially important in recent years with the addition of the transfer portal, a public compliance tool and database that allows athletes to declare their desire to transfer to another school for a different athletic opportunity.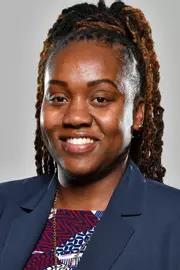 These athletes have to consider transfer credits for graduation as well as whether or not they'd have to sit out a year if they are transferring for the second year in a row. Over the years she has helped big names such as New Orleans Pelicans guard Jose Alvarado, Houston Texans guard Shaq Mason and professional tennis player Christopher Eubanks.
Last year, Tatiana Cummings was the assistant director of compliance at Georgia Tech, a position she had because Blueford initially chased her down, wanting her in the building. Blueford, the Director of Compliance at the time urged her to go for an opportunity at Texas Christian University. She helped push Cummings out of her comfort zone and support her growth in an industry that is largely male-dominated and lacking in diversity.
"Some people, they want to come at this like it's a competition," said Cummings. "That's not even in her being to want to compete with people who look like her, people who are not on the same level of her as far as position goes. She honestly wants to help anybody out from student-athletes to myself."
Brittany Watts is currently the assistant director of compliance at the University of Missouri. She originally interned at Georgia Tech under Blueford's guidance and it was there that Blueford helped her find an opening at the University of Pittsburgh. Additionally, she helped her learn how to feel comfortable in a professional workspace as a woman of color.
"[She helped me understand] what comes with being a black woman, whether that's wearing your natural hair or extensions or a wig or braids," said Watts "Being able to be in a space as a black woman and being able to get your point across without people thinking you're aggressive or the stereotypical black woman terms that you usually hear."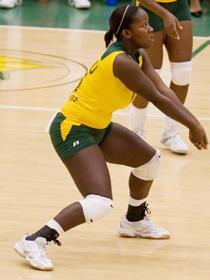 Before everything, she was a dual-sport athlete, investing her time in basketball and volleyball, eventually going on to play the latter collegiately at Norfolk State University as a captain. Her favorite sport growing up was basketball and she would go on to be first-team all-district as a senior.
Blueford has always found ways to push herself out of her own comfort zone. What started as a shy teenager becoming the captain of her teams eventually became a woman who would move away from her fiancé to take a job offer at UMass Amherst. It's all a part of what makes her good at her job.
"Blossom and grow where I am, where I'm planted," said Blueford.
She credits her success to her ability to build good relationships with people. She stresses the importance of establishing her shared experiences with people regardless of upbringing and hearing everyone out. By giving people a genuine space to get feedback and assistance, the trust comes naturally.
"She'll just tell you what it is and [you] know it's coming from a place of love," said Watts.
While being a captain allowed Blueford to grow, she now often prefers background roles. Her end goal is to eventually become deputy athletic director. This would allow her to help focus on the intricacies of running the athletic department and be the buffer and right-hand woman for the athletic director.
Blueford has been a part of two core programs. One of these was an ACC Unity trip last year that provided student-athletes with a trip to Montgomery, Alabama. Trips and programs like these are what Blueford hopes to continue with as she furthers her career.
"It was a very emotional trip in just understanding things that happened in history that are still resurfacing now, years later–decades later," said Blueford. "Hearing our student-athletes use their voice, use their platform, express their emotions about some of these things [was] very impactful."
Blueford talked about how there aren't as many women of color in her industry as there should be and emphasized how important it is for her to stay authentic to her own identity. There was even an occurrence early on when she was applying for jobs when a human resources worker suggested that she go by her middle name, Ariana, instead of her first name.
"If someone's going to look at my resume and the first thing they're going to see is my name and judge me off of my name knowing I'm more than qualified for that position, it's not the position for me," said Blueford.
It is no secret that there are few women working in sports, let alone women of color. 20.9% of sports reporters are female, and 66.8% of reporters are of white ethnicity.
Of the few women who do get an opportunity to work in sports, 40% say that they're being discriminated against on the basis of their sex. This issue has been better in coaching opportunities. As of 2019, 51.7% of coaches were female compared to 38.7% in 2010.
Only about 40% of women feel that they work for a fair organization where everybody has an equal opportunity to succeed and be supported. It was also reported that many women are the only ones of their gender identity and race at their place of employment, putting them at greater risk for more microaggressions.
"Who is advocating for you when you're not in the room," said Blueford. "How are they advocating for you to push your name out there? In circles and different types of things you may have not thought to be brought up in."
Blueford still keeps in touch with all of those who she's helped along the way, whether it be through sending videos through Instagram or giving them career advice when they need it. She's also a voracious networker who takes every opportunity to meet someone she can help out.
"I always reach back and pull somebody as I continue to grow," said Blueford. "People have done that for me in my career, that's why I'm able to sit in the seat that I'm in."