Hidden Gem: Richardson's Candy Kitchen satisfies the sweet tooth the old-fashioned way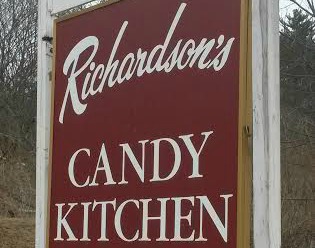 Shelby Ashline, Writer
December 16, 2016
Tucked away on Route 5 and 10 in Deerfield, Mass. lies a little red building containing the finest treats anyone with a sweet tooth could imagine. A place where you walk in the door and are engulfed by the sensational smell of chocolate and bombarded by a variety of candies in every direction that you don't know where to look first. A place where you can press your face up against a pane of glass to watch the magic of chocolates being handcrafted, or you can drool over the ones already on display.
Only a short 20 minute drive from campus, this hidden gem is unheard of by most students at the University of Massachusetts Amherst. But to locals, Richardson's Candy Kitchen has been a part of their families' lives for years and sometimes — as is the case in my family — for generations.
The appeal of Richardson's is rooted in a long-standing tradition of providing great candy to loyal customers. Many of the recipes have gone unchanged since the shop first opened in 1954, including the recipe for "dixies," Richardson's most popular candy that has been featured on the Food Network.
"People keep coming back because they like the traditional recipes," Owner Kathie Williams said. "Stories of people that have been coming here for a long time are always nice to hear."
Williams has been the sole owner of Richardson's for the past two years. Prior to that, she owned the shop with her parents, Barbara and Gordon Woodward. The Woodward family had acquired it in 1983 from Charles and Peggy Richardson, from whom the store's name is derived.
"When my family bought it, it was well established, so we didn't change the name," Williams said. "It was easy for us to build on what they'd started."
However, the shop hasn't always been called Richardson's. The first owners, Henry and Viola Richards, no relation, but what a coincidence, operated the shop under their family name until 1973 when it was sold and officially became Richardson's Candy Kitchen.
That's only three families to have owned the store in its 61 years in existence. Seeing how members of the Woodward family have been the owners for just over half of that time, they've really been able to connect with the surrounding community.
"I feel like one of us [who is working] knows one in every five customers here," Williams said. "Either we know them locally or they come in all the time. We definitely get to know their favorites."
When asked for an example of one of these devoted customers, 16-year-old Emily Woodward, Williams' niece who has been working at Richardson's for two years, immediately thought of an older gentleman from Old Deerfield named Peter. Because Peter has been coming to the shop for approximately 30 years, he routinely brings back his own box to be filled with chocolate.
"Everyone just knows his order by heart," Woodward said. "He also knows the answers to questions before we even ask them, like 'Would you like your receipt?' or 'Would you like a bag?'"
Richardson's also gives back to its loyal community in a variety of ways. For example, there are currently several small donation bins on the counter to raise money for things like summer camps and animal shelters. Richardson's frequently donates gift cards to groups and causes, such as the Deerfield Elementary School's Fun Fair and the Knights of Columbus. The groups use the gift cards to raise money, typically through raffles.
Furthermore, the local community plays a significant role in what Richardson's sells. Although the shop has large orders of nuts, sugar and other ingredients shipped in, they obtain ingredients locally when possible. Williams said Richardson's uses local cream, apples from Clarkdale Farm in Deerfield, and strawberries from the Teddy C. Smiarowski Farm in Hatfield. The fruit is used to make chocolate caramel apples and chocolate-covered strawberries, which are both sold seasonally.
Customers can even provide their input concerning what chocolates Richardson's should make. Williams said she is open to new ideas and always takes customer suggestions into consideration.
Although Richardson's continues to incorporate new candies into their stock, they certainly don't take away from the classics, especially the famous dixies. More commonly known as turtles, dixies are made by covering caramel and nuts with a coating of chocolate. Even though they may sound simple, Williams explained that the process for making dixies is lengthier than most of Richardson's other treats. Between making the caramel and the chocolate, to "cupping" the nuts and caramel into clusters and coating the clusters with chocolate, a batch of dixies takes a couple of days to make.
Clearly all of that hard work paid off. On Oct. 11, 2010, the Food Network's Alexandra Guarnaschelli raved about Richardson's Candy Kitchen and their dixies on her show, "The Best Thing I Ever Ate." Williams said the exposure definitely brought some new faces to the store.
"We certainly have some more customers because of The Food Network show," Williams said. "It was exciting for our [old] customers too. We had signs out when it was going to air."
Richardson's also earned a "Best of the Valley" designation from the Valley Advocate's readers' poll in 2012. Williams cited simple values behind the business' success.
"We have a great product," she said. "The other part is we strive very hard for great customer service. Everyone is very friendly and we always try to meet customer needs."
Richardson's staffs about 30 employees, most of them being part-time workers who come to help during busy seasons like before Christmas, Valentine's Day and Easter, but the work continues to be very much a family affair. Williams' father, Gordon Woodward, works on bookkeeping. Her husband, children, siblings and nieces have all worked there for short periods. For the Easter holiday, there are even eight different chocolate rabbits named after all of the Woodward family grandchildren.
At Richardson's, even though the employees spend their time measuring out and mixing cream, sugar and countless other ingredients, community and quality are the key ingredients to their success, along with a dash of tradition.
Editor's note: This story was initially published April 13, 2015. 
Shelby Ashline can be reached at [email protected] or follow her on Twitter @shelby_ashline