Head Games natural hair beauty supply champions 'winning natural beauty'
Erica Wilson Perkins removed her locks after thirteen years.
Shortly after accepting a position as a dance professor at the University of Massachusetts Amherst, Wilson Perkins, 45, readied her bags, her husband, and her son for their big move. In late July 2013, with her foot halfway out her old town, Wilson Perkins heard her dreadlocks speak to her. They weighed down heavily on her head, pulling at her scalp, and all she heard was: it's time. So, she decided to leave her locks behind with her old home and once again sport her natural coily locks, a look that surprised even her young son, who had never seen his mother without dreadlocks.
A month later, living in Shutesbury, Mass., Wilson Perkins sat in her car at the parking lot outside Sally's Beauty Supply on Route 9, thoroughly searching on her phone for a "black beauty supply store." But her search produced only one result, the very store situated before her. The nearest black beauty supply store was in Springfield, Mass. Wilson Perkins broadened her search and typed "hair braids." Nothing.
Today, a Google search for "beauty supply store in Amherst" generates two results — the infamous Sally's Beauty Supply and Head Games, the store Wilson Perkins started in July 2014.
Located on a second floor next to Starbucks on 67 North Pleasant Street, Head Games, according to Wilson Perkins, sells quality products for people who wear their hair naturally. The store also offers in-store demos, wig installs, and, in partnership with Hair Factory, weave consultations. With all natural-products, an assortment of synthetic hair fibers and wigs, and a product sample bar in stock, Wilson Perkins' Head Games caters to all hair types.
For many local women of color, however, Head Games stands as more than just another beauty supply store. It represents a rising culture of women who, despite social beauty standards, embrace their natural hair.
Women of color know the problem all too well: not all hair types are deemed beautiful, and women of color today have to learn to love their natural hair before they can embrace it.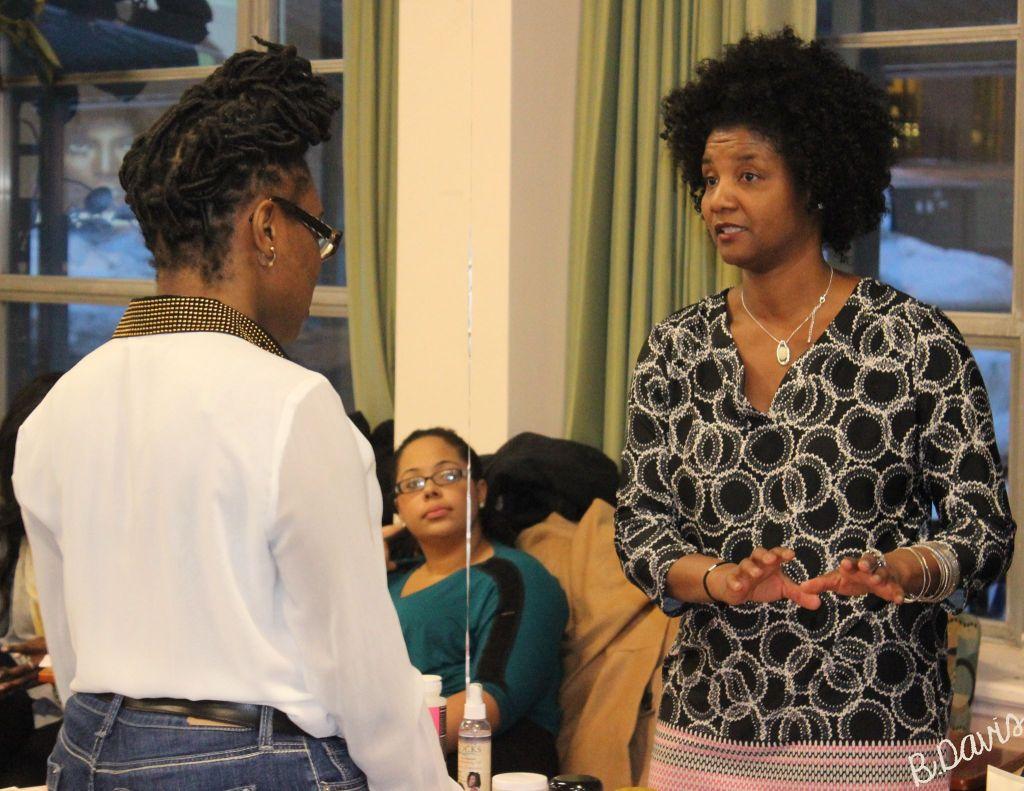 Often, society deems "good hair" to be effortlessly straight, European hair. For decades, women of color have tried to fit that image by any means necessary. As such, they are expected to groom, tame, control, and otherwise "manage" their hair. Effectively, they often use harsh chemicals, such as relaxers, that do a lot of damage.
The cultural hair beauty standards for women of color today tie back to race relation issues in America. People of color must mimic white culture to assimilate. In the recent past, schools, universities, and even the Army banned traditionally black hairstyles.
Comedian Chris Rock's 2009 documentary "Good Hair" explored this notion.
The stigma runs so deep that women of color themselves internalize it.
"I've had people come in emotional over their hair," Wilson Perkins said.
Head Games customer, Rachel Burgess, 23, a UMass alumni who grew up in Franklin, Mass., said she straightened her hair all throughout high school and never saw her fellow classmates wearing their curly hair. "It's hard to know if [the judgment] comes from myself or others, because to me, at this point, it feels much more internal."
Today, Burgess happily embraces her wavy, brown hair, consistently inspired by women who wear their curly hair in all its glory. "When I see a girl with hair that's kind of frizzy, I'm like, 'Yes! Yes!' That, to me, is actually really inspiring," she said. She acknowledged, however, that despite positive feedback, she still wonders if anyone judges her look. At work, she never wears her hair down, and Burgess said she believes natural hair has yet to be accepted in professional settings.
Wilson Perkins herself never internalized this stigma growing up. "I do not have a hate relationship with my hair at all," she said. "That stigma did not penetrate me. I don't know why or what that was all about, but I just didn't care." Still, she described women's relationships with their hair as "love-hate."
"I think people are really wanting to go natural," she said. At the store, Wilson Perkins sees women smoothly transitioning to natural hair.
Education bleeds into her work as she aims to help customers understand her all-natural product selection. "We gotta learn about our hair," she said, "and not be afraid of the hair."
During the store's inception, Wilson Perkins toyed with different taglines for Head Games. She decided on "Winning natural beauty." Both the store's name and tagline relate to victory. Wilson Perkins said the store's name was multi-dimensional, but "it's taken a turn into the journey part of it, winning the journey. So, winning natural beauty."
Both Wilson Perkins and Burgess see a more accepting hair culture in Amherst. "There seems to be a lot more self-expression through hair here," Burgess said, noting frequent appearances of natural hair and "adventurous haircuts and colors." Wilson Perkins attributed Amherst's friendly reception to natural hair to the "intellectual, health-conscious, social-conscious people" of the community.
"There's a lot of growth," Wilson Perkins said, "and the education is coming, at least for this community."
To women of all hair types, Wilson Perkins's advice is to maintain healthy hair and "just rock it and keep it going."
Check out Head Games official website here and sign up for their mailing list for deals on hair products and styling tips.
Stephanie Ramirez can be reached at [email protected] or on Twitter @stephjayare