NFL Fantasy Football: Week three recap
We've made it, guys. Three weeks of hair-pulling frustration when the wrong running back scores a touchdown, three weeks of throwing your remote at the television when your quarterback gets sacked. Week three of football is finally over.
How did you do this week? We posted our DraftKings cash game lineup in the Amherst Wire on Friday, and it did very well. Check it out below: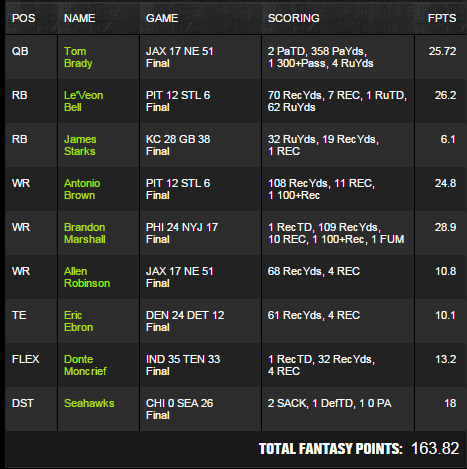 Every single player scored 10+ points with the exception of James Starks, who was the cheapest player on our team. Many of them exceeded expectations, though there were some disappointments and a big injury that cost some players potential points. Let's take a look:
Tom Brady: 2 TD's, 358 yards
Living in  New England, we know Brady's not going to run all over opposing defenses. His calling card is being able to efficiently maneuver an offense to a win. In a game where the Patriots score 51 points, you'd think Brady would throw more than two touchdowns, but the Patriots thoroughly dominated this game and ended up with four rushing TD's. Brady still ended up with 25+ points, but imagine what he'd do in a game where he'd be slinging it the whole time.
James Starks: 51 yards, 1 reception
We expected a lot more production out of Starks. Eddie Lacy did, however, come back from his injury early to play this game. It ended up being a timeshare for these two guys, and Aaron Rodgers threw the ball so often that neither Lacy nor Starks ended up getting it. Starks didn't hit his expected point value, but at the minimum salary of $3000, he was worth taking a flier on.
Le'Veon Bell: 132 yards, 7 receptions, 1 TD
In his first game back, Bell ended up being the focal point of the offense, getting 26 of the 47 offensive touches the Steelers possessed. Unfortunately, their proven quarterback, Ben Roethlisberger, left the game with a knee injury in the third quarter, and the Steelers ended up with only one touchdown and 12 points in their victory. Yes, Big Ben's injury gave way to more carries for Bell, but the overall offense slowed down with their backup, Mike Vick.
Antonio Brown: 110 yards, 11 receptions
No touchdowns for our most expensive player, Brown. Like Bell, he was in for a huge game but ended up with zero catches after Big Ben left the game. Imagine if Ben hadn't gotten injured! We would have gotten 35 points instead of 25. Injuries happen in the game though, and Brown also hit his value, even with the high, $8,900 salary that he commanded.
Brandon Marshall: 109 yards, 10 receptions, 1 TD, 1 fumble
Marshall and Brown had very similar stat lines, except Marshall played for a losing Jets team that was struggling to get its offensive footing, and he became the focal pass-catcher with number two wide receiver Eric Decker missing this game. He did catch a touchdown though and got the targets that we thought he would, and ended up being a very popular play among players overall (30 percent ownership across the site). Great play, lots of points for a low price.
Allen Robinson: 61 yards, 4 receptions
The Patriots schemed against the Jaguars to make sure Robinson wouldn't catch too many balls. 10.1 points isn't nothing, but is disappointing for a player who caught 150 yards and two touchdowns last week. We thought he'd see some garbage-time (production in a last-ditch, losing effort) stat boosters, but he delivered only a couple of catches towards the end of the game. We could have done a lot worse here.
Eric Ebron: 4 catches, 63 yards
Hey, these two guys had really similar stat lines, too! Ebron, as a very low-priced tight end, hit his value this week. Unfortunately, a hobbled Matthew Stafford didn't throw it his way inside the red zone, opting for Calvin Johnson and Golden Tate instead. Still, if Ebron's price tag remains low, he'll continue being a great red zone target for the Lions. If that's the case, maybe we'll see him here again next week.
Donte Moncrief: 32 yards, 4 receptions, 1 TD
Not much production from Moncrief in this game. Not much production for the Colts team, until Andrew Luck showed what he's worth in the fourth quarter and barely came back for the win. Moncrief simply wasn't looked at as much as we thought, with the return of the best wideout, T.Y. Hilton. The touchdown saved his value at 13.2 points and we can't complain, especially with his cheap $4,800 price.
Seahawks: 18 points
The Seahawks ended up being the most owned defense of the week, and they delivered, giving up no points to the lowly Bears and getting a punt return TD by Tyler Lockett. The best play of the position delivered.
All in all, the lineup finished with 163.82 points, and won around 65 percent of my head-to-head matchups. We need to beat around 55 percent of the field for long-term profits, so it's a good head start. I liked the lineup myself, but we can always do better. Come back this Friday to check out the cash game lineup for the fourth week of DraftKings!
Haven't tried DraftKings yet? Try it for free here. Trust me, it's fun.
Email Kevin Kim at [email protected], or follow him on Twitter @StatisticalLens.