Rihanna in Red: Super Bowl LVII Halftime Show
The 35-year-old performed at State Farm Stadium in Glendale, Arizona on Feb. 12.
Rihanna's halftime show was truly like no other and fans had a lot to say about it. The public had mixed views about the show, with some thinking that she performed perfectly while others thought she could have done more. Fans speculated that she was hinting about being pregnant throughout the show, which could have been a big reason why she wasn't jumping around stage. All in all, everybody was talking about Rihanna's performance. Clips of the performance and people's thoughts and reactions are taking over the news as well as various social media platforms including Twitter, TikTok, and Instagram.
In Rihanna's halftime show, she and her team of around 80 background dancers wearing puffy white outfits, performed on high platforms. Throughout the show, Rihanna rocked an all-red ensemble as fireworks flew all over the sky. Many fans took to Twitter to praise the artist on an amazing performance. Some of these tweets, shown on ET, include; "RIHANNA WE ARE SO PROUD" (@RIRIVOGUEEE on Twitter), "It's Rihanna's world we're just living in it" (@dayascamera on Twitter) and "Rihanna ate this diamonds performance up" (@RIHANNARAGE) on Twitter. Many other celebrities appeared at the Super Bowl to not only watch the game, but also Rihanna's performance, including Paul Rudd, Jay-Z, and Cara Delevinge, who wore a shirt with the text "Rihanna concert interrupted by a football game, weird but whatever", according to Evening Standard.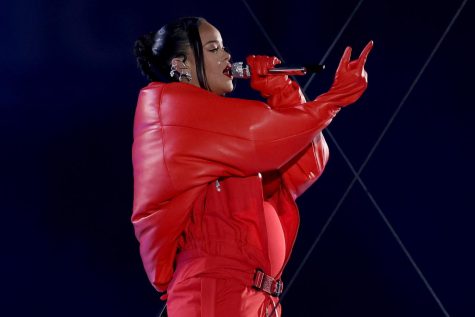 The songs that Rihanna performed at the Super Bowl included "B— Better Have My Money," "Where Have You Been," "Only Girl (In the World)," "We Found Love," "Rude Boy," "Work," "Wild Thoughts," "Pour It Up," "All of the Lights," "Run This Town,"  "Umbrella," and "Diamonds". These are some of her older hit songs, and although Rihanna hasn't produced much music in recent years, there are a couple of songs that she chose not to perform, including "Lift Me Up"(2022), and "BELIEVE IT" (which she made with PARTYNEXTDOOR in 2020). Her newer songs are a lot slower-paced, and Rihanna stuck with the fast-paced, more exciting songs of her past.
However, not all of the reactions to Rihanna's halftime show were positive. According to Newsweek, fans said her performance was "boring" and a "waste of money". Throughout the show, Rihanna did not move much, as there was speculation of her being pregnant again. However, she wore an oversized red parka (that she later stated she wore in dedication to André Leon Talley, a Vogue editor who died in January 2022), so it was difficult to tell for sure. On Newsweek, they showed some Tweets and overall negative comments regarding the performance including; "Rihanna's Super Bowl performance is going down as one of the most BORING performances in history just disrespectful (crying emoji) my eyes," (@n3diO) and "Rihanna is gorgeous and I like her but if y'all don't think that was boring n coulda been better you FAKE FAKE." (@MTV_AMANDAG).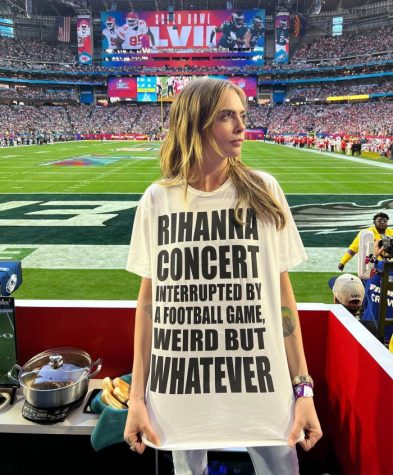 Shortly after the performance, a representative on Rihanna's team confirmed that she is indeed pregnant. After recently having a baby, she is expecting her second child with rapper A$AP Rocky, who was also in attendance Sunday night. Fans exploded with excitement at the news. Rihanna is not new to extravagant pregnancy announcements, but the news is definitely going to be an announcement that will go down in Super Bowl history.
Email Rachael at [email protected].