ESPN's Kate Fagan visits UMass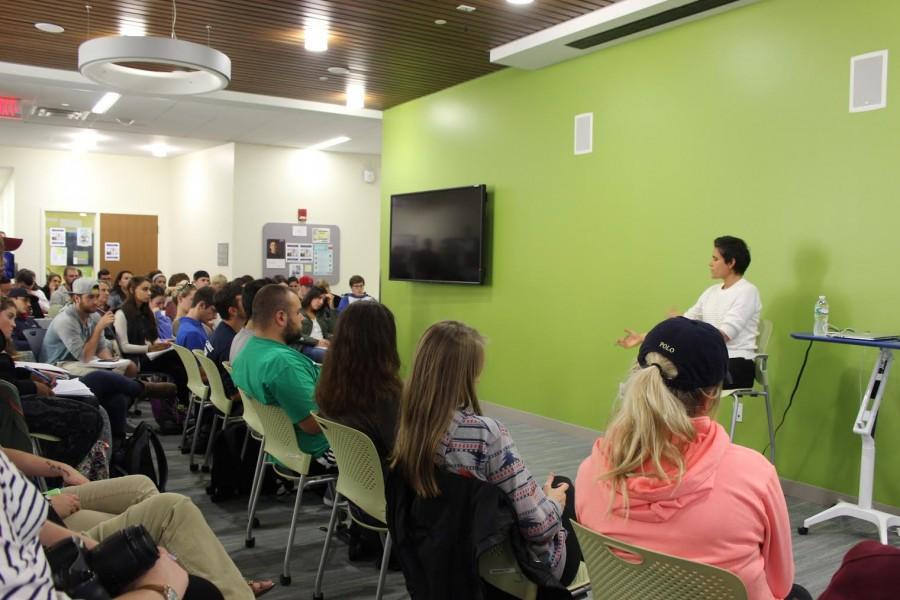 On Thursday, Oct. 1, a crowd of students gathered in a dimly-lit Ziff Galley on the fourth floor of the Integrative Learning Center, all awaiting the arrival of Entertainment and Sports Programming News reporter Kate Fagan.
Fagan graduated from Colorado University in 2003. She worked with the "Philadelphia Inquirer," covering the 76ers for three years before becoming a columnist and feature writer for espnW, the female-focused section of ESPN. She recently received nation-wide attention in May 2015 after publishing a piece titled "Split Image."
"Split Image" tells the story of Madison Holleran, a 19-year-old University of Pennsylvania track runner who committed suicide on Jan. 17, 2014. In the feature, Fagan takes readers on a journey through Holleran's fall semester at UPenn, detailing the hidden struggles she faced at the beginning of her sophomore year.
For Fagan, writing this story was different than any other story she has written.
"This story never had an order, it never had a framework, it never had this traditional story arc," she explained.
The idea for the piece came from Fagan's editor at espnW who discovered Holleran's story after seeing a quote posted on her Instagram page. Fagan and her editor started looking into the story.
"We had lunch, we talked about Madison and why we thought her story was about more than mental health and suicide," said Fagan. "It was a very important snapshot of how the digital social life was impacting kids as well," she continued.
After the lunch, Fagan tried contacting the Hollerans, but found it difficult.
"It's a very sensitive topic," said Fagan. "It's not like you could call your old friends at the Inquirer, or hit somebody up and have them pass [a message] along."
Eventually she reached out via Holleran's memorial page on Facebook, messaging and asking if she could be put in contact with the family. Fortunately, Holleran's sister received the message and passed it along to her parents, Jim and Stacy. Shortly after, Fagan found herself traveling to Allendale, New Jersey to meet with them.
Fagan explained the difficulties and setbacks that she faced. Covering a story that focuses on suicide and mental health issues always creates strong emotions, said Fagan. The hardest thing to do, she said, was having to ask Jim Holleran, on camera, if there was any history of mental health on his side of the family.
Though she was trying to unearth a story, Fagan felt as if she needed to protect the Holleran family. Shortly after "Split Image" was published, a piece appeared in the "The Huffington Post" that accused Fagan of glorifying suicide through her feature.
"I feel protective when I'm trying to write the right story," she stressed. She wasn't trying to glorify suicide, but rather explore and possibly help prevent other cases like the Holleran's, she explained.
For Fagan, a huge aspect of this article was the impact of social media and how we depict our lives through it, especially via Instagram.
Take, for example, a friend that travels around the world and posts all of these amazing pictures, said Fagan.
"I remember when I saw him and I said, 'Your life looks amazing!' and he said, 'No, my Instagram is amazing.'"
Fagan stressed the point that people never truly see negative images posted on Instagram; all of the pictures are filtered and edited to make the user's life seem as perfect as possible.
This is what friends and family of Holleran saw; they didn't see the true feelings locked away under her perfect image.
Currently, Fagan is in the early stages of writing a novel based on "Split Image." She recently received Holleran's laptop and text messages. Fagan acknowledged that the novel expects to be released around the time when Holleran would have graduated from the university: May 2017.
To learn more about Fagan, visit her website or follow her on Twitter.
Email Allie Furlo at [email protected], or follow her on @Alexandra_Furlo.