NFL Fantasy Football: Week five lineup
Welcome to NFL Week Five. It's an important week for us Daily Fantasy players, with the scandal that emerged between rival sites FanDuel and DraftKings. If you want the full explanation, read all about it here. Basically, an employee from DraftKings was able to look at ownership percentages of players from their biggest contest, the Millionaire Maker. Essentially, this is the Fantasy Sports version of an employee conducting insider trading.
It's tough to tell what the consequences will be with the advent of such a scandal. DFS is a psychological sport where you compete against other players, so looking at human behavior and seeing players' ownership percentages are definitely a plus when assessing lineup construction. However, FanDuel players can access players' ownership percentages from Thursday Night contests and use that data to their advantage. This particular information isn't limited to the employees; everybody can see this data. Sure, contestants can't see DraftKings' ownership percentage data until we start the games, but is it an issue among employees, or will they affect the average player, too?
At the end of the day, even with this scandal, the legality of the sport is unquestioned. Those within the Daily Fantasy employee sphere are the only ones being affected here. As for you and me, we can keep playing DraftKings, FanDuel or any other DFS website. 
Let's get on to this week's DraftKings cash game lineup.
DISCLAIMER: The goal of our lineup construction is to get as many points as possible with our players using the allotted $50,000 salary. We must pick players from nine positions: a QB, two RBs, three WR's, a TE, a FLEX(RB, WR or TE), and a DST. The players I choose will consist of players with the best values – i.e., a high points-to-salary – and the players that are projected to score the most points.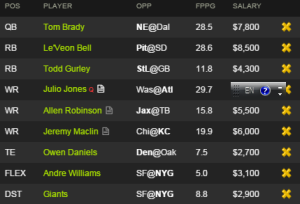 This week, the core plays consist of the most expensive RB and the most expensive WR: Le'Veon Bell and Julio Jones, along with the exciting Todd Gurley.
Le'Veon Bell is facing the second worst run defense in the league, with San Diego giving up the second-most points per game to running backs. Former superstar Michael Vick is still the quarterback for the Steelers. Five years ago, Vick was the best quarterback in the game with the ability to rush and pass effectively. Now he's a shell of his former self, and many of his complete passes should be check-downs to the every-down Bell. I predict this guy will get 30 touches this week, and if he scores less than 25 points, I will be disappointed.
Julio Jones is also in an incredible spot. The Falcons' primary back, Devonta Freeman, was a hero because he scored three touchdowns in weeks three and four. However, the Redskins have a very strong linebacking corps but a weak secondary that gives up the most yards to wide receivers per game. Considering that Jones has the most targets of any player per game and is arguably the best talent, it's impossible to avoid him. Fully expect 8+ catches, 120+ yards and at least one TD. 20, even 30 points should be expected from this guy this week.
Todd Gurley's a different pick, simply because he isn't as proven as the other two guys mentioned in these core plays, but his talent is far too good to ignore at such a low, $4,300 price tag. The only issue is St. Louis is playing against Green Bay in a game where they are expected to lose pretty handily. Regardless, Gurley should be able to get 15+ touches in a game where he should be utilized in passing downs as well.
As I've plugged in my core plays, I realize I need to get several value picks to make sure that I can evenly fit in my roster. Tight End is a position where I either go with the venerable Rob Gronkowski or punt the position entirely. This week, there's no way I can afford Gronk at a $7,500 price tag. Luckily, there's an extremely cheap TE this week, Owen Daniels at $2,700. Daniels and the Broncos are facing the worst defense against the Tight End in Oakland, who's given up an average of seven catches and 80 yards per game. Yes, an average tight end is expected to score 15 points against Oakland. This doesn't even consider the fact that Daniels has caught a touchdown in each game of the past two weeks. At basically the minimum price tag, I love the value Daniels provides; expect Peyton Manning to throw some looks his way.
With my remianing money, I want to spend it in a stable position with projected high volume. No strong WR's that cost a hefty chunk, other than Jones, really fit this bill for me. So I gave the quarterback position to my favorite, Tom Brady. This way, I can root for the Patriots and Brady to score tons of points on Dallas, a tough defense but nothing Brady can't exploit. He's scored at least 25 points in every game so far, and at $7,800, if he simply keeps doing what he's been doing, he'll hit value and more in an important position to fill as QB. The Patriots are projected to win by 8.5 points this game according to Las Vegas betting lines, and expect Brady to be right in the middle of all that scoring.
OK, who do we have left? Two Wide Receivers and a FLEX. Looking at the WR list, there really aren't many players that I want at a medium price. Keenan Allen gets many targets but he's at an expensive $7,200. Jordan Mathews, a popular pick of mine, is at $6,400 but has proven to be inconsistent and game script prone. James Jones is a possibility at $5,700, but Green Bay will probably get up big and the targets won't be there for Jones, who flopped last week in a similar game script.
After a few of hours of research, I decided to go with Allen Robinson and Jeremy Maclin, two guys that have gotten the most targets on their respective teams. Robinson has been the victim of a bad schedule: against Josh Norman in week one, Bill Belichick and his superb game planning in week three, and against Vontae Davis in week four. He scored two touchdowns on 155 yards in week two against Miami the one week he didn't face  strong pass defense. Jacksonville's opponent this week, Tampa Bay, is in the bottom third in the opponent's pass defense. Robinson will get his 8+ targets and convert them into a huge total this week, at a bargain price of $5,500.
Maclin, on the other hand, hasn't been shadowed by elite quarterbacks very much in his schedule. Instead, he's turned that into some great performances: eight catches, 141 yards and a TD in week three against Green Bay, and 11 catches for 148 yards against Cincinnati in week four. These aren't easy defenses to go against, and this week he gets an extremely soft secondary in Chicago. Getting a player who has an average of 10 targets a week against the worst defense in the league for only $6,000? Sign me up.
My last two options come down to the flex position and a defense. There's not much money left, so I have two options: Boobie Dixon from the Bills, or Andre Williams of the Giants. Both guys get goal line work, are relatively slow, super cheap and will get a good amount of volume. It took me a while to decide but in the end, I went with Andre Williams, who is guaranteed to get red-zone carries, is playing at home and probably will not be very highly owned. With that I went with the Giants defense, a correlative play with Williams as Giants are home favorites with the third lowest total spread.
And there you have it, ladies and gentlemen, the week five lineup for DraftKings cash games. Feel confident in setting your lineups, don't worry about the stupid scandal that they say is a big deal. For now, it won't be. If it is, don't worry, my recap article on Tuesday, right here on the Amherst Wire, will tell you all about it.
Haven't tried DraftKings yet? Try it for free here. Trust me, it's fun as hell.
Email Kevin Kim at [email protected], or follow him on Twitter @StatisticalLens.