NFL Fantasy Football: Week nine lineup
Ladies and Gentlemen, welcome to week nine of Fantasy Football. We're already halfway through the season, folks! With the big controversy out of the way, let's get on with our regular scheduled programming: the players for our DraftKings cash game lineup.
DISCLAIMER: The goal of our lineup construction is to get as many points as possible with our players using the allotted $50,000 salary. We must pick players from nine positions: a QB, two RBs, three WR's, a TE, a FLEX(RB, WR or TE), and a DST. The players I choose will consist of players with the best values – i.e., a high points-to-salary — and the players that are projected to score the most points, combined to make the best lineup of the week.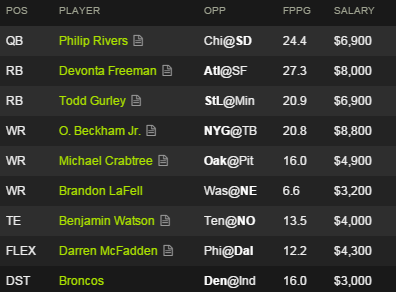 Our lineup consists of plays with a lot of chalk (the projected-to-be highest owned players). Remember, in cash games, that's okay. We're worried about winning against one person and therefore finding the most balanced, steady point production from our players.
Let's go through the individual players now.
NEEDS: These are the players that I identified as essential to my lineup:
Phillip Rivers: He's had 31, 30, and 27 points the past three weeks, and now he's facing one of the worst secondaries in the league, at home, playing for a Chargers team who has a limited running game. Chalk him up.
Devonta Freeman: He's averaged 26 touches since week two, and now he's playing against one of the worst run defenses — and one of the worst teams — in the league. Atlanta will be playing with a lead in this game and Freeman should get 20, maybe even 30 points. He's surpassed 35 points four times already this season, so don't be surprised if he does it again.
Todd Gurley: Yes, both starting running backs are 'needs' this week. Gurley is the highest-priced RB in FanDuel, but only $6,900 on DraftKings. Price discrepancies are difficult to interpret from site to site, but the $2,100 difference is the largest for any player above $5,000 DraftKings points this week. This means Gurley has significantly much more value on DraftKings than on FanDuel. Chalk him up, too!
Darren McFadden: Yes, both starting running backs and a flex are all running backs and 'needs' this week. McFadden is actually in a tough matchup this week, going up against the third-rated defense against RBs, according to Football Outsiders. But at a $4,300 price tag, how can you ignore him? McFadden had 31 touches in week seven and 26 in week eight, resulting in 27.2 and 17 fantasy points. He only had 14 touches in week six and still had over 15 points! He will easily achieve at least 10 points with upwards of 30.
WANTS: These are the players I didn't deem essential, but felt tied my lineup together well:
Odell Beckham Jr.: Yes, he did score 40 points, and yes, choosing players who do significantly well the week before is usually a bad choice because then you are, seemingly, "chasing points." But Beckham found his mojo in the red zone last week, catching three of his eight targets for touchdowns, two in the red zone. If QB Eli Manning continues to serve him touchdown passes, Beckham will be worth the gigantic price of $8,800 against the Tampa Bay Buccaneers…who have the 29th worst defense against WRs, according to Football Outsiders.
Michael Crabtree: Amari Cooper is stealing all the headlines, but Crabtree has quietly been getting the same amount of work. Crabtree actually has more targets on the year, and he's coming off a 7/102/1 game against a stingy New York Jets defense. With so much coverage on Cooper, we'll look to get Crabtree at a cheap $4,900 and hope he can provide something like a 6/90 line against the Pittsburgh Steelers.
Brandon LaFell: Normally, I have a rule against choosing players with a floor of zero. Could LaFell drop most of his passes and end up being a dud against the Redskins? Yes. But I just had to get some exposure to the New England offense, and Rob Gronkowski for $8,000 wasn't going to do it for me this week. Not to mention, LaFell is at an almost minimum price of $3,200. Assuming he is fully healthy, and all indications are that he is, I'm fully comfortable with rostering LaFell with no expectation of more than 10-15 points.
Benjamin Watson: Yes, this is the Ben Watson that helped the Patriots win the 2004 Super Bowl 11 years ago; he's returned to fantasy relevance in the last few weeks. Watson's looking like the red zone target for Drew Brees, who's been throwing such perfect passes that Watson has had 30+ fantasy points twice in the past three weeks. That's uncharted territory for tight ends; only two others have done it so far even once this year. Tight Ends are usually cheap, but for $4,000, I felt he was a better option than Delanie Walker at $4,200 or someone like Julius Thomas at $4,100.
With $3,000 left, the only good DST option left is Denver. Playing against a shaky, and probably hurt, Andrew Luck, even on the road, makes me feel good about this choice for the week.
That's all I got for you guys this week. Let me know how you do, and see you on Tuesday!
Email Kevin Kim at [email protected], or follow him on Twitter @StatisticalLens.