UMass alumna Sarah Hill: The matchmaker of NYC real estate
This entrepreneur turns strangers into roommates at Perfect Strangers of NYC.
University of Massachusetts Amherst alumna Sarah Beth Hill returned to her alma mater on Monday, March 7, to talk all things roommates and rentals.
Hill, 27, founded Perfect Strangers of NYC, a website designed to help young adults move to New York City. Addressing approximately 50 students in Memorial Hall, Hill explained step-by-step how to find roommates and navigate the housing market in the Big Apple.
Throughout the hour-long presentation, hosted by UMass' Bachelor's Degree in Individual Concentration (BDIC), University Programming Council (UPC) and the Student Alumni Association, Hill tackled issues like budgeting, subletting and apartment hunting.
"New York is a completely different rental world, and that can be overwhelming," said Hill in an interview following her talk.
Hill graduated from BDIC at UMass in December 2010 with a degree in real estate and entrepreneurship. She said that the university really helped her "flourish as a person" as she pursued her interests.
After spending her final semester at UMass abroad in London, Hill found herself back home in Marion, a small suburb of Rochester in upstate New York. By the end of the holiday season, she was ready for a change of scenery.
"I always wanted to live in a big city, especially coming from a small town," said Hill. "I love everything about New York. The possibilities are endless."
Hill explained that by "tapping into" her network and contacting people she knew, she landed a job at Newcastle Realty Services as an executive assistant in January 2011. She interviewed for the job on a Thursday and the company asked her to start that following Monday.
Hill needed to find an apartment, and find it fast. She sublet what she calls a "sketchy" apartment in the Bedford-Stuyvesant neighborhood, a 45-minute commute to her new job. She said she was paying too much rent for the space and moved out after three months, relocating to a three-bedroom apartment in Astoria.
The young real estate broker said she had her "light bulb moment" that summer.
While running her blog, Moving to NYC 101, Hill realized that there were a lot of young people just like her, trying to move to the city smartly and affordably, but that there was no service to help them along the way.
Hill worked tirelessly — on lunch breaks, evenings and weekends — to make Perfect Strangers of NYC a reality.
"I didn't have any social life or any free time whatsoever," Hill said with a laugh.
After two years of working as an assistant and saving as much money as she could, Hill quit her job with Newcastle Realty in March 2014, with $25,000 in her bank account. She's been working with Perfect Strangers of NYC ever since.
At her company, Hill is both an advisor and broker for people moving to the city. She matches roommates, shows apartments and offers advice to clients coming to the area for the first time. Recent college graduates are her main focus.
"They're the ones who need it the most," she said, highlighting her own challenges when she first moved to the Big Apple.
Hill said that she relies on establishing "great" relationships with landlords when she's working. She uses a vetting process with clients to ensure that they'll be a good fit for an apartment and the roommate she matches them with. Business is busiest in the summer, and Hill often hires a commission-based employee or two to help her out, usually UMass alumni.
This spring, Hill will hire her first full-time employee, Bianca Surjawan, who graduates in May. Surjawan will serve as the head of marketing. Hill also hired two UMass sophomores to work for her this summer: Stephen Maher, as a licensed real estate agent, and Dana Applegarth, as a personal assistant.
Hill hopes to incorporate social media and live-feeds into her business in the near future, streaming live videos on the company's Facebook page so prospective renters can virtually tour apartments.
She's also working on a 10-part web series, premiering this summer, that explains how to live in New York on $1,000 a week. She plans to showcase affordable neighborhoods and dorm-style living options.
But it doesn't stop there. After the web series, Hill wants to produce a reality television show about working in New York real estate. Currently, she's working with a production company and working on a sales pitch.
"We're highlighting things about New York that not a lot of people are talking about," Hill said.
With everything she's doing, Hill predicts that conversation will change.
Email Stephanie at [email protected] or follow her on Twitter @StephMurr_Jour.
About the Contributor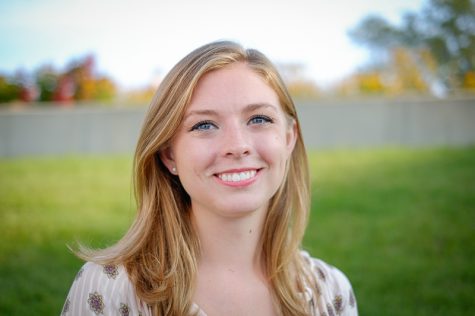 Stephanie Murray, Editor in Chief
"Never give up, for that is just the place and time that the tide will turn."

[email protected]