A peek into student-run small businesses at UMass Amherst
Three students share their stories of running a small business both inside and outside of UMass. 
UMass is home to many entrepreneurs and creative-minded individuals. Specifically, students Elaina Lorusso '23, Nola Minogue '24 and recent graduate Kelley Almada '21 have each run a small business while attending UMass. 
By utilizing the UMass Student Farmer's Market and local craft fairs, promoting themselves on social media, and offering products and services both at home and on school grounds, their businesses have been able to flourish in their own individual ways. 
UMass senior Lorusso became fascinated with makeup when she was 15 years old. Since then, she has done people's makeup during both her high school and college years and has more recently begun marketing spray tan services. 
Lorusso previously worked with a company on Newbury Street in Boston that serviced spray tans. This gave her the idea and inspiration to buy her own products and begin her own business. When Lorusso began her junior year at UMass, she expanded her brand in the cosmetic industry by beginning a spray tan service at her apartment, and now her house. 
"It's a really easy job for making money on the side right now. I'm a student…I can't really work a full-time job and just having a little bit of extra like pocket money is definitely really good and very nice, because it's on my schedule," Lorusso said. 
However, Lorusso cannot currently rely on this job to support herself. After graduation, she plans to work a full-time job and pursue beauty on the side. 
She hopes to pursue beauty full-time in the future because she is so passionate about it and "[loves] making other people feel beautiful." 
Lorusso stated that her favorite thing about starting her business is how her mental health has been saved. She offers advice to those who are struggling with mental health.
"Get yourself into something that you really love," she says.  "Life is so short, do what you love, and try to make the best out of it because if you love something you'll go 100% with it." 
Just like Lorusso, Minogue also balances her school life with her business life. Minogue is currently a junior at UMass and she began her small business journey in 2020 during the COVID-19 pandemic. At this time, she became interested in using clay after watching YouTube videos. 
Due to an influx of products she made, it was Minogue's mother that encouraged the idea that she should begin selling her creations of both clay jewelry and figurines. Since then, Minogue has made products both at home and in her dorm at UMass.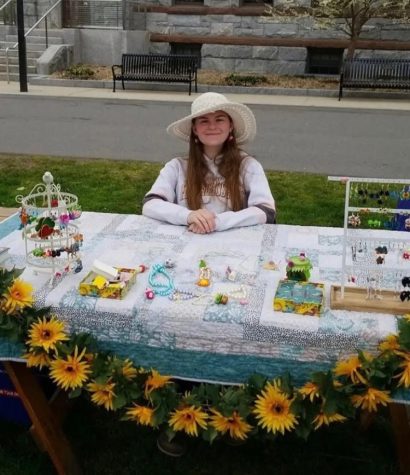 Minogue has been able to sell her products at multiple different places including the UMass Student Farmer's Market, the University Programming Council's Fall Festival and Etsy. Soon, she will also sell at her family's restaurant during the holiday season and at the UPC's Holiday Market on Dec. 6. 
Minogue enjoys selling at the farmers market because of the personal interactions she has with potential buyers while being able to show off her work. 
"It's nice to have people be like 'oh, this is cool', or 'this is cute', or 'you did good work'. It was very affirming," said Minogue. 
At the same time, Minogue described her past worries about what people think and if her products are actually good. Having to sit at the farmer's market is also socially draining because she has to maintain an image.
"You're not just selling a product, you're selling yourself too," said Minogue. 
Comparing oneself to other creators and facing imposter syndrome is another issue that UMass alumni Almada faces while selling her jewelry on both social media and at farmers markets. 
"It's just hard for me to see those [accounts with] like 100,000 to 200,000 followers on Instagram and have these beautiful pieces and super crazy equipment," she says. "But those accounts also kind of inspire me because it makes you think like, I can get there someday," Almada said.
She also agrees with Minogue that selling at craft fairs and farmers markets is a great way to feel more positive about your work. This helps Almada overcome thoughts of self-doubt when she is face to face with people complimenting her work. Talking to other artists, meeting buyers, and gaining a sense of community and relationships with them have also helped her imposter syndrome the most. 
Almada began making jewelry when she was about 10 years old, and it wasn't until July 2020 that she started her business officially. She was able to sell her jewelry at a craft fair for the first time in December 2021 at the Pushkin Gallery in Greenfield, Mass. 
Similar to Lorusso, Almada has a different full-time job and considers her business a side job.
"It doesn't like pay the bills, but I would love to work up to it being my full-time gig. Yeah, that's a dream for sure," Almada said. 
Revenue from her business has been consistent since she graduated. It is not highly profitable for Almada at this time because the money she earns, she essentially puts back into the business to buy more supplies to create more products.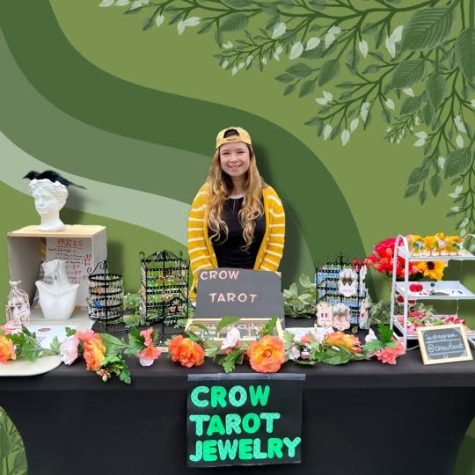 Currently, Almada is able to focus more on her jewelry business as she has had mostly remote jobs as a result of the COVID-19 pandemic. 
"I've been able to be on the phone with someone talking for work and making jewelry at the same time. So it's definitely been really beneficial that the pandemic allowed me to work from home," Almada said.
Almada offers advice to current student small business owners and creators. 
"Keep in mind that everyone goes through impostor syndrome and it's like the main thing that discourages people but [know] that everyone goes through it, even the people that you admire," she says. "Also to keep your expectations realistic…you have to put a lot of time and money into a business to make it grow."