'Stranger Things' — What's all the hype?
This sci-fi meets rom-com seems to be everyone's new obsession … but why?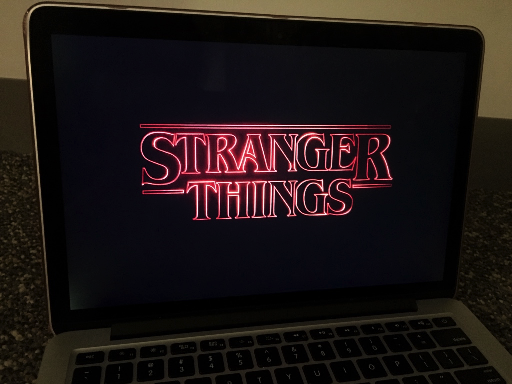 In a world of curious pre-teens searching for their missing friend who mysteriously vanishes, a monster looms in the shadows awaiting his next prey. Along the way, the characters struggle with complicated relationships and peer pressure. Sounds like a typical teen sci-fi show, right?
Yet, the "Stranger Things" audience doesn't quite reflect that genre. Not only do teenagers watch the show, but so do adults. For the first month after "Stranger Things" aired in July, the series averaged over 14 million viewers ages 18 to 49, according to Variety.
Everyone seems to gush about it. The New York Times called it "tantalizingly, scarily new." AV Club called it a "hyper-stylized niche that is essential even at it's wobbliest."
So, what gives? What makes a show about a bunch of children running around looking for a monster so intriguing and nail-biting?
It could be the astounding performances. Millie Bobby Brown, who plays Eleven, is a young psychic girl who helps a group of boys.  The boys, Mike (Finn Wolfhard), Dustin (Gaten Matarazzo) and Lucas (Caleb McLaughlin) are looking for their missing friend Will (Noah Schnapp). These kids are in their early teens and still deliver compelling performances.
The children are aided by Mike's sister Nancy (Natalia Dyer) and Will's brother Jonathan (Charlie Heaton), who are both stellar actors. Will's mother Joyce (Winona Ryder), who arguably gives the best performance in the series as her character obsesses over her missing son, causing the townsfolk to think she's lost her sanity.
Another reason why people love this series is the mixture of genres. Because of the incorporation of sci-fi, rom-com and drama, the show is able to draw in a much wider audience of teenagers and adults. The interesting aspect of "Stranger Things" that makes it appeal to an older audience is the way the kids have to endure many adult issues like death and manipulation.
The monster who haunts the town is a sci-fi mystery in itself. Because the show is set in the 1980s, many scenes are reminiscent of the '80s film series "Alien," which depicts a space mission gone wrong when alien eggs are found on the spaceship.
While there is a sci-fi adventure slant, there's also a romantic comedy angle with Nancy and her boyfriend Steve (Jon Kerry) who are in a love triangle with Will's brother Jonathan. The show is a coming-of-age story for Nancy, who, amidst all of the chaos, is caught up in the pressure of her peers. She faces the disintegration of her friendship with her best friend Barbara (Shannon Purser) and her brother's hijinks.
The reason why adults are able to appreciate a series about kids solving a mystery in the '80s isn't just Star Wars nostalgia. It is the complexity of the characters, the creepy, horror-like vibe and their quest to answer the questions introduced by the show: Where is Will Byers and what is this monster?
In August, Netflix announced the second season of "Stranger Things" will be sometime in 2017.
Email Jaylene at [email protected] or follow her on Twitter @JayleneLopez_.