Voters nix slots parlor ballot referendum
More stories from Wei Cai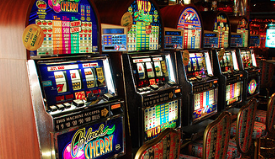 AMHERST — The results are in, and there will not be a new slots parlor casino in Massachusetts.
Massachusetts voted against Question 1, according to The Boston Globe, with 69 percent of the votes coming in against another casino license in the state.
In Amherst, 10,425 people voted no, whereas 3,523 people voted yes.
Question 1 asked Massachusetts voters if they would approve of the state's Gaming Commission issuing another Category 2 casino license. A Category 2 license allows for slots parlor-only casinos to operate within 1,500 feet of a racetrack that's not separated by a highway or railroad.
Prior to the referendum, the state's only Category 2 casino license was issued to Plainridge Park Casino in Plainville. It will continue to be the only one operating in the state.
Other casinos in the state such as MGM Springfield — which is set to open in September 2018 — will operate under a Category 1 license. The main difference is that MGM Springfield is allowed to have table games.
The initial push for casino gaming came in 2011 when former Governor Deval Patrick signed the Expanded Gaming Act. This act allowed for three Category 1 licensed casinos to operate alongside one Category 2 licensed slots parlor casino.
After facing some opposition in 2014, voters voted against repealing the Expanded Gaming Act. With the results of ballot Question 1, the legislation will remain the same as it was since 2011.
An October WBUR poll showed that the opposition towards Question 1 was higher than the support.
Lisa Tran, a freshman business major at the University of Massachusetts Amherst, was one of the people who opposed it. She explained her opposition wasn't based on her personal feelings. Rather, it was based on what she had been taught.
"My opposition for Question 1 doesn't come from my personal opinion, but instead, it comes from what I have been taught. Places like Atlantic City have become deserted through the past few years… the money towards building these casinos can go towards something more valuable and important to benefit the public such as public transportation," Tran said.
After hearing the results, Sanjana Kadirvel, a junior psychology major at UMass Amherst, couldn't help but think about the potential economic benefits the referendum could have brought.
"I feel like having [it] could benefit the state with taxes," said Kadirvel.
Michelle Van, a freshman at UMass Amherst, initially said that she was indifferent, but also acknowledged the economic benefits. However, after seeing the results, she concurs with Kadirvel.
"I think we lost revenue … even if not here, [people] will go other places," said Van.
Email Wei Cai at [email protected] or follow him on Twitter @weicaiumass.