More than 1,600 protesters denounce Trump in Springfield
SPRINGFIELD — Students and community members marched through Springfield on Sunday in a show of solidarity against Donald Trump's presidential victory and what they call his discriminatory rhetoric. 
Springfield Police estimated more than 1,600 people gathered at Court Square at 12 p.m.
The march was attended by a diverse range of identities — Five College students, high school students, mothers, homeless people, children, adults and people from all walks of intersectionality.
Perla Garcia, a Smith College student and one of the organizers of the event welcomed the crowd and opened up the space for people to address their hurt, anger or fear in response to the election results.
"I want to educate those who do not understand the impact of this election," she said.
In the middle of the introductions, a man walked by and shouted that everyone at the protest should "get out of the country.
"Thank you so much, I love you too," Perla replied.
Ambar Garcia, a resident of Springfield and sophomore at Smith College, was another organizer of the event. She introduced herself as a proud Dominican, Puerto Rican and bisexual woman.  
She spoke to the crowd about the recent hate that happened across the country since Trump won the presidency five days ago, including the students at Royal Oak Middle School in Detroit who chanted "build the wall" during their lunch hour.
"I refuse to let these acts of violence to continue to perpetuate in our country," Ambar said.
Protesters began the march from Court Square into the streets, holding up signs and chanting, saying "not my president" and "we reject the president-elect." People passing in cars honked and waved, mostly showing positive support.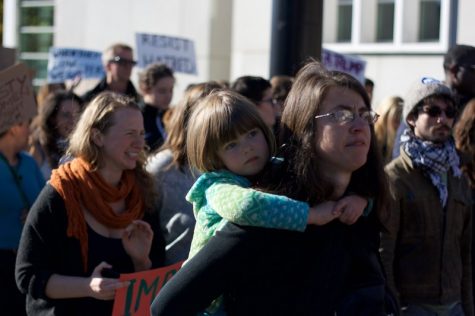 Jennifer Atlee marched the entire route with her four-year-old daughter on her back. As she spoke about why she came out to march, her eyes started to water up and she struggled to find words to portray how she felt.
"Having Donald Trump win validates the worst impulses of this country because of the hate speech he has used and encouraged," Atlee said.
"I would love to understand people who voted for Trump and why, but we need to be very clear that privileged people who care about humans and humanity are going to stand with those who are being targeted," she added.
Ebun Nazon-Power, a student at Hampshire College said Trump's platform stands against their identity.
"[Donald Trump] goes against everything I believe in, everything I am as a queer person, a person of color," Nazon-Power said.
Nazon-Power said the oppressive foundational institutions that built the United States symbolized what Trump embodies today in America.
"This country is founded on racism and sexism, so I think that it is an important time in history when we have a president who symbolizes all that prejudice and doesn't try to hide it," Nazon-Power said. "People are just fed up and tired and are coming together because it's finally time to do something about the bu****it that has been in this country for centuries."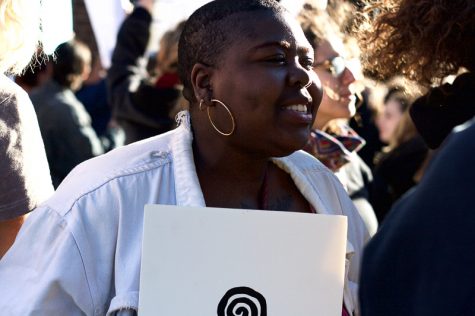 Toula Sierros, a student at Smith College, said she came to Springfield to voice her anger and concern about people who voted for a president that stands against who she and other people are in this country.
"I think it is a lot of ignorance and closet racism," Sierros said of Trump supporters. "People do not understand the lives they are hurting."
Sierros said she wants voters to understand people are not just protesting because they lost, but because they are defending their rights.
"Hopefully if we get enough people [involved], others will understand the problem," she said.
Sierros attended a similar rally at Smith College two days ago.
Clare Altman and Renee Rienecker, also Smith College students, said there is importance in branching outside of the Smith community when protesting their concerns.
"A protest at Smith College doesn't raise much attention," Altman said. "We always see protests going on in big cities and we haven't been able to be a part of those, so Springfield is the next place we can actually be."
Speakers touched on different topics relating to Trump's contentious rhetoric, but each speaker made it clear that such "hate speech" will not be tolerated.
Xzavier Morales spoke at the first stop during the march around the city where protesters voiced their emotions and thoughts. 
Morales criticized Hillary Clinton and Barack Obama for their efforts of getting voters to unify just after the election.
"[They] urge us to support him as if they forget the insults of yesterday," he said.
Morales said he believes the Democrats "have and will fail us," so it is up to the people to organize.
"Love, education and organization is what stops fascism," he said.
Pointing to the American flag raised behind him, Morales referred to the stars as bullet holes on those "who refuse to be subjected." He said the stripes are bars of the imprisonment people face within the country.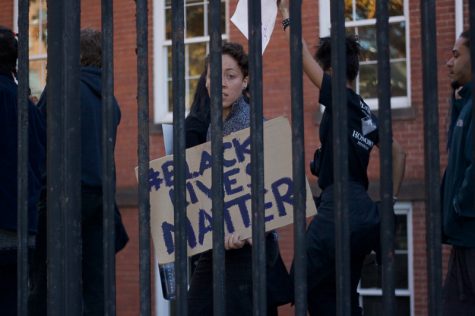 John, 61, a long-time Springfield resident who wished to withhold his last name for his safety, stood at the midway point of the march with a Trump campaign shirt and an American flag in an attempt to show that not all Trump supporters are racist or filled with hate.
"I love this country as much as all of these people marching by here," John said. "I think [the racism] is a lot of hyperbole. I don't hate anybody and I don't think he does either."
"No Trump, no KKK, no racist U.S.A.," the crowd chanted as they marched by.
"I agree," John shouted back. "I'm not in the KKK!"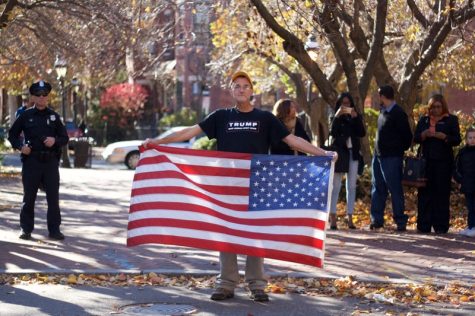 What started as an organized and contained march turned over a bit of chaos in the street when two more Trump supporters stood on the sidewalk opposite the park by the Springfield Museums where organizers spoke. Protesters began to cross the street and stand in front of the Trump supporters, chanting "not my president" and attempting to surround the Trump campaign signs with anti-Trump signs.
When asked why they acted out against the protest, one of the Trump supporters said it was simply because of a "difference of opinion." He declined to comment further.
Melissa Bonaccorso, a student at the University of Massachusetts Amherst, attempted to engage in conversation with the two Trump supporters. Her questions were not met with much response behind the crowd of anti-Trump chants.
"We need to stop pointing fingers at each other and engage in conversation," Bonaccorso said.
"There are so many white, middle-class American families especially in the middle of the country who have been ignored for so long and that's why this happened," she added. "We need to make it clear we don't hate people who voted for Trump, we just hate the hate that he brought."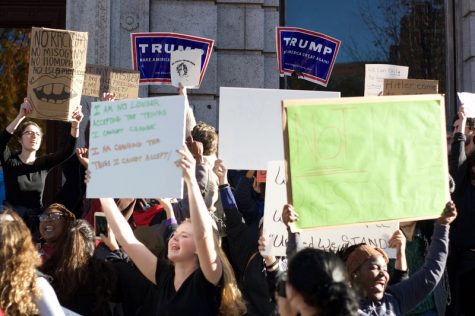 Protests across the country in response to Trump's presidential win have hit cities such as Washington D.C., New York City and Los Angeles. In Oregon a protest in downtown Portland turned into chaos as some protesters smashed car windows and several were arrested.
In Massachusetts, people protested in Boston, Worcester, and Amherst where community members held a vigil the night after the election.
Looking forward, anti-Trump protesters plan to meet in Washington, D.C. after Inauguration Day congregating for marches such as a Million Women March on Jan. 21, 2017.
Email Morgan at [email protected], or follow her on Twitter @HughesMorgan_.
Email Carson McGrath at [email protected] or follow her on Twitter @McGrathCarson.
About the Contributor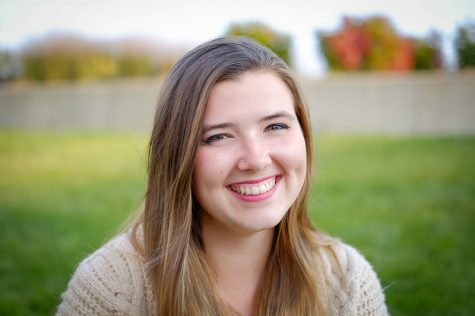 Morgan Hughes, Campus News Editor