UMass Got Talent winner Friends at the Falls to open at Spring Concert
AMHERST — A young man flips his body backward on the purple and blue-lit stage between singing lines of a song he wrote. Beside him, two men strum colored guitars. Another ricochets his fingers on a keyboard. University of Massachusetts Amherst senior communication and economics major Matt Montgomery hits down on a black drum set. Their movements create one sound and their nodding heads match the rhythm, amping up the crowd.
Friends At The Falls was one of the ten acts to perform at the UMass Got Talent event Friday, April 7 in the Student Union Ballroom. About 650 family members, friends and students attended the showcase held by the University Programming Council, according to Event Coordinator Gabriella Fishkind.
At the end of the night, the band was declared the winner. The prize? 
They will open for Lil Dicky, 2 Chains and Jon Bellion at the 2017 Spring Concert at the Mullins Center on Sunday.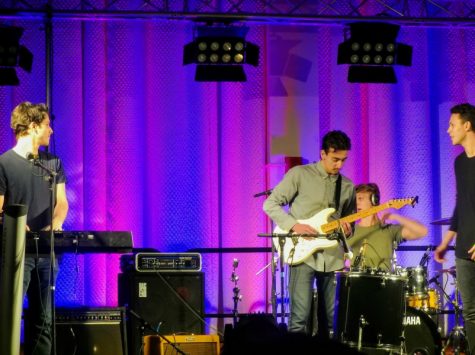 This group of five friends lived down the street from one another for years in Mahopac Falls, N.Y. As the boys grew up, they each left their hometown to study at various colleges. The band members' majors range from engineering to finance. 
Lead singer and rhythm guitarist Jake Stam is a senior at Purchase University for studio production. With visions of a future in music, Stamm saw the potential for him and his best friends to form a band.
"It started off mainly my dream. I was so driven and so ready to do it. Slowly but surely, I infused that into Matt," said Stamm.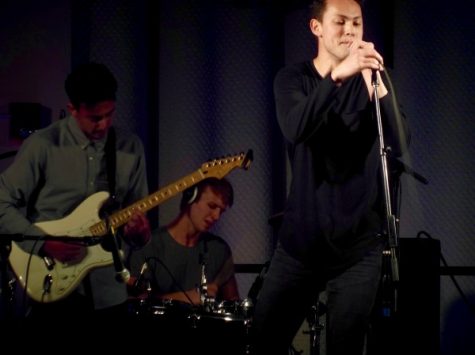 Montgomery recalls Stamm in high school knowing exactly what he wanted. He and the other guys, however, weren't too sure.
"I took some time. I came to college undeclared and didn't really know what I wanted. Eventually, Jake and I had a good talk," said Montgomery.
"I yelled at him. Not a talk, I tore him apart. I love this kid more than anyone in this world. In that car was the first time I ever cursed at him seriously," Stamm said, laughing and looking over to his friend.
"He was like, what are you doing? You have all this potential, put it towards something you love," Montgomery continued.   
"I didn't care if I was in the band!" said Stamm, still laughing.
Montgomery realized that there was nothing he loved more than music, and the dream was feasible with Jake and the other guys by his side. Soon enough, Friends at the Falls was formed. The name came up through days of back and forth texting. Montgomery presented the name by simply stating who the band is before anything else.
"We've all been friends since we were super young, and that's a super binding part of our band. Beyond being musicians with each other, we're all best friends," said Montgomery.
"
We've all been friends since we were super young, and that's a super binding part of our band. Beyond being musicians with each other, we're all best friends.
— Matt Montgomery
Montgomery and Stamm played music from a young age, while other band members are just starting out. Their new guitarist Nick Gennusa has been playing for merely a couple of months, and their lead bassist Dan Walsh has only played for about two and a half years. The talent show was Gennusa's first time on stage with the band. The boys were added to the project because they have the same drive and shared vision of becoming big-time.
Also, who better to do it with than your best buds?
"These are like 'the' friends for me. I would never let it slip. It's not because we're in a band, it's because what are the odds we all just ended up in a band together?" said Stamm.
In just a year and a half, the band has produced two EPs and will be going on their second and third tour this summer. They try to do a show or two a semester in balance with their college workloads but dedicate their break-times for tours. After the band members graduate in May, they are looking forward to dedicating more time to the project.
The band has performed at UMass twice before, both at the Theta Chi fraternity. One of these events was a benefit concert for Baystate Children's Hospital that raised $2700.
Friends at the Falls works to make their sound lasting, hoping it will stay with their listeners rather than become just another quick sensation. They understand the diligence and hard work that goes behind such a process, so they are taking the time to manufacture a good first album and develop their sound, they said.
"As terms of influence, it's like throwing Coldplay, the Killers and Bruce Springsteen in a blender and taking a big, hearty sip," said Montgomery.
A chief principle of the band is to remember to have fun with one another, in the hopes that it translates to the audience. Stamm voices that it's important to be energetic with the guys on stage with him. This may even include some on-stage backflips.
"It's usually the climax of the show. I feel invigorated enough to throw a backflip, you know," said Stamm.
The boys are driven by a longing for travel and adventure. The dream is to end up in Los Angeles, Calif. playing in arenas.
"To the toppity-top," said Stamm.
"To the top of most, to the top of most," Montgomery added.
The other acts
According to UPC Event Coordinator Fishkind, UMass Got Talent replaced The Battle of the Bands competition in 2013. The idea was that any kind of talent could audition. The process is intended to increase campus involvement. Thirty six groups auditioned to partake in the event over three different weekends, including a juggler and yo-yoer. Nine acts were ultimately chosen based on creativity, interaction with the audience and ability to hold the audience's attention.
After the nine performances, judges left to convene and attendees were asked to vote for their favorite act in the back of the room. A weighted calculation took into account 75 percent of judge feedback and 25 percent of student votes. After the calculation was made, the winners were revealed.
Although not every act will be showcased at this year's concert, the night came well equipped with love songs, booty pops and lively jams that opened a peep-hole into the diversity of UMass talent.
Along with Friends At The Falls, there were seven musician acts: four single artists, two duo groups and one other band. The two other acts were dance groups. Julia Caudle of UMass comedy troupe Folks With Jokes introduced each performance.
Solo-rapper Givenchy ripped off his white T-shirt to reveal a black tank top and single gold chain mid-way between his set that included original single "Do it For the Love." The rapper flowed across the stage with exuberant energy.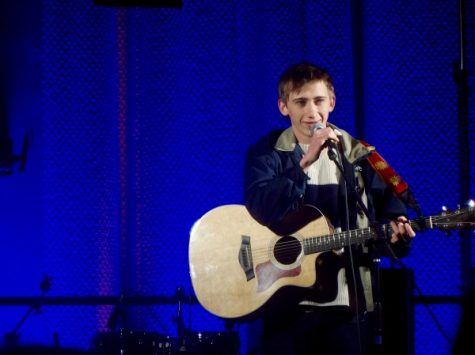 Nate D'Angelo, freshman singer-songwriter held an acoustic guitar slung over his shoulder by a red guitar strap with yellow printed suns.
"I wrote this the day after the election this year. It seems especially appropriate today," he said to the crowd the night after Trump ordered a missile strike on Syria.
"She's shaking, saying she can feel the world getting lonelier," repeats throughout his verses.
Attendees clustered to the front of the ballroom to stand for NLiteN's performance like one would for a concert. Students bounced about, hands waving in the air as the UMass junior sang his original song "Lite It Up." Jordan Tolbert is not new to the UMass crowd, as the rapper opened for Mullins Live back in March after the general manager of the Mullins Center reached out to him personally.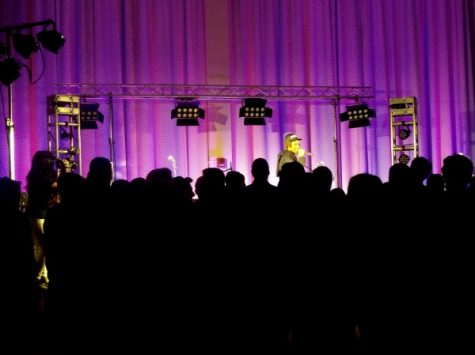 The Knopp Brothers, a brother duo, performed a set of covers and original songs even taking an acoustic twist on Taylor Swift's "Shake It Off." Duo Mike Ennis x Aaron Cronin used a mixture of electronic and rap in their performance, revamping songs like Ed Sheeran's "Shape of You" to have more electronic beats with their own vocalizations in the mix.
A band of six called The Funky Monks took the stage first, holding variations of trumpets and guitars for their funk and jam performance. Mike Spector, the last performer of the night closed the show with just his guitar and voice, often heard in UMass all-male acapella group, The Doo Wop Shop.
All-female group UMass Dhadak recently presented their set at Columbia and Yale. Their dance numbers often incorporates bollywood, bhangra, step, bharatnatyam, ballet, jazz, hip-hop and salsa. According to their Facebook page, Dhadak aims to promote cultural diversity through these different dance styles.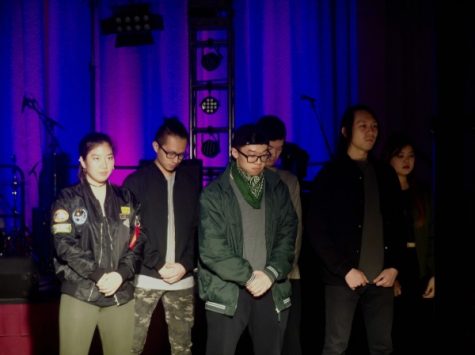 A man in the 5 Dirty Crew spun on the floor with a single hand and shoulder, as he incorporated flips and fast-paced movements broken up into pieces by their large co-ed dance team.
The event lasted for about two and a half hours. Afterwards family members and friends stood around the campus center taking pictures with the various performers.
Email Caeli Chesin at [email protected] or follow her on Twitter at @caeli_chesin.
About the Contributor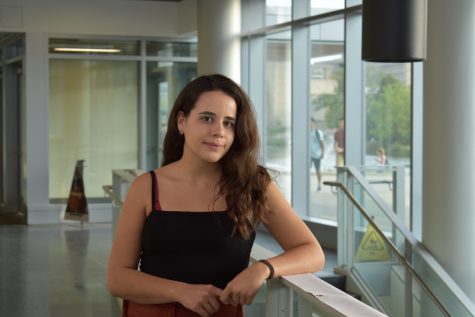 Caeli Chesin, Campus News Editor
"Anyone lived in a pretty how town" - E.E. Cummings