'From Mambo to Hip-Hop' gives voice to music lovers from Amherst to New York City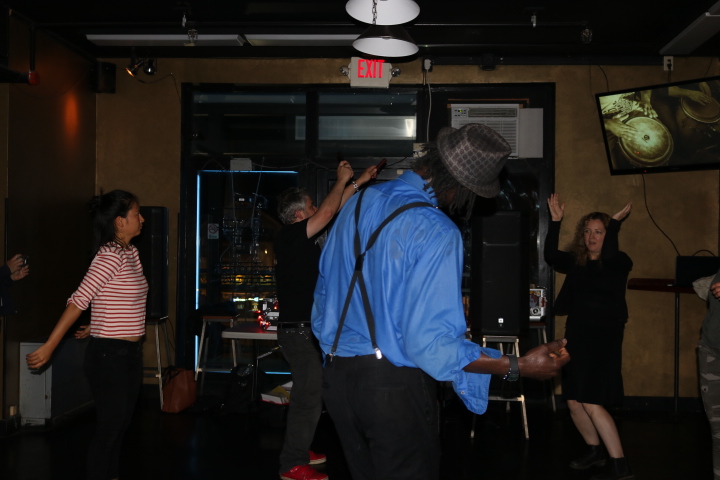 Brita Turner, Contributor
September 21, 2017
AMHERST  — Amherst Cinema screened "From Mambo to Hip-Hop"earlier this month — a 2006 documentary exploring the deep cultural ties formed between Puerto Ricans and African Americans as hip-hop came into existence in 1970s-era South Bronx, New York. A vinyl session of mambo, funk and hip-hop beats took place at High Horse after the film.
Director Henry Chalfant treated more than 100 viewers to a Q&A session following the film's hour-long screening. Chalfant reminisced on the film's beginnings.
"My first introduction to this was coming to New York in 1973 and loving the graffiti. It opened up into this world of breakdancing and the music that they would rehearse in school,"Chalfant said. 
Many children of the South Bronx were immigrants and received their education in the borough's Public School 52. The film depicts a dozen middle-to-senior-aged men congregating in the school's auditorium for a class reunion. It was the room where many young men found their calling as vocalists and breakdancers. It was also a place of refuge where Puerto Rican, Cuban, African American and other tribes found consistency in self-directed entertainment and collaboration.
"You don't just come to the U.S. You come to the urban capital of the world," said one Bronx native interviewed in the film. "You're tryna get hip man. You're changing the way you walk, the way you talk. It was Cuban music wit' a freakin' New York attitude."
That it was, thus breakdancing served an invaluable purpose in the South Bronx. In the 1970s, the Bronx lost approximately 97 percent of its buildings to fires, including the homes of African American and immigrant families. Distraught communities needed a venue where members could cope and connect. Mambo music imported from the Caribbean islands and disco-funk beats that Americans already knew and loved meshed into a new genre: hip-hop.
After the film, some moviegoers walked next door to the High Horse to hear local DJ Carlos McBride spin funk records. Damany Gordon, a Holyoke-based community organizer, explained how important vinyl is to hip-hop.
"[Vinyl is] not just [an important part of] rock … It's funk, soul, and hip-hop. [Record playing is] ultimately where the sound of natural hip-hop originated," Gordon said.
As Afro-Cuban mambo and American funk tunes made their way into multicultural clubs of the South Bronx, the disc jockeys playing the music made an art all their own by spinning two records on the turntable at once. Breakbeat music, as it was later termed, was unpredictable and exciting because DJs would play the break of a tune repeatedly in order to make a new beat.
Theresa Cooper-Gordon, a Bedford-Stuyvesant, Brooklyn native and Damany's mother, passed out a few flyers for an upcoming all vinyl event of funk, soul and hip-hop music, curated by her son.
"Of course I loved it," she said of the film. "When the white people burned down those buildings and people didn't have a place to live, that's what happened. That's how they survived … Because you know, we didn't have no therapist back then. All we had was this," she smiled, snapping one hand to her waist and waving her other to the beats echoing through the crowded bar room.
UMass graduate student Josh Odam happened upon the film's after-party while stopping in at the High Horse. It was not long before Odam and the Gordons struck up a conversation of their own, sharing details about themselves, their New York hometowns and their Western Massschusetts lives.
If anything is sure, it might be that those rhythmic, groovy sounds blasting out of the High Horse bar room hold a more significant value for New York communities often dislodged, overlooked or misunderstood, yet always allied. The funk and soul beats evolve continuously, never dying.
Email Brita Turner at [email protected] or follow her on Twitter @britaturner.