Boogie goes all out on "Everythings for Sale"
The Compton native holds nothing back on his debut album.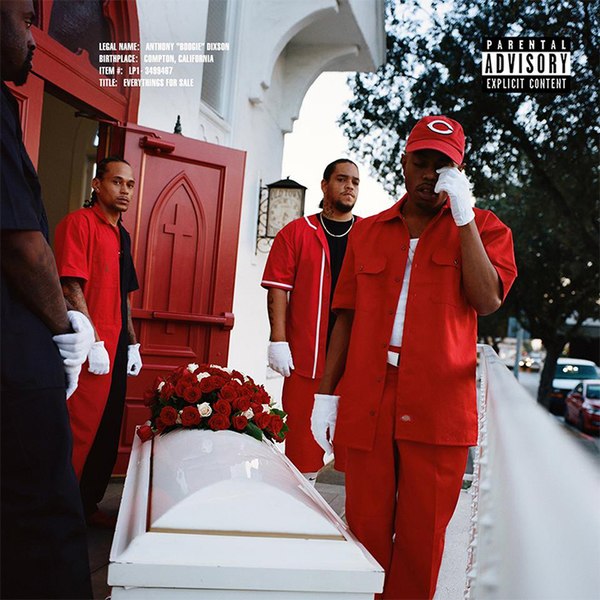 Compton emcee Boogie has kept a relatively low profile in the hip-hop community after releasing three solid mixtapes from 2014 to 2016. Despite his rise being underground, he was able to garner enough attention to sign to Shady Records in October 2017. This lead many to believe that his debut album was on the way. After over two years without a project, Boogie announced the release date of "Everythings for Sale" at the beginning of January.
The hype grew around his debut as Boogie went on multiple radio shows and freestyled over beats like "Sing About Me" and absolutely killed it. The long wait finally came to a conclusion last week as Boogie gave his fans what they wanted. The wait was certainly worth it—"Everythings for Sale" is a stand out release during a time in hip-hop where many albums get lost in the fray.
Boogie puts on display his unique voice, flow and production throughout the project. It gives off a soulful yet brooding vibe. Along the ride, Boogie drops some of the more relatable and sincere lyrics I've heard from a rapper in a while. He delves deep into his struggles of finding success and love and uses vivid imagery and potent lyrics to do so. 
It's always important for an artist to set the tone of an album with the intro track and Boogie certainly does that here. "Tired/Reflections" opens up with a stripped back beat where Boogie addresses the criticisms that he faces as an artist and the different areas in his own life that he's tired of. A sudden beat switch is signaled with a gunshot and Boogie jumps right on it with a relentless flow. Boogie states that he's his own his worst enemy, and in the last verse makes a powerful suicide metaphor. This sort of self-reflection is prevalent throughout the album and represents the growth of Boogie as an artist and a person.
As we move through the tracklist, we land at "Lolsmh-Interlude," which is much more than an interlude and is probably my favorite track on the entire album, showing Boogie at his most emotionally vulnerable state. This track also has a beat switch, yet both sides are equally smooth and laced with beautiful piano chords and background vocals. Still, Boogie continues to be the star here. You can hear the pain in Boogie's voice as he goes into detail about the life of one of his friends, rapping, "But I see it in his face, man, he hate that he f**king love her, sh*t wild, sh*t hit me deep, I'm like star me out if I stutter and say, I'd give my arm and my leg to get this out my head."
Some of the other more impressive moments come from Boogie showing off his singing chops on songs like "Swap Meet," "Skydive," "Live 95" and "Skydive II." He displays his ability to carry a chorus by himself, which is rare to say for a rapper these days. These are lyrically similar to the previous tracks mentioned, but the emotion and power come out even more with his hypnotic and unorthodox singing voice. This is most notable in "Skydive II," as Boogie raps about the unpredictability of life and how the people close to you affect you immensely. This song also features one of 6lack's best guest features.  
While the majority of the album is down to earth, there are a few tracks where Boogie hops on a traditional trap beat and dons a more braggadocios persona. "Soho" and "Rainy Days," which have guest features from JID and Eminem respectively are hard-hitting and a refreshing change of pace. The aggressive drums and rapid flows provide two headbangers, yet there are still greats bars dropped throughout. Boogie again carries the hook on both tracks and they are equally as catchy. My only complaints would be that "Soho" should've been longer and could've done without those Eminem cringe bars.
There is a clear personal theme of pain and struggle that is present across the majority of the listen. Yet Boogie misses the chance on a couple tracks to bring it all full circle. Even though I do appreciate the "harder" cuts, they feel a little out of place. The closer, "Time," seems like an abrupt end to the album and a lost opportunity for Boogie to finish with a passionate and memorable moment. Despite this, in my opinion, there isn't one skippable track within the 39 minutes. After this release, is song-making ability is something that shouldn't be questioned.
THE VERDICT: 8/10
While there are a few shortcomings, Boogie shows amazing promise, talent and diversity throughout "Everythings for Sale." Once he sharpens his focus, he will come out with something that tops this release. Nevertheless, for a debut album, this is extremely impressive and foreshadows a bright future for Boogie. He will be a name to watch for years to come.
Favorite Bar: "I'm tired of working at myself, I wanna be perfect already
I'm tired of the dating process, I wanna know what's certain already
I'm tired of questioning if God real, I wanna get murdered already"
– Tired/Reflections
Email Oliver at [email protected].