New publication, The Rebirth Project, gives a platform to students of color
What began as an idea in a journalism class has now flourished into a real campus media outlet.
AMHERST– A new publication, The Rebirth Project, has joined the lineup of student-run media at the University of Massachusetts and is giving students of color a unique platform to speak their mind.
Recent UMass Journalism graduate, Ramona East, is credited with developing what was once just an idea, into a reality.
East said her inspiration for the Rebirth Project originated in a class she took her sophomore year at UMass, titled, "Media during the Civil Rights Movement." She said she thanks her professor for giving her the resources to evoke the motivation to create the publication.
"I was taking the course taught by Kathy Forde and one of our classes was spent in the special archives section in the library where our class was thumbing through copies of The Drum, a magazine that was started by students in the late 1960s here at UMass," East said.
According to UMass Libraries, The Drum was a publication centered on the "Black Literary Experience" from its origin in the 1960s to its last publication in 1984. East says she met with the magazine's founder, Robin Chandler, for an interview later in her sophomore year.
"She ended up being the topic for my final project later in the course," East said. "I asked her why she wanted to start [The Drum] and it was kind of the same mission as Rebirth– there wasn't Black outlets for students to write [for], specifically as it intersected with race or gender. It was really to make space for voices that are left out of the mainstream media."
Following her departure from UMass, East has since passed the torch on to three senior students: Cynthia Ntinunu, Ethan Bakuli and Lucia Solorzano. They plan to run the publication as co-editors, citing the efficiency and creative advantage each of their individual styles delivers.
"Co-editors make it very collaborative," asserted Ntinunu, a communication and journalism double major at UMass. "Not one person is going to take the lead because each of us brings a unique set of skills to Rebirth."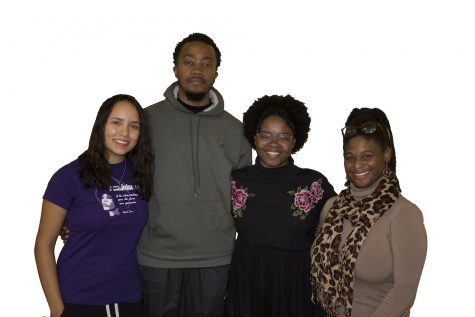 Being a one-of-a-kind publication at UMass, Rebirth hopes to become a home for students of color much like its late journalistic ancestor.
"People come from different backgrounds on campus, so having this space to work together is really great for creativity," said Bakuli, a senior Afro-American studies and journalism double major. "We know there are other publications on campus like [Amherst] Wire and the [Daily] Collegian and we aren't looking for competition. We are looking to give a unique opportunity to students of color on campus."
The editors plan to go against the status quo of most student publications by recruiting students from across the academic spectrum. Writers hail anywhere from the College of Engineering to The College of Social and Behavioral Sciences.
"You don't need to be a journalism major to be in this space," Ntinunu asserted. "The [Rebirth Project] is more than a publication. It's a space where people can come together and express themselves without being judged."
Solorzano, a social thought and political economy major, hopes to use her background in the arts to showcase an alternative approach to journalism. Originally a founding member publication titled Pigment magazine, the creation of Rebirth caused the two organizations to merge. Now, she plans to help local artists showcase their work.
"This semester, I am looking to reach out to more artists in the area and include their work on our website to promote them and give them a little more recognition," Solorzano explained. "[The Rebirth Project] enables them to express themselves through whatever media that they see fit."
The staff is starting a count down to tonight until we get to meet all the new writers!! See you at 6:30 pm in the @UMassJournalism Hub

— UMass Rebirth Project (@RebirthUMass) January 31, 2019
Aside from its goals and logistics, the importance of a space for students of color following a series of racist incidents in the fall has become immeasurable. The editors hope that the camaraderie of Rebirth provides a degree of comfort and belonging for marginalized students in the campus community.
"We are here for school and when these incidents happen– the words and the vandalism– you think, 'do I even want to be here?'" Bakuli said.  "If you're a freshman, these events can have such a destructive impact on you. We think about what we can do to have that space that reaffirms students, the space that says you can be the person who can respond to what's happening or you can not respond and focus on your music, art or whatever might speak to you."
Solorzano proclaims that Rebirth's commitment to social justice will help uplift disparaged speech and writing.
"I think one important part of social justice is not only uplifting marginalized voices but also to have the affirmation of existence and the ability to express yourself and live," Solorzano said.
As a space where students of color feel accepted and successful, Bakuli hopes that Rebirth will help these students build skills and confidence to enable successful careers in the field of media and journalism.
"Newsrooms in the world are lacking in diversity, so to have this space in college where we have the diversity and can build skills, share resources before we go off is special," Bakuli said.
In the end, Ntinunu believes belonging and community are what Rebirth is all about.
"For students that feel like, you know, 'I don't really belong here,' this is a space where they can really express themselves and not feel like somebody is going to judge us," Ntinunu said. "Nobody feels the need to code-switch because somebody will think she's 'the angry black person.'"
The Rebirth Project meets every Thursday at 6:30 p.m. on the fourth floor of the Integrated Learning Center.
Email Kyle at [email protected] or follow him on Twitter @kyle_moynihan_.