What happened to Hampshire College?
"If making decisions about how to generate revenue is in conflict with the values of our institution, it is time to re-engineer our business model."
AMHERST—For 49 years, Hampshire College has operated on the idea of providing students a progressive and experimental higher education experience. After a turbulent couple of weeks though, its unique offerings may soon come to an end.
At Hampshire, students are invited to curate their own major and craft their own curriculum with the assistance of advisors. Despite its small enrollment of just 1,191 students, it attracts a wildly diverse student body from around the world and boasts an impressive group of alumni.
As a staple in Pioneer Valley, Hampshire's announcement of a potential merger shocked the community. This led people to ask: "What caused the downfall of Hampshire?"
On Monday, President Mim Nelson released a presentation, titled "Hampshire's fiscal Reality: 1965-2019," on the school's website. The presentation highlights the financial struggles that the college has faced, noting that it rarely experienced periods of financial stability since its birth in 1970. It also references each past Hampshire president and their struggles, from low enrollment to the 2008 recession to campus unrest.
To understand the scale of the problem at Hampshire, it is necessary to examine the various reasons for the school's decline.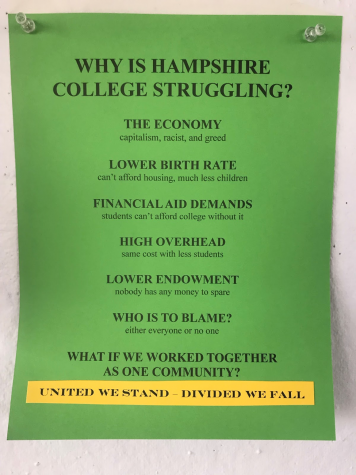 Student Enrollment
In the past six years, Hampshire enrollment decreased by 270 students, a nearly 20 percent decrease. Due to trends in students attending college, it has become increasingly difficult for small, niche colleges like Hampshire to attract a consistent stream of applicants. Declining enrollment has also been a precursor for the shut down of other small colleges in Massachusetts.
Full-Pay Students
Students paying full tuition at Hampshire, about $50,000, dropped from 7 percent in 2014 to less than 1 percent in 2018. This became an immense drain to the college's finances, as the students must pay enough money for its tuition-driven business model to work.
In order to attract students in the increasingly competitive collegiate world, small, private colleges like Hampshire have been forced to offer discounted tuition more frequently. Paired with declining enrollment, the school has lost an overwhelming amount of money in a quick amount of time. Hampshire offered an average financial aid package of around $40,000.
Tuition, Room, Board Revenue Change by Percent
In the last seven years, Hampshire's revenue from tuition, room and board decreased from 3.3 to -11 percent.
With the college continuing to lose money, its only option is to completely alter their business model to survive. In the meantime, Hampshire has been forced to rely on donations and their $54 million endowment.
Operating Revenue
From 2014 to 2019, Hampshire's operating revenue fell from $60 million to $48 million.
"Hampshire College was designed to have a tuition-driven business model," Nelson said in the presentation.
As a tuition-based college, Hampshire relies heavily on the money from students to function. With only $48 million a year to operate, it has been forced to make cuts in major areas, most notably to its faculty.
Deficits
Since 2016, Hampshire has been forced to find various ways to close their deficit, including staff layoffs and donations.
For two straight years, Hampshire drew from their endowment to close these budget deficits, a dangerous decision as that only solves the problem temporarily. In the fall of 2018, Hampshire had a deficit of $2.3 million. The fall 2019 deficit is expected to be $5.4 million.
The college looked to alumni and donors for assistance, but the presentation notes that in fall of 2018, there was "no sense of urgency from donors, [they] want to support special projects, not operations."
***
Although students are outraged by the college's decision to limit its incoming fall class, Nelson's logic behind the decision provides some context.
According to the presentation, the college is "unclear whether [a future] class will generate additional revenue or create great debt." 
This decision could help the college in the long-term as the risk of admitting a normal sized class could result in the permanent closure of the institution.
The presentation also noted that by not enrolling a full 2019 class, Hampshire "may be more attractive to a strategic partner."
The decision to search for a strategic partner came as a shock to the community in the middle of January, but the Hampshire administration knew of the idea back in October.
With no endowment, a 16 to one student-faculty ratio, and $15 million in debt, Hampshire faced struggles from the beginning. The school began reducing selectivity to increase class size, then cut faculty salaries. Paired with a tuition discount rate of 25 percent to 30 percent, Hampshire's problems grew with time in an attempt to become financially stable.
About the Contributor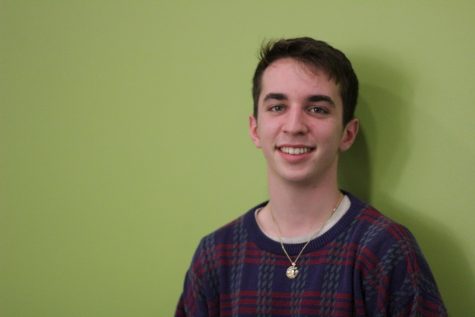 Matt Berg, Assistant Campus News Editor
"Three words: Vice President Oprah." -Obama

Email Matt at [email protected] or follow him on Twitter @mattberg33