Errors in perfection: the new Twilight Zone
Jordan Peele is becoming the face of modern horror. When will it start to feel oversaturated?
It's 2019. Jim Carrey is engaged in a Twitter battle with the granddaughter of Benito Mussolini, the late fascist dictator; Elon Musk posted a Harambe-themed rap; and a businessman who guest starred on "Sex and the City" is the leader of the free world.  You're traveling through another dimension, a dimension not only of sight and sound but of mind. A journey into a wondrous land whose boundaries are that of imagination. That's the signpost up ahead—your next stop, the Twilight Zone!
After box office shattering success with "Us," Jordan Peele debuted his remake of the 1959 television series "The Twilight Zone" on CBS All Access, and will release two episodes at a time. Although CBS All Access is a subscription-based streaming service, they released the first episode, "The Comedian" for free on YouTube.
In a CBS Sunday Morning interview, Peele reflects on being tasked with the "near impossible feat of following in the footsteps of the greatest show of all time."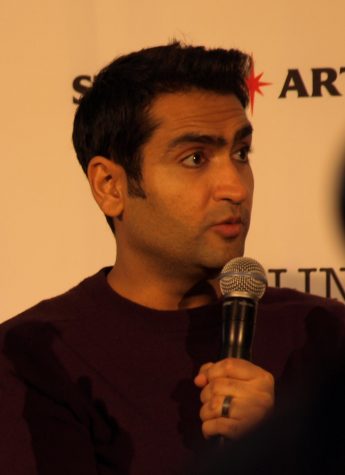 Peele, who serves as producer, writer and narrator, is not attempting to recreate the original series shot-for-shot, but rather embed a modern twist in the eerie tone of the series.
A track of concept manipulation can be seen in both episodes released on April 1; "The Comedian" and "Nightmare at 30,000 Feet." "The Comedian" stars Kumail Nanjiani, real-life comedian and star of "The Big Sick," as Samir Wassan. Blending life with art, the episode takes on the plight of a comedian who is struggling to establish himself when audiences dislike his mundane political humor. After another failed stand up routine, Samir encounters a legendary comedian, J.C. Wheeler, played by Tracy Morgan, who advises him to blend elements of his real life into his stand up set.
"The audience don't care about what you think, the audience cares about you," Wheeler ominously advises Samir.
With this vote of confidence, Samir challenges his relationship and ultimately his life in the quest for fame. In doing so, Peele asks, what would you do for fame?
Nanjiani tweeted about the series on it's release:
"I hope they don't ruin The Twilight Zone reboot by making sociopolitical arguments." – a true Twilight Zone fan

— Kumail Nanjiani (@kumailn) April 1, 2019
"Nightmare at 30,000 Feet," the second episode of the series, is more in-line with the original show. Loosely based upon the third episode of season, "Nightmare at 20,000 Feet" (1963), which starred William Shatner, this episode takes to the sky with Adam Scott playing journalist Justin Sanderson, who recently recovered from a mental breakdown.
Nervous about flying, Sanderson calls his wife before boarding, but she reassures him and he gets on the plane. Listening to flight safety protocol, Sanderson becomes distracted and glances to the seat pocket in front of him. It is there he finds a pair of headphone attached to an mp3 player. He puts the headphones on and begins to hear narration.                      
"Chapter one, the mystery of Northern Goldstar of Flight 1015."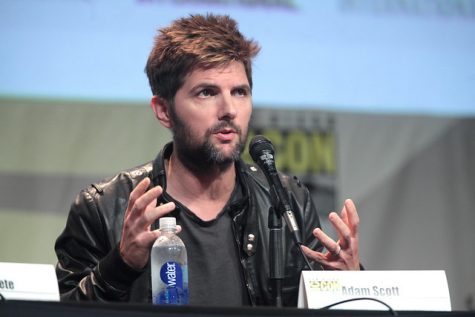 Alarmingly, the podcast appears to describe events that are unfolding in front of Justin's eyes. Whether it's his stark paranoia or a surreal alignment of past and present, Sanderson has entered a space where reality is to be questioned. He has entered the Twilight Zone.
Both episodes are a twist on the typical slice of life, an iconic trope of the original series. They force their protagonist to confront an alluring figure that will ultimately change the course of their life (another trope of Serling). "Nightmare at 30,000 Feet" does continue past a satisfying ending, but overall they both have decent pacing and plot. However, they seriously differ in terms of technical ambition.
Technology has advanced to allow directors and cinematographers to precisely coordinate scenes. Moody warm lighting that waxes in intensity pushes Samir to confront his sanity, while tight shots create the physically and emotionally claustrophobic environment for Justin.
Choosing these episodes to debut together is wise as they convey different elements of space and allow viewers to interpret the show's portrayal of sundry topics. There is intention in pairing a quasi-remake with an episode based on a pre-Twilight Zone teleplay by Rod Serling. These choices show Peele's true appreciation for the original series, along with various easter eggs.
Where it suffers is in the lack of casting anonymity and predictability. Both Nanjiani and Scott are well-known entertainers and while their performances are precise and compelling, the celebrity gaze takes away from the series. Although many Twilight Zone stars did become notable, such as Shatner, there was a certain element of unknown to many of the original actors.
Audience members were able to slowly glaze over the science fiction elements and blur the lines between themselves and the stories that unfolded before them. It was without celebrity that individuals could enter the void and peer into their fear.
Nanjiani and Scott are excellent, but their appearance in this series still leaves the viewer with lingering escapism. In this way, it's hard to find that classic satisfying twist so familiar to the works of Serling. Elements are set up to lead to a predictable, safe ending. Shots are almost too orchestrated and sound is uninventive. While he did not direct either episode, Peele leads the vision and his tone is starting to emerge through this project as well as "Get Out" and "Us." He draws a lot of visual inspiration from Stanley Kubrick — note the intense reference to "The Shining" at the end of "The Comedian" — and blends it with humorous material and tight shots. Peele has made his mark, but his mark is starting to look formulaic.
The new Twilight Zone is greatly needed in an era of insanity, but a need for perfection has left the series empty of the eerily misplaced. How can you be afraid when everything is so perfect?
Email Julia at [email protected] or follow her on Twitter @toomanyjulias.