Robson's weekly prop sports roundup: 4/15 – 4/21
Jacob Robson's thoughts on the week in sports.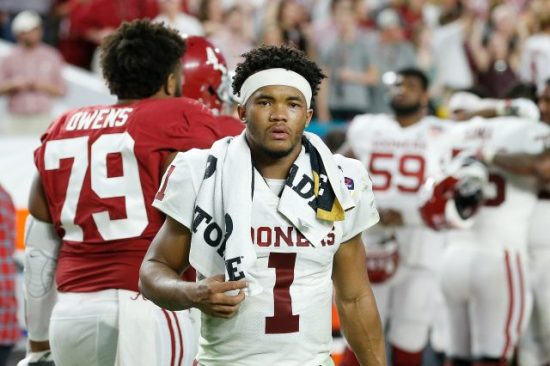 Jacob Robson, Sports columnist
April 22, 2019
Hang on for a minute...we're trying to find some more stories you might like.
A Development In Kraft Case, Draft Dilemmas And NFL Schedule Released
There is a possible leak in the Robert Kraft case as footage of Kraft, apparently naked, in the massage parlor was reported to have been in the possession of an unknown source that approached TheBlast.com. The attorneys of Lei Wang and Hua Zhang, who were working at the day spa, have told a judge to look into the possibility of police and prosecutors acting on contempt. Despite this, O'Neil Anderson of the Jupiter Police Department doesn't feel anyone of authority would have leaked the video.
With the NFL draft under a week away, the Arizona Cardinals, who currently hold the no. 1 overall pick, have a dilemma on their hands. After picking former UCLA quarterback Josh Rosen tenth in last years draft, the Cardinals now have their attention on Oklahoma's star quarterback Kyler Murray. Murray, who opted to play in the NFL despite being drafted to the Oakland Athletics of the MLB, has risen up draft boards after a strong performance at his pro day. This means that Rosen, who would have undoubtedly expected to be the main man at the Cardinals for some time is now in a position where he could be traded away.
One of the destinations that Rosen could end up at is the New York Giants. The Giants, who may be reluctant to draft a quarterback if general manager Dave Gettleman's words are anything to go by, are currently in possession of the sixth and 17th picks in the first round of the draft and want to spend them wisely. With the support for current veteran quarterback Eli Manning still evident, it seems that the Giants, frustratingly for their fans, will look to strengthen other areas of the roster. Ohio State quarterback Dwayne Haskins was a prospect that was being touted as a potential understudy to Manning or even replacing him as a starter. As an organization who has lost one of their best players in the off-season, the important figures at the Giants have to draft correctly in order to regain the support and respect of the Big Blue faithful.
Fans of the football world saw the release of the 2019 NFL schedule last Thursday. The New England Patriots will hang up the Super Bowl LIII banner on September 8 against the Pittsburgh Steelers on a Sunday Night Football special. The Patriots will also face Odell Beckham Jr. and the Cleveland Browns on October 27 in Foxborough. A rematch of last season's AFC Championship game against Kansas City will take place on December 8, seeing the Chiefs travel to the east coast for the game.
Celtics Complete Whitewash, Dame and Russ Face Off, Lakers Close In On Coaching Appointment
On Sunday, the Boston Celtics completed their first round sweep of the Indiana Pacers with a 110-106 win in Indiana.  After trailing at halftime, Boston outscored the Pacers in each of the second-half quarters on its way to a win. Seven Celtics players scored in double figures, led by 20 from Gordon Hayward, while Al Horford continued his reliability with 14 points, 12 rebounds and five assists. Boston will likely face MVP candidate Giannis Antetokounmpo and the top-seeded Milwaukee Bucks in the Eastern Conference semifinals.
It was the battle of the point guards in the Oklahoma City-Portland game on Friday night as Russell Westbrook and Damian Lillard went toe to toe. The Thunder, who were led by Westbrook's 33 points, 11 assists, and five rebounds, came away with the 120-108 win. After appearing to taunt Westbrook in game two, Lillard also came out as he dropped 32 points. With the series at 2-1 in Portland's favor, this most likely could go to game seven. The battle between Westbrook and Lillard has been a joy to watch so far and for the neutral basketball fans' sake, we hope it continues for as long as possible.
Away from the playoffs and trying to rebuild for next season, the Los Angeles Lakers are currently interviewing former Cleveland Cavaliers coach Ty Lue along with current Philadelphia 76ers assistant coach Monty Williams. Lue, who is the frontrunner for the job has close connections with LeBron James and that duo may seem too tempting for general manager Rob Pelinka to disregard. Whoever takes charge of the lowly Lakers will certainly have a tough job on their hands considering how short they fell of expectations this season.
Champions League Brings Drama and Deliberation in Midweek
The video assistant referee (VAR) came to Tottenham's help on Wednesday night against Manchester City. City player Raheem Sterling's disallowed goal meant that Tottenham, who lost the second leg tie 4-3, advanced to the semi-finals on away goals after an aggregate score 4-4. After one of the craziest first 20 minutes of a soccer game ever played, Man City led 3-2 with two goals from Sterling and one from Bernardo Silva. Tottenham's Son Heung-Min had a deuce before City's Sergio Aguero seemed to have scored the winning goal in the 59th minute. In the 73rd minute, substitute Fernando Llorente headed home a corner which proved to be the decisive goal. This was a monumental game that goes down in soccer history but it will also be remembered for the most famous decision VAR has had to make since its introduction.
In contrast, the second leg of Barcelona vs Manchester United was not as drama filled. Barcelona, holding a 1-0 win from the first leg, dominated and routed United on Tuesday night. Lionel Messi dazzled the United defense all night long and put Barcelona 2-0 up within the first 20 minutes. As a team, United was shambolic all throughout the game and posed no real threat to the Spanish side's defense other than Marcus Rashford's toe-poke effort that hit the bar in the first half.  After the PSG result, this was a much-needed reality check for United while Barcelona advance to a semi-final where they for sure are the favorites to lift the trophy in May.
In one of the biggest upsets in recent Champions League memory, Dutch giants Ajax took down Italian champions Juventus on Wednesday night. Ajax, who mostly have young prospects on their roster together with a few experienced players, were complete underdogs going into the second leg in Italy. Yet, a Juventus team with Cristiano Ronaldo could not stop this exciting, youthful Ajax team. Ajax's two star players Donny van de Beek and Matthijs de Ligt both scored after Cristiano Ronaldo put Juve 1-0 up. Ajax now advance to play Tottenham in the semis, while Barcelona face Liverpool. The winners of both ties will play in the final in Madrid at the end of May.
Follow Jacob on Twitter @jacoborobson and on Instagram @jacoboliverobson.