Is Lizzo the next Lauryn Hill? Her latest album "Cuz I Love You" speaks volumes.
Lizzo delivers a bombastic and uplifting project addressing heartbreak, empowerment and love.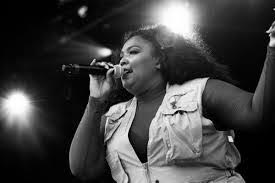 Think of your favorite love song. Think about the low dips but the uncompromising major chords that leave you satisfied. The major chords that leave you thinking if things aren't working out, that they will and if they are working out, that this love is forever
"Love on Top" by Beyonce, "At Last" by Etta James and "I Will Always Love You" by Whitney Houston are the hits that may come to mind. These vocalists are pioneers in taking love song tropes and transforming them into singles that are iconic. With her entire album, Lizzo's "Cuz I Love You" transforms the love single into a powerful collection of songs about love, loss and finding yourself, transcending the typical candor of love songs.
An integral element of Lizzo's 11 track album is the variance within it. "Juice," the first of two singles released in anticipation of the album, is a funky bop along the lines of "Like a Girl" and "Heaven Help Me." All three offer some sobering lyrics about self-discovery but ultimately use rhythm and transitional lyrics to show Lizzo's progress throughout heartbreak. "Tempo," which features Missy Elliott, has an insatiable yet subdued hook.
Every track on the album manages to touch some other in some way. "Heaven Help Me" is funky like "Juice," but has the lyrical emotionality of "Jerome." "Lingerie" is a sensual node to self, much like "Juice," but is formatted to be slow like "Cuz I Love You." Lizzo experiments with delivery and tone in a way that gifts each listener a different potential favorite track.
While other artists have attempted to create universality in their tracks, there are often complications from lack of political correctness to a lack of sincerity (Justin Bieber and Meghan Trainor know this all too well). Yet, Lizzo manages to use her artistic ability to concisely make art. Her versatility is overwhelming and comes through on this album. She's played with an electro-soul group, to hip-hop mastering, to touring with Florence and the Machine.
Outside of musical aptitude, the lyrical background of her tracks presents a complexity atypical to breakups and breakdowns the music industry is familiar with. Except for "thank u, next" by Ariana Grande, most scorned lovers are met with the "Since U Been Gone," by Kelly Clarkson, treatment. They send a dark and deceptive message; hate the person who hurt you despite the love you shared. Time, among many other sites, have compiled a list of these angry, detached songs that have become so popular in a culture of cancellation.
Lizzo instead manages to reflect on her failed relationships in an internal, complicated and mature light while avoiding the self-deprecation that normally follows it.
On "Jerome," Lizzo copes with an immature lover and the difficulty of looking at them as a full person. Despite her emotional attachment to this man, Lizzo takes a rational approach to love as she exemplifies in her second verse:
"I never said I was perfect/Or you don't deserve a good person to carry your baggage

I know a few girls that can handle it/I ain't that kind of chick, but I can call 'em for you if you want"
"Cuz I Love You," the track,  explores the complications of what happens when you fall in love without expectations. Her vocality here is vulnerable and crackles as her heart does.
Perhaps the most important element of the album, and part of the reason why Lizzo has skyrocketed in terms of popularity, is her identity. Lizzo is a big black woman and uses that identity to connect with her audience.
"Juice" addresses her size and her confidence with that. "Like A Girl" allows her to convey her sheer exuberance at being a powerful woman and delves into the specifics of being a woman of color.  She references Lauryn Hill, Serena Williams and TLC in this track, as well as including a "No Scrubs" track later in the album.
She does not stand on the backs of these powerful women of color, but rather looks toward them as a guiding light;
"Lauryn Hill told me everything is everything (We can do it)

Serena Willy showed me I can win the Wimbledon (We can do it)"
Both Hill and TLC, who she references their hit album in her pre-chorus- " Crazy, sexy, cool, baby/With or without makeup-," are four women who have pioneered the industry without fear. Respectively, Hill with "Everything is Everything" and TLC with "Don't Go Chasing Waterfalls," address inner city issues and spend many of their tracks dedicated to vocalizing the disparities of womanhood and black womanhood.
Clearly, these women have made an instrumental impact on Lizzo and she lets that be known. Due to these women, there is a budding renaissance of women of color in music as Amherst Wire editor Jonathan Kermah analyzes here.
At 33 minutes, the album is short but it is in no way vapid. "Cuz I Love You" is a dense album full of self-discovery both for Lizzo and listeners. It flows well as a complete album and can be listened to as individual tracks. It isn't perfect and it isn't an album just for women.
Like her predecessor Hill, Lizzo has done something that recognizes there should be no constraints in music. Not for genre, not for vulnerability and not for what audience should or should not listen.  
Just to be clear, Lizzo is not modern Hill and Hill was not an early Lizzo. The two women exist on different planes and offer important perspectives. They are incomparable but have created complex albums that stand out.
Hopefully, unlike Hill, this isn't the last we hear from Lizzo. She has a well worth to deliver and continue to transform the industry like the pioneers she so admires.
Email Julia at [email protected], or follow her on Twitter @toomanyjulias.