Biggest freshman class ever leads to overcrowding in dining commons
You might as well eat while standing up.
AMHERST–All four dining commons are taking a hit as students fight for a table and wait in long lines for food that might not be available when their turn arrives. Once someone grabs their food and finds a seat, they don't want to get back up. It's nearly impossible to move in the crowd of people surrounding each station.
In Southwest Residential Area, Berkshire and Hampshire Dining Commons have their fair share of difficulties. Sophomore political science and legal studies double major, Reilly Lepak, finds that she has to go at off-hours such as 7 a.m., 10:30 a.m., and 3 to 4 p.m. just to find a place to sit. Lepak, amongst many other students, are frustrated because they can't eat when they want to.
As for Hampshire, sophomores Mike Havey and Cam Rosie are also forced to go at off-times. When they go during the rush, such as 6 to 6:30 p.m., they "have to go around Hamp like two times to find a table. We split up because finding a bigger table is difficult."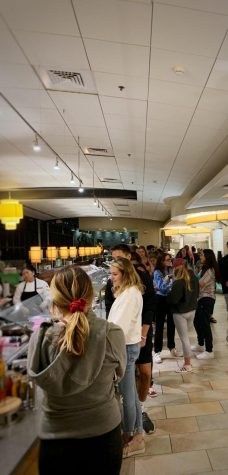 The other side of the campus has been equally affected. One junior, whose preference is Franklin Dining Commons, has found that not only does she struggle to find a seat but she also struggles to find food that she wants. 
There's often "no french fries, no rice [and] no guac," she said. "There's a capacity on the number of [people] allowed to eat at once and no one's listening; like there's just no tables."
Worcester, on the other hand, is a little better than most. "The population has definitely increased [and] sometimes there's a line for food in the morning, but it hasn't been awful," said sophomore chemical engineering major, McLean Taggart.
Students are hoping that the craze for UMass' number one dining decreases as the weeks go on, which Garett Distefano, Director of Residential Dining, believes will happen. 
"First-year students are often creatures of habit and as they discover more dining options, the overcrowding in the dining commons will disperse," said Distefano.

Loading ...
According to Distefano, the dining staff aren't nearly as affected as the students. 
"We make nearly 50,000 meals a day, so the additional 200 students per each dining common isn't as impactful," said Distefano. He also added that the student staff members don't work the first few weeks as they get acclimated to the new school year. Once they start to work again, their help will be greatly noticed.
In the meantime, while the dining commons are still heavily occupied, it's advised to go at off-times, get Grab-and-Go or wait a long time just to eat.
Email Abigail at [email protected], or follow her on Twitter @agracie13.