Eating in the dining halls: a few tips and tricks
Eating healthy on a campus with number one dining.
The transition from eating at home to having free reign over meal choices can be a lot to handle for some students. There is nothing wrong with the freshman 15, but with the top dining program in the country, eating healthy at University of Massachusetts Amherst is pretty easy to accomplish.
1. Download the UMass Dining App
The UMass Dining App is available in the App Store for iPhone, or Google Play store for Samsung. The app enables users to see what is on the menu up to a week ahead. It includes Grab n' Go specials, Lunch, Dinner and Late Night options.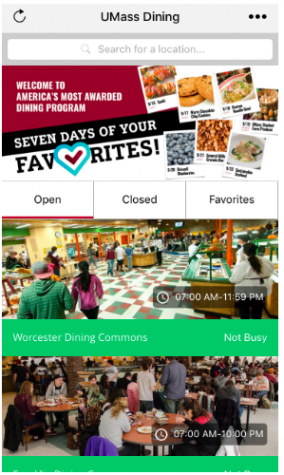 2. Tracking food
The MyFitnesspal app by UnderArmour is a useful tool for various uses. Counting calories is not necessary to eat healthy, but keeping a log of everything that has been consumed can help prevent unhealthy or dangerous eating habits. There is also a function to enter water consumption, which can help boost water intake.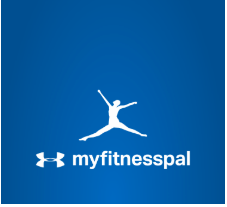 3. Don't avoid carbs
Low-carb fad diets can be dangerous and unhealthy. Starving the body of carbohydrates may lead to quick weight loss, but is not healthy in the long run. Carbohydrates are needed to fuel the body throughout the day, and it is suggested that almost 50% of daily diets consist of carbs. There are plenty of healthy carbs available in the dining hall, and pasta is not an enemy.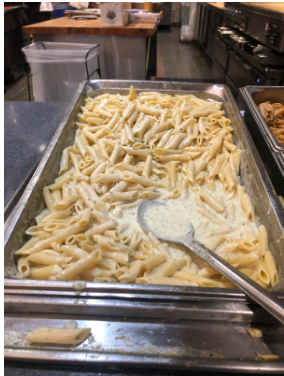 4. Try stir fry
Stir fry is one of the most delicious meals that UMass has to offer. The food is prepared with fresh veggies and a choice of protein. It is available for lunch and dinner at every dining hall, and each one does something a little bit different. Franklin Dining Common has egg noodles available, and every dining common has friendly faces to make the meal perfect.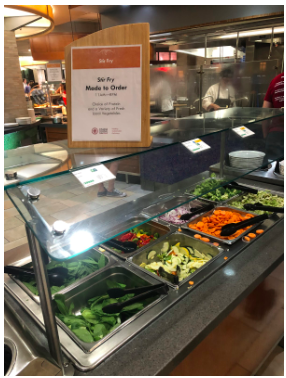 5. Late night at Berkshire or Worcester
Late night is a delicious treat for students. After 9 p.m. at both Berkshire and Worcester Dining Common, specialty items are available. There is usually a main course that can be found on the Late Night at Berk and Late Night at Worcester Facebook pages. It is perfect for a late dinner or a treat.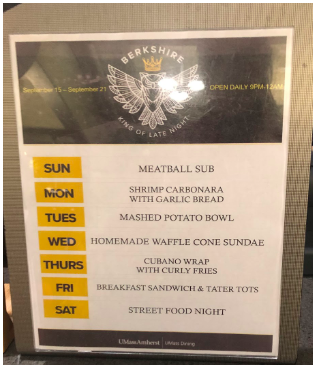 6. Use to-go cups
To-go cups are compostable, and efficient for bringing snacks home. They are perfect to bring hot tea out of the dining hall, or some yogurt and granola. They can be used for any students advantage.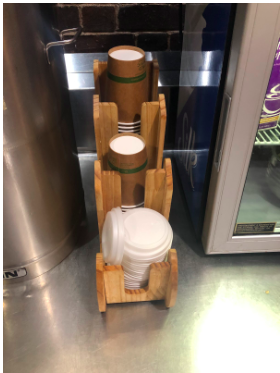 7. Drink up
There are multiple drink stations at every dining hall, and water dispensing systems are in almost every building on campus. Grab a reusable water bottle and fill it up all day long. Drinking plenty of water is extremely important for everyone's health.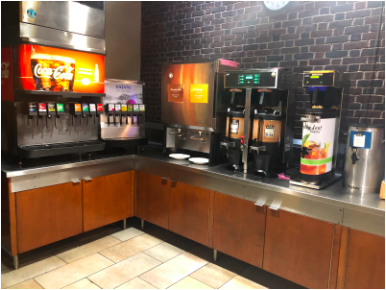 8. Eat satisfying meals
It is not necessary to eat tiny portions to be healthy. Eating satisfactory meals that give the body energy to get through the day is useful. This is far better than feeling empty and light-headed.  
9. Don't restrict yourself
Eating healthy does not mean eating salads for every meal. Limiting foods that are beloved can lead to giving up from frustration. The dining halls have all kinds of food from different areas of the world, and there are even specialty nights.
UMass has #1 Dining, therefore it's best for each person to use it to their advantage. Try at least one thing from every section, and branch out to different dining halls if you have never tried them before.
10. Green tea
Drinking tea after a heavy meal can help alleviate discomfort, and green tea specifically does not have much caffeine. The small amount of caffeine can also help with the post-dinner slump.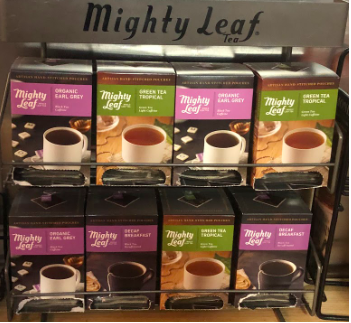 11. Be cautious of low-fat foods
Low fat does not mean healthy. Fats are an important part of a healthy diet, and it is recommended that 30% of the daily diet be fats. Try to limit saturated fat, not fat as a whole. Eating enough butter equivalent to 30% of the daily diet is not as ideal as adding full-fat cheeses and avocados. 
Many foods are portrayed as low fat, and therefore healthy, but taking something that is meant to have fat and removing it means it has to be replaced with something else. Low-fat yogurts are usually packed with sugar to compensate—and can be equivalent to 60% of the suggested daily sugar intake.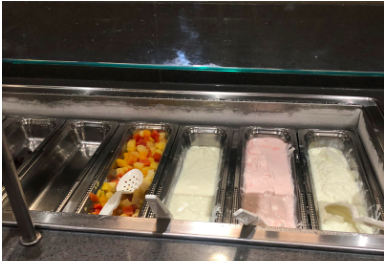 12. Fresh fruit or vegetables
One of the best parts of UMass dining is having access to local fruits and vegetables. In every dining hall, there are plenty of options of fruits and vegetables every day. They are often far more available than they are at students' homes or dorms. Take advantage of this, and find something fresh and delicious.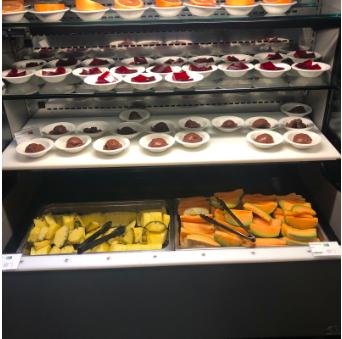 13. Protein-packed breakfast
Protein-heavy breakfasts fuel students through the day. Hampshire, Franklin and Worcester Dining Commons are all open for breakfast. There are also breakfast Grab n' Go locations at Hampshire and Berkshire Dining Commons. Eggs are a great choice for breakfast protein and are available at all dining halls. 
14. Don't be afraid to eat
As previously mentioned, restricting yourself too much is not beneficial. If there is something that looks especially tasty, go for it. UMass dining basically ensures there will be something great every time.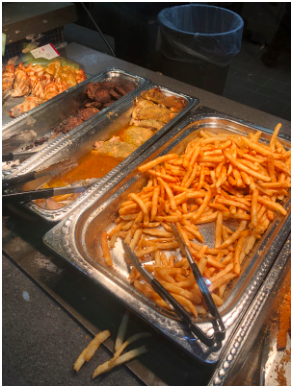 15. Snack
Berkshire, Franklin and Worcester Grab n' Go can be great for afternoon snacks. Trader Joe's is right down the street off bus route B43 towards Hampshire Mall, and there are many organic options. Buy a fridge or rent a MicroChill from UMass and fill it with some healthy and delicious snacks.
16. Go to the Nutrition Center
The Nutrition Center is located at the Recreation Center on campus. They offer nutrition advising and are there to help students reach their goals. 
17. Blue Wall, Harvest and cafes during the day
Blue Wall arguably has the best dining options on campus which can also be found on the UMass Dining App. There is something for everyone, and often everything is made fresh. When students need a boost during the day, they can stop by the cafes scattered around campus and grab a tea, fruit, muffin or even a sandwich. 
UMass has a lot of food options to offer throughout campus. For more advice about wellness and healthy eating, check this website out: https://haescommunity.com/pledge/
Email Sophia at [email protected], or follow @TorresSophiaR on Twitter.