"I would be a great diva!": Justice Ruth Bader Ginsburg brings laughs and inspiration to Amherst College
U.S. Supreme Court Justice Ruth Bader Ginsburg answers questions about her experiences to the Amherst College community.
AMHERST — Like the tough Brooklynite she is, U.S. Supreme Court Justice Ruth Bader Ginsburg sauntered into Calvin Coolidge Cage fashionably late for her talk with Amherst College President Carolyn "Biddy" Martin Thursday evening. 
Upon her arrival at around 5:25 p.m., 1,600 eager Amherst College students and faculty members gasped and cheered as she made her way to the stage. 
"It's a great honor," said Amherst freshman, Mikayla Brenman. "It's just crazy because I have a bobblehead of her at my house and so getting to see her speak in person is almost surreal."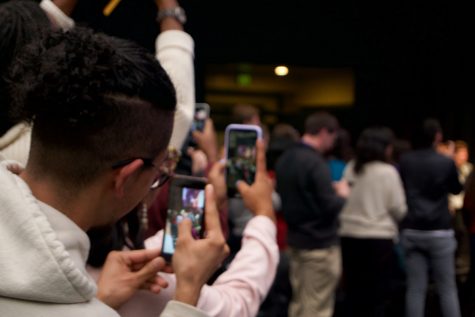 The event was originally scheduled to take place in Johnson Chapel, but student outcry convinced university officials to move to a larger venue, according to Martin.  
"I know that everyone is glad, I certainly am, that so many more of us could attend who couldn't have attended otherwise," she said near the end of the event. 
The talk was also available to the public through the college's live-stream, a shift from Martin's initial letter that would have required an Amherst College login to access the talk. 
The two-hour-long event covered a range of topics from the Scalia-Ginsburg opera, her admiration for an undermined "trailblazer" and the importance of working to overcome unconscious bias. Despite some politically charged questions, asked mostly by younger audience members, Ginsburg stayed true to the neutrality expected of a Supreme Court Justice. 
This appealed to some attendees, including Tim Neale, a retired member of the Amherst College community. 
"I would imagine she is going to stay away from some of the current politics," he said before the talk began. "I would hope so because of her position on the Supreme Court."
However, when asked about her thoughts on how people will look back on this period of U.S. history, she quickly responded, "an aberration." 
Another student wanted the Justice's opinion on the far-right populism brewing in America. 
"There was a great man who once said that the true symbol of the United States was not the bald eagle. It is the pendulum. If the pendulum goes too far to the right, it's gonna swing back. It's the same thing if it's too far to the left," said Ginsburg. 
She advised Democratic Institutions to form better bonds with people with differing opinions by talking about her relationship with the former Supreme Court Justice Antonin Scalia. While the two were on opposite sides about how the constitution should be interpreted, she explained how they had mutual respect for the document itself. Outside of politics, they also shared a sense of humor, mindfulness for good writing and a passion for opera. 
Justice Ginsburg notes the power of listening and paying respect to others, especially when it comes to the forgotten trailblazers. She praised Pauli Murray, an American civil rights activist who became a lawyer, author and later an Episcopal priest. 
"Pauli was a woman way ahead of her time," said Justice Ginsburg, as she told the story of Murray who organized Howard University students to desegregate lunch places in the 1940s. "This was long before the Civil Rights Movement in the 60s." 
Ginsburg is taking time to give praise to Pauli Murray, a lawyer and an early trailblazer in African-American and women's rights: "I consider it a great fortune to have had a relationship with her."

— Brian Choquet (@BrianShowket) October 3, 2019
During her time as a Supreme Court Justice, Ginsburg has seen huge strides in the rights of all people, cutting away the most evident displays of race and gender discrimination, yet she said, "There is still rampant discrimination on the basis of race [and] gender." 
"What remains is what is called unconscious bias," she added, a form of inadvertent discrimination that continues to strongly affect minorities in everyday life. 
Justice Ginsburg said the solution lies in creating a pathway to equality. She is highly in favor of an equal-rights amendment. 
"Every constitution in the world written since the year 1950 has the equivalent of an equal rights amendment and I think it's time for us to catch up," she said. 
UMass legal studies and psychology double-major, Niamh Quinn Tierney, watched the event from a viewing party at UMass' Integrated Learning Center. 
"Ruth was of course as fantastic as always and I thought the questions were interesting," said Tierney, who owns a hamster named after the Justice. "Although I feel like it's stuff I heard her say before."
The event held a hopeful tone with Ginsburg and Martin noting that the students in the space held a spirit for change. A humorous atmosphere was fostered throughout the evening and lived up to Ginsburg's image as The "Notorious R.B.G." 
Her celebrity status was ignited by Shana Knizhnik, a New York University law student who read her dissent in the Memphis, Tennessee Voting Rights Act Case and wanted to do something. From there, R.B.G's face has been printed on countless memorabilia and had her story told on talk-shows and documentaries. 
Yet, when asked if she could be anyone different, Justice Ginsburg, owning up to her late arrival, laughingly said,  "I would be a great diva!"
About the Contributors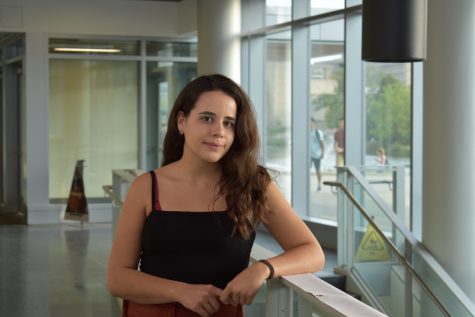 Caeli Chesin, Campus News Editor
"Anyone lived in a pretty how town" - E.E. Cummings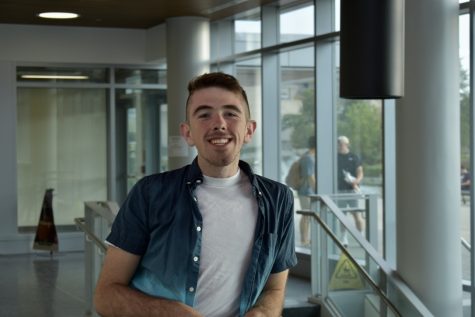 Brian Choquet, Campus News Editor
"The hero of my tale–whom I love with all the power of my soul, whom I have tried to portray in all its beauty, who has been, is, and always will be...