The only one in the room: The cost of diversity for journalists of color
Is it representation — or tokenism — when newsrooms only have one person of color?
AMHERST, Mass. — For Rodrigo Zamith, a journalism professor at the University of Massachusetts Amherst, journalism was always more than just a profession. Even as a young child, when he sat beside his family to watch the evening news, Zamith knew that this experience of watching the news and learning about the world as a family was significant. "It was just like the feeling of coming together to watch the news that just bought this warmth to me," explained Zamith. Soon this warmth inspired him to work on the sports section of his high school paper. 
Zamith quickly took initiative by building relationships with coaches to assist his reporting skills, but he formed a strong bond with one man in particular. As a former journalist, together they talked about sports and journalism, and eventually, he became like a mentor to Zamith. "I remember during one of these conversations. … he just goes, 'Rodrigo, I can just really see you having a strong and bright future in the field.' And, you know, it's someone that I look up to and I'm like, 'Okay, that's fantastic. Why do you think that?' And he goes, 'Well, you know, you're a strong reporter and you're also Latino and that's going to be great.'" 
This stunned Zamith and made him doubt his abilities as a young journalist — a feeling which resonated with him years later. "I kept coming back to that conversation," admitted Zamith, "and it made me question am I really as good as he had been suggesting or as good as I felt? Or is it simply the case that I'm getting these opportunities because of my demographics?"
Zamith is not alone. In fact, his experience is one that many journalists of color can relate to. While newsrooms aim to create an inclusive and diverse workplace, journalists of color often struggle with imposter syndrome, tokenism and isolation.
According to a graph from the Columbia Journalism Review, which documents diversity statistics within various newsrooms, journalists of color are exceedingly outweighed by their white counterparts. Although this is a particularly harrowing experience for journalists of color, it also has a significant impact on newsrooms.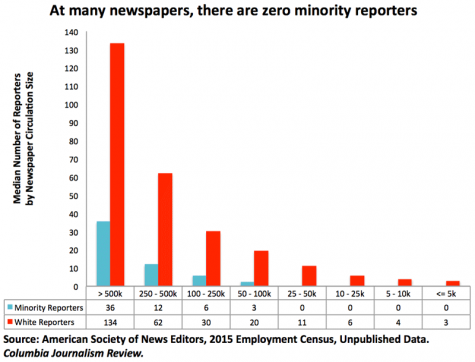 As reporter Lonnae O'Neal told NPR, hiring more journalists of color shouldn't just be for the sake of fulfilling a diversity quota. "We need new and different lenses, people of different backgrounds thinking at the table," said O'Neal. "We'll only be richer for having that. Why is it so hard to set as an intention?" The reality is "many folks are going to be uncomfortable with what that looks like," explained O'Neal.
Additionally, according to unpublished data from the American Society of News Editors (ASNE) "newspapers with a circulation of less than 50,000 typically employ 0 reporters of color in their newsrooms." This experience is exactly what many journalists of color mean by "being the only one in the room." Their existence — including their opinions and skillset — is immediately disregarded. 
This isolation phenomenon in newsrooms is exactly what Professor Scott Page from the University of Michigan studies. In an interview for NPR's Code Switch, he explained, "It's taxing if you are the lone dissenting voice in the room, particularly when you are forced to represent entire communities against the opinions of people who outrank you." In other words, being the only — or one of the few — people of color in the newsroom often results in tokenism. These experiences and feelings are exactly what members of the Rebirth Project at UMass Amherst are trying to prevent.

Largely driven by a series of racist incidents on campus, the Rebirth Project was combined with the magazine Pigment by students of color in the Journalism Department in Fall 2018 to create a safe space for students of color on campus. While the Rebirth Project group is relatively new, Pigment's roots stem as far back as 2016. Samantha Sims — a senior who is also the secretary and treasurer for the publication — described the Rebirth Project as uplifting. "It works to give a voice to people on campus who typically do not have one," explained Sims.
Many members of the Rebirth Project revealed they had joined either The Daily Collegian or Amherst Wire but quickly left after discovering they were the only POC in the room. In its mission statement, the Rebirth Project emphasizes the importance of having a supportive community. The group strives to be "a space on campus that allows people to speak about issues and stories they feel passionate about." By allowing students to write freely, the Rebirth Project hopes it can provide long-term support for its members. 
Upon entering the profession, journalists of color face a much greater set of challenges such as daily microaggressions, blatant racism and pure ignorance. This is why, according to the Columbia Journalism Review, "Minority journalists are more likely to leave journalism than their white counterparts." As a comfortable and safe space for students of color that prioritizes marginalized voices, the Rebirth Project encourages students of color to pursue — and maintain — a career in journalism. 
According to O'Neal and Indira Somani, a former television news producer professor in the department of media, journalism and film at Howard University, that means young journalists of color need some sort of mentorship before entering the field. As NPR writer Tal Abbady put it, this "old fashioned talent nurturing" becomes crucial to the success of someone's career. For Somani, she said as "one of six people of color in the entire building, including the custodial staff," the ability to have a mentor would've meant the world to her. Both women expressed their gratitude to either the mentors or people of color in their lives. "The thinking goes that people will just bubble up and navigate their way to where they need to be," explained O'Neal. "That's not enough in any field of human endeavor. You have to be seen, mentored nurtured. … It takes real intention."
However, it becomes much more complex than that. In order to create a diverse and supportive environment for journalists of color, newsrooms must dedicate time, effort and resources to do so. 
One way newsrooms can do this is by connecting with organizations like the National Association of Black Journalists, the National Association of Hispanic Journalists or the Asian American Journalists Association. Zamith suggested that senior members of the newsroom should establish a time to regularly attend the conferences held by those organizations or at least discuss the things that come out of them. "I think that would be a really good practical starting point to connect with a broader network, so also when they have openings in their organizations they can proactively reach to people in these groups," explained Zamith.
However, newsrooms shouldn't hire journalists of color for the sake of it. "It's not just about meeting a statistic," emphasized Zamith, "it's recognizing that they would have insight, that they would better reflect your community and that would mean that people in those communities would be more likely to talk to journalists, have a positive opinion of journalists or feel reflected by the journalism produced by that outlet." While diversity in the newsroom is a crucial tool in creating and maintaining a strong relationship with its consumers, it is, above all, a form of visibility and recognition for current and future journalists of color. 
As per the NPR pie chart, which illustrates on-air sources for NPR, more than 80% of the sources were white people. While this visualization provides more awareness on the lack of diversity within newsrooms across the U.S., it still doesn't take into account the Native American and Indigenous journalists.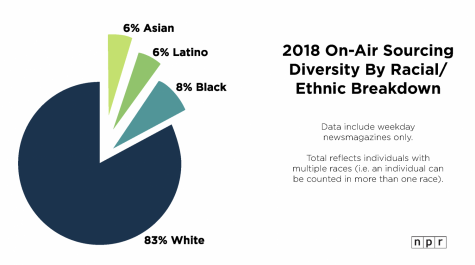 This failure to include everyone while trying to do so is the core problem within the profession of journalism. As with most professions, the system of journalism must be dismantled and reconstructed to protect journalists of color. Journalists like Lonnae O'Neal, Indira Somani, Rodrigo Zamith and the members of the Rebirth Project.
Email Brianna at [email protected] or follow her on Twitter @brisilvv.
About the Contributor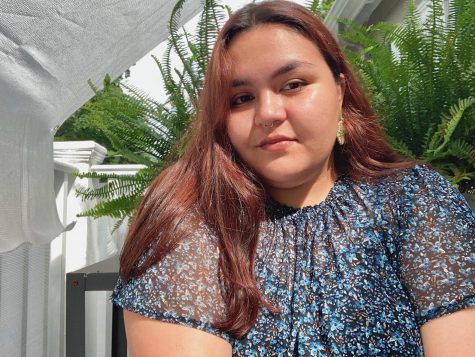 Brianna Silva, Editor in Chief