Adam Sandler shines in "Uncut Gems"
Despite limited awards show buzz, the Safdie brothers have created a modern masterpiece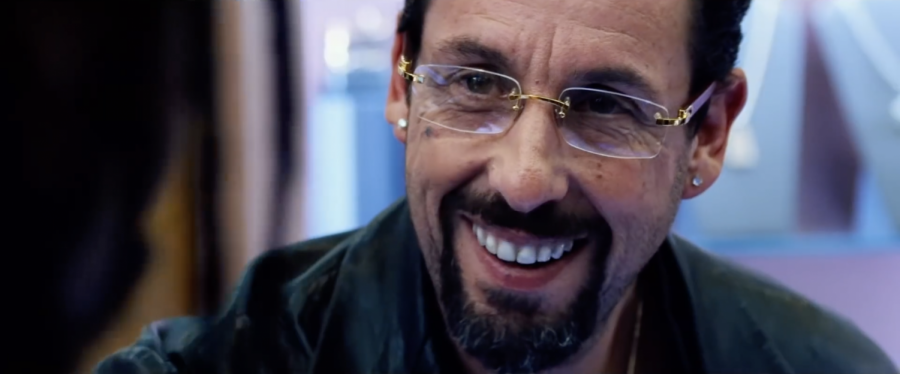 MAJOR SPOILERS AHEAD FOR "UNCUT GEMS"
"I'm f***ing going to bet all this money on you tonight, KG. You're here to win, KG. These f***ers don't know. Them out f***ing west? Do you think they f***ing know you? They don't know you. They don't know us. It's about f***ing winning."
– Howard Ratner, "Uncut Gems" (2019).
If you have ever placed a bet, whether on a sports team winning or in a casino, you have experienced the heart-racing adrenaline that takes over your body and conscience. Your hands sweat, your body chills, and you contemplate the consequences of losing. Yet the chance of winning is too exciting to pass on. 
"Uncut Gems," directed by brothers Josh and Bennie Safdie, successfully put me into an anxiety-induced trance driven by a potential payoff that was completely fictional. I truly felt as though it was my money that was on the line and I was invested in every bet Howard Ratner, played by Adam Sandler, made. Placing its audience on a rollercoaster of suspense and chaos, "Uncut Gems" retains a comprehensive plotline that is intense yet emotional. 
Sandler, typically defined by his goofy roles in movies such as "Happy Gilmore" and "Grown Ups," delivers an unparalleled performance. Sandler embodies a character that I did not expect; a functioning lunatic who has no ability to quit. Howard Ratner (Sandler) is an obsessive diamond dealer with an uncontrollable gambling addiction. I found myself questioning whether I should root for Howard as he recklessly juggles his business, his affair and his gambling problem. He is in constant motion attempting to repair the damage he is actively inflicting. Watching Howard navigate his overly complicated life, you begin to understand the power money can have over people.  
Sandler is not the only one with an outstanding performance. Kevin Garnett plays himself and is an unexpected talent. Garnett becomes obsessed with an opal that is the epicenter of both the plot and Howard's life. After using it for good luck to win games, Garnett refuses to give it up, which causes tension between himself and Howard. Garnett's performance is convincing and genuine even with no prior acting experience.
With amazing performances in "Knives Out," "Sorry to Bother You" and "Get Out," Lakeith Stanfield has been taking over Hollywood. Playing Howard's friend, Stanfield turns on him after Howard takes things too far. There is no shortage of talent in "Uncut Gems" even from Julia Fox who made her big-screen debut as Julia De Fiore, Howard's secret girlfriend.
The Safdie brothers do an incredible job packing a lifetime of terrible decisions into two hours and fifteen minutes. There are countless moments in the film where something is set up to go wrong but ultimately do not, leaving the audience with the gas pedal taped to the floor and no steering wheel. When Howard is attacked by the mob and thrown into a fountain, the opal that is his entire lifeline has fallen out of his pocket. Yet it is discovered moments later floating behind him. The audience is set up to assume the worst and tricked to believe Howard lost the opal in the fountain, but he doesn't. This is a tactic the Safdie brothers have perfected to keep the audience clueless about their next move. The Safdie brothers are masters of building suspense and retaining complete control of their audience's emotions. These may seem like unnecessary details, but I believe these are what make "Uncut Gems" such an unpredictable masterpiece.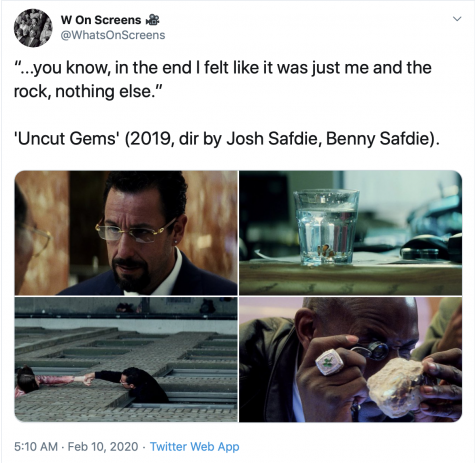 Despite things going Howard's way on occasion, he ultimately ends up with a bullet in his head. The ending of "Uncut Gems" is perfect. Howard has placed a bet on Garnett's game with money he owes to a couple of mobsters. Howard has locked them in the entryway of his diamond shop while he watches Garnett's game on the TV. As his bet is falling in place, the mobsters sit in the entryway fuming with anger. One of the mobsters, Phil, played by Keith Williams Richards, visibly sweats and has zero interest in the outcome of the game. Radiating pure anger from Howard's antics and being locked in a glass box, the emotional juxtaposition between Phil and Howard is jarring. Both actors are cranked up to eleven and the climax of "Uncut Gems" occurs as soon as the mobster is released from the box and immediately shoots Howard in the head. As an audience member, I felt like I had been holding my breath for the entire movie and was finally able to exhale.  
Shot predominantly on 35mm film, "Uncut Gems" is gritty yet lively with an attractive color palette that fits the feel of the film. I love this decision even though it might seem out of place for a story set in 2012. I am a sucker for movies shot on film so this may be a personal preference, but the aesthetic of "Uncut Gems" is spot on. On the topic of looks, costume design was fantastic which is noteworthy since I typically don't pay much attention to the character's attire.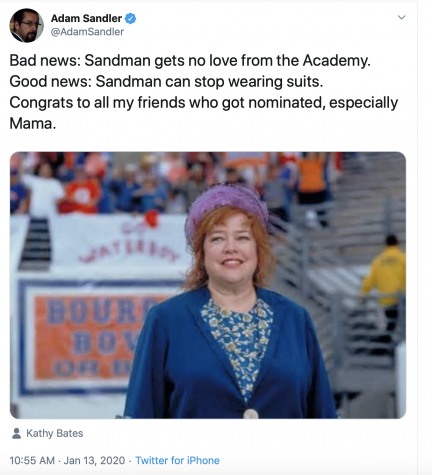 One of my favorite movies of 2019, "Uncut Gems" was robbed of an Oscar nomination and deserves far more recognition. It is a risky move for an actor like Sandler to leave his comfort zone and take on a character that people are not used to. Unlike anything I have ever seen, "Uncut Gems" is a movie that I hope gets the star treatment it deserves.
Email Jozef at [email protected] or follow him on Twitter @jozefzek.