"Color Out Of Space" delivers more than just Nic Cage
Adapted from the H.P. Lovecraft short story, Director Richard Stanley adapts the horror classic for the screen
A good cosmic horror film is like the meteorite that strikes the rural farm home of the Gardner family in "Color Out of Space." It doesn't come around too often and only a handful of people actually know about it. Unfortunately, the newest chapter in the slowly-growing saga of cosmic horror films, "Color Out of Space," seemed to be the usual in the process of cosmic horrors hitting theaters. They receive critical acclaim but fail to turn a profit in the box office.
Director Richard Stanley ended a six-year hiatus to make "Color Out of Space," his last film being a documentary titled "The Otherworld". While his film has been acclaimed by many fans of Lovecraftian and cosmic horror, it appears as if this one will fizzle out, destined to become a cult classic in around a decade.
Despite the lack of commercial success "Color Out of Space" is chock full of redeeming qualities. Based on a novel by the cosmic-horror pioneer H.P. Lovecraft, and set in the fictional area of West Arkham, "Color Out of Space" follows the impact of an alien meteor on a small rural farm and the family that resides there. Nicolas Cage as Nathan Gardner, a husband and father of three children, delivered a vintage performance. While not quite as off the rails as he was in Panos Cosmatos' "Mandy," Cage still channeled his inner "Vampire's Kiss" acting chops to portray a man slowly, but surely, losing his mind. It is not very often you get to witness a man, within the throes of rage, go on a spree of slamming spoiled fruit into a trash can while screaming, "SLAM DUNK!" and "THERE'S ANOTHER!" 
While Cage delivered, the rest of the cast stumbled to rather average results. Madeleine Arthur portrays Lavinia, the daughter of Cage's character, and while she had her moments, most of her time on screen was ultimately forgettable. Elliot Knight plays a hydrologist sent to check on their farm, Ward Philips. He gave a decent performance, but similar to Arthur's, it ended up being rather average, as most of the cast could not help but deliver flat dialogue and unconvincing panic. Most surprising to me, marijuana enthusiast Tommy Chong, while only playing the minor part of the Gardner family's squatter Ezra, gave a solid performance.
Although the acting may have left a lot to be desired, the technical aspects of this movie were phenomenal. The visual effects were gorgeous. The colors and movements of the changing plant life and animals on the Gardner farm brought out the best aspects of a committed design team. As the world around the Gardner family changed, it felt real and immersive. The use of color in this movie was hypnotizing. Deep strikes of purple, blue and orange were gratifying. The "color" mentioned in the title was, in the original novel, supposed to be color unfathomable by human eyes. In the film, it is a mixture of purple, pink, and white. As it is impossible to actually present an audience with color never before seen, the visual effects department did a great job with the difficult task presented to them. The practical effects in this movie were quite unique. Harkening back to textbook examples of perfected body horror, such as John Carpenter's "The Thing," the distorted bodies of alpacas and humans alike were carefully crafted and, disturbingly enough, looked real.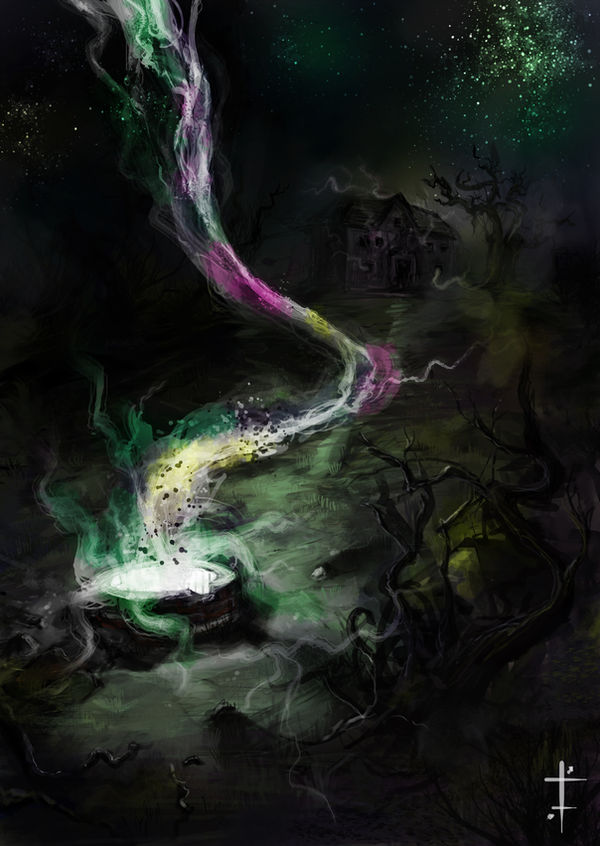 The cinematography of this film was assembled with the utmost care, as a wide array of color grading and lighting gave each image a nice appeal, and the actual camerawork itself was carefully done. Utilizing a number of close-ups, wide-angles and birds-eye-view shots, the cinematography remained unique and progressive throughout the course of the film, similar to the altered land the Gardners resided on. The sound design and the score complemented the camerawork very well. The visceral noises made by the disturbing creatures of this film were haunting. Colin Stetson, the composer of the film's score, was posed with a challenging question, "What exactly is the sonic representation of a cosmic alien color that does not exist in this terrestrial reality?" A difficult sound to achieve, no doubt, yet Stetson was able to combine a symphonic hodgepodge of piano, string quartets and synths to achieve a varied and effective score.
With middling acting and strong technical aspects, it is relieving that "Color Out of Space" was not bereft of allegorical and thematic meaning. The film presented powerful messages about the fragility of our environment and the impact that humans have had on it. The alien meteor that razed the land is not from our planet, unlike humans, yet it still polluted the waters and destroyed the wildlife. It seemed fitting that by the time the credits rolled, the only character still standing was the hydrologist Ward, a man who had spent his life studying pollution in the waters. While perhaps a little heavy-handed, a majority of horror films rarely even try to have subtle themes and impacts that stretch beyond the initial film. "IT," "The Curse of La Llorona," and "The Bye-Bye Man" are just the tip of the iceberg when it comes to critically panned horror films with no subtext or complexity. Some horror films are testaments to true filmmaking, such as Ari Aster's "Midsommar," Luca Guadagnino's "Suspiria," and  Trey Edward Shults' "It Comes At Night." When they do it adds a layer of depth to the film and shows the prowess that a writer and director need to have to effectively convey what they want to. 
"Color Out Of Space" is an above-average film in its own right, it is a shame that it will likely fall to the same pitfalls most cosmic horrors find themselves in, as public disinterest in the genre and the difficulty of adapting some of the finest works of cosmic horror present challenges to filmmakers that are not worth the potential financial burdens. Without enough outreach to the general audience, it is difficult for films like this to get made. Very rarely do they receive traction. A.T. White's gorgeous and critically-acclaimed "Starfish," a morbid depiction of a girl struggling with her best friend's sudden death as a cosmic entity rings in the apocalypse around her was met with acclaim among critics, yet barely made above $15,000 in the box office. Reflecting a common notion that cosmic horror is a deft landscape, these two films are prime examples of a genre that may just not functionally work.
Stanley's return to cinema has brought audiences a bold and bombastic film that is surely not going to resonate with everyone, yet its technical prowess and visual distinction mark it as a true can't-miss among fans of arthouse cinema. It is a triumph among lower-budget films, especially a film belonging to a genre that struggles to break into the mainstream audience. With serviceable acting, gorgeous and unique visual effects and an expertly sculpted score, there is a trove of redeeming aspects to be found with this film. If your stomach is easily churned by gore, this may not be the film for you. However, if you find yourself able to look past that, you will be introduced to a world unlike any you have seen. Give "Color Out Of Space" a try. Not only will you find yourself in awe at the visuals and thematics, but you will also be lending a hand in the curation of a genre that truly deserves to be respected in the public eye.
Email Ian at [email protected] or follow him on Twitter @iandarts