Social distancing: It's a real thing and you should do it
For your own sake and for the sake of everyone around you
In case you haven't heard, social distancing is underway in Massachusetts. This means everyone is advised to stay home, and if you have to go out, maintain a distance of at least six feet from other people. The idea is that, by slowing the spread of COVID-19, we can "flatten the curve," and lessen the impact of the virus on the health care system.
Here's an explainer from the New York Times that tells how it works.
The reason  COVID-19 is spreading so widely, experts say, is because people can carry the illness for up to 14 days without exhibiting symptoms, and can pass it on to everyone who they come into contact with. And while it is not deadly for most, it can be for the elderly and immuno-compromised.
Sunday evening, Gov. Charlie Baker mandated that all restaurants and bars in the state would stop serving on-site, and limit to only deliveries and takeout. This order will be in effect from March 17 until at least April 6. 
Starting today, March 16, all public schools across the state are closed for three weeks, following suit of many college campuses, and in accordance with the new guidelines of prohibiting gatherings of greater than 25 people.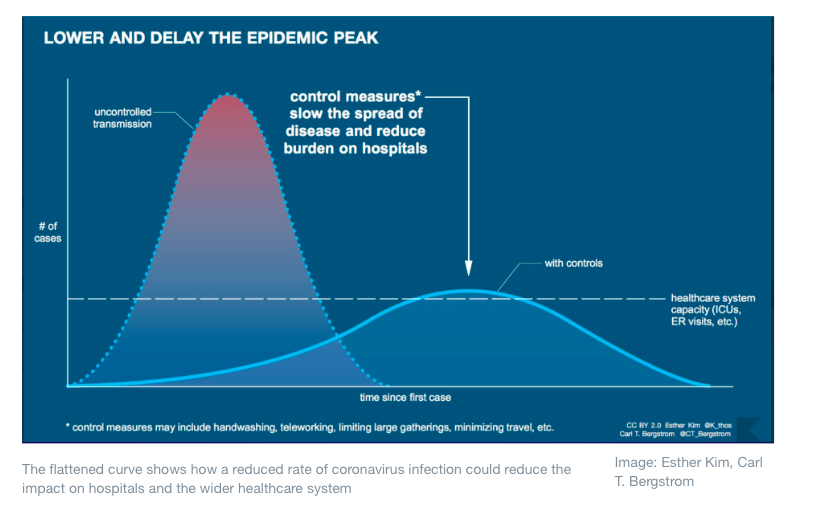 President Trump endorsed practicing social distancing in a statement this afternoon, in which he urged Americans to avoid gatherings of 10 or more people.
This clip from the old tv show "Scrubs" explains it nicely.
Aside from avoiding interactions with other people in crowded places, social distancing includes avoiding public transportation and limiting nonessential travel. And if they are unavoidable,  take precautionary measures, like hand-washing as much as possible. Going outside for a run or to walk your dog are considered ideal methods for keeping to yourself. 
The fewer number of contacts each person has, the less likely the illness will spread. Experts reiterate that wiping down common surfaces and constant hand-washing are practices to be doing diligently right now, not only for your own sake, but for those around you.  
So it's time to stay in and write that paper.
Read more: Your Social Life is Going on Hiatus (The Cut)
Email Joanna at [email protected] or follow her on Twitter @JBuoniconti