UMass announces changes to COVID-19 testing facilities
Following the decline in state-sponsored testing sites, the university will end community testing on March 31
In an email to the university on Thursday, March 24, Ann Becker and Jeffrey Hescock, co-directors of the Public Health Promotion Center (PHPC), announced that UMass will no longer provide testing services for non-UMass community members starting Thursday, March 31. 
According to Becker and Hescock, this change is in accordance with "the state's decision to downsize its Stop the Spread testing program and conclude funding for the campus' community testing site."
The Stop the Spread testing program, a state-sponsored initiative funded by the Baker-Polito administration, had multiple locations. The UMass location opened in December 2021. As of April 1, 2022, the program is being reduced to 11 sites.
In addition to this announcement, the university continues to monitor COVID-19 data. There were a total of 39 new cases for March 16-22. The positivity rate for the university is 2.30%, and at the state-wide level, the most recent positivity rate is 1.91%.
Of those positive cases, 16 are on-campus students, 20 off-campus students and three are faculty and staff.
"Individuals testing positive continue to report they are experiencing minimal to moderate symptoms of infection," the email read.
Vaccine clinics are held on Wednesdays from 10 a.m. to 1 p.m. and Thursdays from 1-4 p.m. through April 30. 
While the mask mandate was lifted for most indoor spaces on campus on March 9, KN95 masks continue to be provided at the PHPC in the basement of the Campus Center. 
"As a community we encourage everyone to respect the choices that individuals will make about their own masking," the email concluded.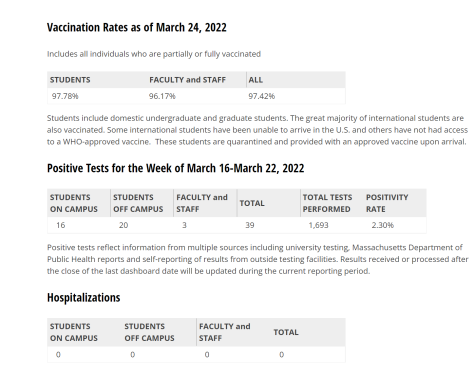 Email Olivia at [email protected]