Power behind the voice: The long history of mismanagement in the music industry
A breakdown of Kanye West's latest Twitter rampage and the contracts swindling artists since the early 1960s
Love him or leave him, Kanye West is inarguably one of the most notable figures of the 21st century. While dozens upon dozens of Op-Eds and interviews have discussed West's mental illness, his contentious attitude toward the sitting U.S. president or his inconsistent releases after an impressive debut, his latest tweet rampage exposes the unsung mistreatment in the music industry. Big labels taking talented unknowns and locking them into contracts that offer little financial or physical control over their own creations. West, himself is a billionaire but in Forbes breakdown of his wealth, very little comes from his music in comparison to the 1.26 billion from his fashion brand Yeezy.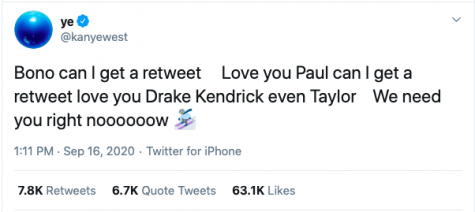 While West is not exactly suffering, his tweets, including every single page of his ten contracts with Universal Music Group (UMG), shed light on this disparity between the artist and the income. West's label, G.O.O.D Music, is under Def Jam Records, a distributor owned by UMG.  With 100 tweets in an hour on Sept. 16, 2020, the one below explicitly attacks the current industry standard.
90% of the record contracts on the planet are still on a royalty A standard record deal is a trap to NEVER have you recoup, and there's all these hidden costs like the "distribution fees" many labels put in their contracts to make even more money off our work without even trying.

— ye (@kanyewest) September 16, 2020
Outlined by Justin M. Jacobson, Esq., entertainment and media attorney for The Jacobson Firm, Kanye is likely referring to the "Basic U.S. Rate" where artists receive a baseline percentage for their sales in a given period, gradually increasing with each record. An "Escalated U.S. Rate" would be dependent on records sold, in this example royalties for the artist increase by 1 percent with an additional 500,000 units sold.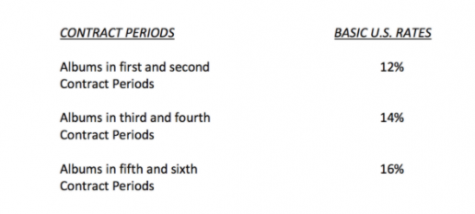 As exampled in West's long tweet spree, his contract negotiations look similar. On his seventh album, UMG is set to receive 21% from a distribution fee, which lowers to 17% after 1,000,000 units sold. West will receive only 25% of sales from this record, with an added one percent on his ninth record.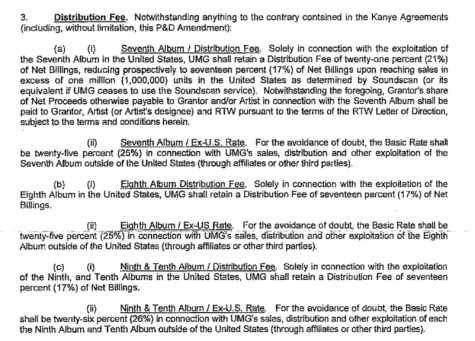 West is not the first musician to fight against these sorts of contracts. His protege, Chance the Rapper, branded himself as an independent artist to avoid a lack of ownership over his music. Similarly, Taylor Swift, whose relationship to West is both inexplicable and unavoidable, lost ownership of her masters when her previous label, Big Machine Label Group, was bought out by Scooter Braun's Ithaca Holdings- meaning Braun, not Swift had ownership of the music Swift had created. As manager to Arianna Grande and Justin Bieber, Braun is untouchable in the music industry but Swift spoke out. Her brother Austin and producer Jack Antonoff recorded her song "Look What You Made Me Do" under a pseudonym as featured in the season finale of "Killing Eve." Interestingly enough, Swift signed with Universal Music Group, the very group at which West's rage is aimed. Even foes can find common ground. Swift cemented an innovative deal for all musicians at UMG, a portion of the company's Spotify shares. 
Prince wrote "slave" on his face in protest of Warner Bros. He considered record label contracts a form of slavery. pic.twitter.com/UteRj7y288

— L E F T, PhD ⚫️ (@LeftSentThis) April 21, 2016

Unfortunately West, Swift and Chance The Rapper are not the first musicians, likely not the last, to be weighed down by the industry itself. Jay-Z and Beyonce started Tidal in an effort to give artists more control over their creations. In 1992, Prince infamously changed his name to the Love Symbol, when his record company, Warner Bros., refused to release his records when he wanted. Chronicled below are how three major musical entities were mismanaged by a singular man, Allen Klein.
The Rolling Stones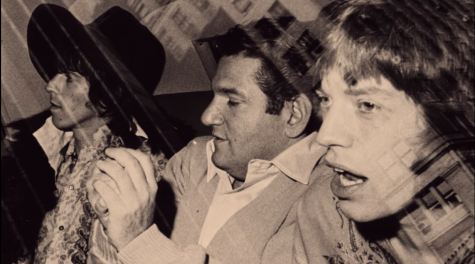 Least destroyed by Klein's action, The Rolling Stones' co-manager Andrew Loog Oldham hired the music manager in 1964 after years of mismanagement. Klein promised the group 2.6 million, which was surpassed their rivals The Beatles' earnings. Quickly Klein drove out Oldham and other co-manager Eric Easton for receiving 2% more royalty than the band themselves. However, Mick Jagger, a student of finance and accounting at the London School of Economics, grew suspicious of Klein and jealous of Klein's blossoming relationship with the Beatles. Jagger hired Berger Oliver & Co to investigate their finance and in 1970 announced Klein's replacement. While the Stones were free of Klein, they would spend decades suing for their own U.S. publishing rights.
The Beatles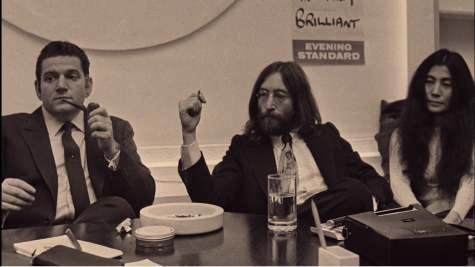 After his stint with the Rolling Stones, Klein revisited a group he had previously attempted to lure, the Beatles. The passing of "Fifth" Beatle manager Brian Epstein in August 1967 is noted as the beginning of the end for the British foursome. Epstein's involvement led to success for the band but left them financially adrift. In early 1969, Klein contacted John Lennon, and within a few meetings, George Harrison and Ringo Starr agreed Klein should represent them instead of Paul McCartney's new father-in-law and brother-in-law, Lee and John Eastman, respectively. Klein would gut Apple Records from the inside, hiring his people to run the company. Extreme dissatisfaction with Klein, McCartney would leave the band in April 1970. "Let's say that possibly, Paul's suspicions were right. I think the Klein-Eastman situation pushed it over the hill… we were gonna get a divorce anyway," Lennon would later say about the situation.
Sam Cooke
Before Lennon-McCartney, Jagger-Richards, there was Sam Cooke. In the late 1950s and early 1960s, Cooke stood as a powerful figure in the Civil Rights Movement with a gorgeous voice and a force to triumph against the music industry. Plagued by his industry invented public persona, Cooke intended to start a record label and union with other Black artists such as James Brown. Unfortunately, the mob aggressed Cooke leading him to consult with none other than Klein. RCA records refused to let Cooke view his accounts until Klein pushed them into an audit and a contract re-negotiation. With Klein's assistance, Cooke started the holding company Tracey Limited. In a cruel move, Klein listed himself as the company owner, giving him ownership over everything. Cooke realized this during a bedridden weekend and intended to confront Klein after the weekend. In the Netflix documentary "ReMastered; The Two Killings of Sam Cooke," Cooke's assistant manager and promoter Jerry Brandt recalls his final conversation with Cooke. "Before he died, Sam said to me, 'I'm gonna leave that a**h*le." Brandt said. Sadly, Cooke didn't live through the weekend. On Dec. 11, 1964, he was shot by a hotel manager in a suspicious instance. Even Elvis believed Cooke's death was tied to his rising power, not an accident but a careful and ominous execution. A warning to any other who dare question the powers that be.
From West to Cooke, corruption in the music industry is not new. Yet it is a wonder that since Klein swindled three of the most financially successful entities, very little has changed for artists. West's thread exposes that, on every page of his contract. It is unclear and unlikely that any art form can thrive under capitalism. When money sneaks it's way to corrupt art, everyone loses. Cooke's posthumous single "A Change is Gonna Come" has become a political anthem but for musicians craving deserved control, its lyrics ring hollow.
Email Julia at [email protected] or follow her on Twitter @juliadonohue3.