In Memoriam: Chadwick Boseman replicates the legacy of MLK and Malcolm X
Fellow Howard grad and UMass Amherst professor John H. Bracey, Jr. discusses the late actor, Howard University and a life well lived.
In a year landmarked by tragedy, a celebrity death can seem like another in a long string of senseless casualties of an ineffective government or an unfair life. Yet the sudden death of Chadwick Boseman leaves many wondering about the impact a Black actor can have in such a short career.
Since his death many of Boseman's co-workers,  from Lupita Nyong'o, Hampshire College alum and esteemed actress, to Ryan Coogler, director of Boseman's starring vehicle "Black Panther," in shock. Both have gone on to explain Boseman's kindness as a man and significance of an actor. Boseman died of colon cancer on Aug. 28, after an intentionally private diagnosis since 2016. 
John H. Bracey, Jr. a long-time professor and two time-chair of the University of Massachusetts Amherst's Afro-American Studies Department, reflected on Boseman's death, "Black Panther"'s cultural imprint and the legacy Boseman leaves behind. Bracey teaches a class on "Black film since the 1950's" at UMass Amherst. 
Both Bracey and Boseman were graduates of Howard University, a private chartered historically black university that is well known for breeding excellence.  More than an alumnus, Bracey grew up on Howard's campus, his mother taught there and his son graduated in the same class as Boseman.  "It might be coincidental that," Bracey began, "You know, for a leading kind of culture, figures in the last 50 years came off the campus of Howard University." Bracey lists Toni Morrison, Kamala Harris, Ta-Nehisi Coates, among the leading figures to receive a degree from Howard. "Maybe Howard has something that encourages superior talent, nurtures superior African-American talent so they can lead what people would think would be narrow, you know, and go out and take on the rest of the world." 
"You're trained by Phylicia Rashad," said Bracey. Boseman studied under Rashad, who eventually became his mentor. "When you are acting, you go and you stand on the stage at the Ira Aldridge Theater. Well who's Ira Aldridge? He's the first leading black Shakespearean actor of the 19th century," said Bracey. Aldridge is the only actor of African-American descent to be honored with bronze plaques at the Shakespeare Memorial Theatre at Stratford-upon-Avon.  "[Aldridge] couldn't act here, but he went to England, and acted. So Boseman, when he left Howard, he didn't go to Hollywood. He went to England, London. And he studied abroad, so he's coming with all of the armor that he would need to take on Hollywood, you know. But he's coming out of an environment that says he can do that. No doubt."
"It is with profound sadness that we mourn the loss of alumnus Chadwick Boseman who passed away this evening. His incredible talent will forever be immortalized through his characters and through his own personal journey from student to superhero! Rest in Power!" @HUPrez17 pic.twitter.com/8TFBTM0tlm

— Howard University (@HowardU) August 29, 2020
Little did the world know the impact that Boseman would go on to have. Boseman played some of the greatest Black male characters to grace the silver screen. He played them with such conviction, for a moment you would forget it was a movie. You'd be sucked into the world he'd created for you, immersed in the story he was telling, but it wasn't until 2016 that the world turned upside down. On April 12, 2016, Marvel released "Captain America: Civil War" a movie that headlines Marvel domination. Not only did it introduce the world to Marvel's adaptation of Spider-Man, but gave us a glance at Black Panther, an anticipated Marvel hero; and this was only the beginning. 
While Boseman's success seems commonplace as his choices have only emboldened other Black visionaries, Boseman walked a path carved out for him by other leading Black actors. A viral video has reminded the world that Boseman's ability to train was funded by none other than Denzel Washington. Bracey notes that Washington and other Black actors compromised to find recognition in the film industry, "When I look at the things that Hollywood has done to great black actors, Paul Robeson. Paul Robeson played in some god awful movies because Hollywood, you couldn't beat Hollywood. He couldn't do it." Bracey adds on, "Denzel Washington is a great actor. But what did he get an Academy Award for? "Training Day." He had to make a garbage movie to get an Academy Award? He did "Malcolm X," didn't get anything. That's a brilliant film, got nothing for it. He made a movie playing a sociopath and white people gave him an Academy Award." Washington is one of four Black actors to receive the Best Actor award, most recently in 2006 for Forest Whitaker in "The Last King of Scotland."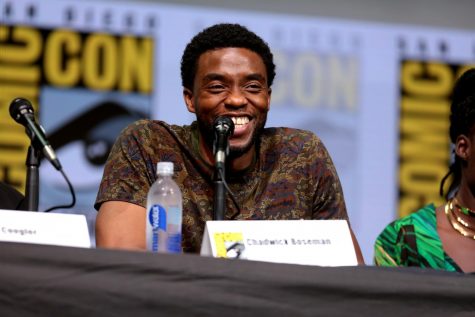 Unlike his predecessors, and perhaps due to their pioneering careers, Boseman never once hesitated to play characters in his own way. In an interview for the Hollywood Reporter, Boseman admitted that he fought for his character to have an African accent, giving Marvel push back time and time again. "He didn't have to compromise to get a billion dollars. He said, look, I can be myself and bring blackness into this world, into your comic book world and will turn it upside down sideways," said Bracey. That blackness Boseman brought to "Black Panther" gave an entire generation a new hero to look up to. 
That blackness, Bracey suggests, replicates the duality man exhibited by Malcolm X and MLK through T'Challa and Killmonger. "I'm a Malcolm X guy. I love Killmonger. But then you realize that we like Malcolm X today," Bracey said. While Malcolm X does not have the statistical favorability of MLK, his legacy has been revisited in recent years with various positive portrayals of the Civil Rights icon including Spike Lee's "Malcolm X" and the upcoming Regina King directorial debut "One Night in Miami."
In 2018 Marvel debuted "Black Panther." I still remember the day I saw it, filled with the same jubilation I had as a child when seeing "Princess and the Frog" for the first time, but this was different. It felt like there was a cosmic shift. The anticipation of the release, Black men and women filled with joy and excitement, viral videos of packed theaters on the release day of people dressed in traditional African garb, playing drums as they stood outside the theater doors. The world had never seen anything like it. "It's one of the greatest films I've ever seen. And I've seen a lot, a lot of films," began Bracey, "Anybody who can get me to sit through an action comic book film for two hours and not get up and walk out when the bombs started going off? That'd be a heck of an actor, you know. And to have me actually like it for two hours and to laugh? This is really cool." The film was a box office success, a rarity due to February often being a slow month for cinema that wasn't romance related. "Black Panther" defied all odds, and at the head of it stood Boseman, humble as ever. 
"Purpose is an essential element of you. It is the reason you are on the planet at this particular time in history." – Chadwick Boseman

We thank you for your inspiration. 🙏🏾

Video: @howardu Commencement 2018 pic.twitter.com/xcRJ9bDbSu

— Asomugha Foundation (@AsomughaFndn) September 1, 2020
Boseman's bravery reminds Bracey of both Civil Rights Icons. "It's  Malcolm X, going to the Audubon Ballroom knowing that people want to kill him. It's Martin Luther King getting on that plane and going to Memphis saying you have death threats… 'I may not get there with you, but we as a people will get to the promised land.'" Boseman's cancer represented a timer on his life and his legacy but it did not stop him from playing Jackie Robinson to James Brown, carving out a legacy for the next generation to be young, to be gifted, and to be black. "So if you look at the way Boseman carried himself, it was like, I'm not going to have people look at me and see me backing up and weak in the face of death. And I'm going to carry this through to the end." Boseman did carry through, with his final film "Ma Rainey's Black Bottom," set for posthumous release. Bracey smiled, "And if you look at that sensibility that you build a legacy and then you're not really dead."
Julia Donohue contributed to reporting.
Email Nasya Blackshear at nbl[email protected] and follow her on Twitter at @nasblackshear.