Three simple and healthy meals to make for the beginner chef
Stuck without a meal plan? Here are 3 simple meals to try that taste absolutely delicious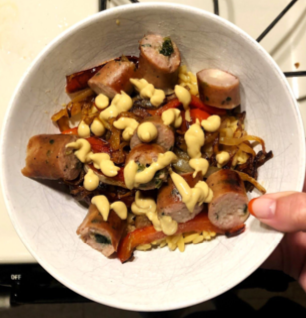 With UMass Amherst being #1 in dining for the fourth year in a row, I'm sure most of us didn't picture spending our semester without a meal plan. Some of the things I miss most about being on campus are being able to stop off at Frank to get a huge bowl of chicken stir fry or a gooey grilled cheese. If you are living off-campus and falling into the habit of consistently eating out, or skipping meals because you don't know where to begin in the kitchen, you are not alone.
Cooking can be a very scary experience if you're just starting out. Complicated recipes with 15 different spices you've never heard of and lots of other ingredients you don't have on hand can cost a lot too. It was so convenient being able to grab a quick bite at the dining hall and be on our way to class. However, things are a little different now.
What's great about cooking for yourself is that you only get better with practice, and it can be personalized exactly to your liking. Also, with all of this free time we now have, taking an hour to make a warm, home-cooked meal for yourself can be a relaxing break to get you off of your laptop, AND the couch.
Here are three, healthy and simple recipes that won't break the bank, taste amazing, and are sure to impress your roommates!
Chicken Ziti and Broccoli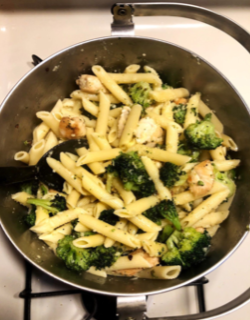 Servings: 5-6
This recipe came from my grandmother's old church cookbook, "Recipes from the Heart of Holy Trinity United Methodist Church," and my mom has been making it for as long as I can remember. With the main ingredients being chicken, ziti, and broccoli, this is a well-balanced meal of carbs, healthy fats, and protein, that takes about 30 minutes to make and will leave you with a full stomach and plenty of left-overs. 

Ingredients: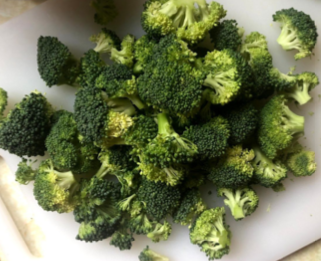 3 large chicken breasts

1 bunch of broccoli
1 box of ziti
2-3 garlic cloves
½ -1 cup olive oil
2 tbsp butter 
½ cup grated parmesan cheese
Garlic Powder 
Salt and pepper
Steps:
Cut the chicken into cubes and cut the broccoli into pieces about the same size as the chicken. In a medium skillet, heat ¼ cup of olive oil on the stovetop. Add in the chopped garlic cloves and chicken, and cook until the chicken is lightly browned. Once done, take the chicken out of the pan and put it to the side. In that same skillet, add the rest of the olive oil and broccoli. Cook until the broccoli is slightly softened. Add the chicken back into that same pan, toss lightly, and remove from heat.
While this is cooking, cook the pasta and drain once done. Add the pasta back into that same pot with the butter, more olive oil, and garlic powder. Add in the chicken, broccoli, and parmesan cheese. Finish it off with salt and pepper and you are ready to eat!
Sausage, Peppers, and Onions Rice Bowl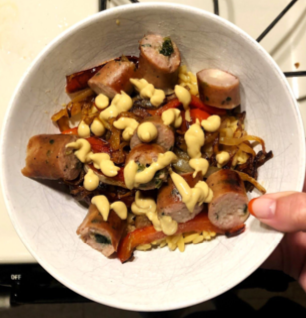 Servings: 2
The infamous combination of sausage, peppers and onions, topped with mustard is a classic that can't be beat. I like to put a little spin on this typical combo to pack a little more nutritional value to the meal. The creamy rice pilaf mixed with the tasty peppers and caramelized onions is something you are definitely going to want to try out.

Ingredients: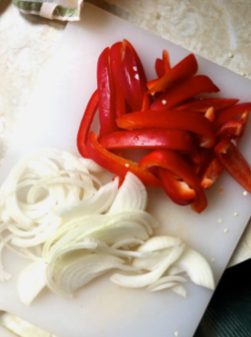 2-4 pre-cooked chicken sausages
1 large Pepper
1 large Onion
1 box of Rice Pilaf
Olive oil 
Dijon mustard 
Steps:
Cut the pepper and onion into strips. In a large skillet on low heat, add olive oil and peppers. Cook for about 10 minutes until the peppers are slightly softened. Add in the onions. Cook until the peppers are fully softened and the onions are golden brown. Take everything off the heat once done. In that same skillet, add some olive oil and the chicken sausages. Cook those until browned.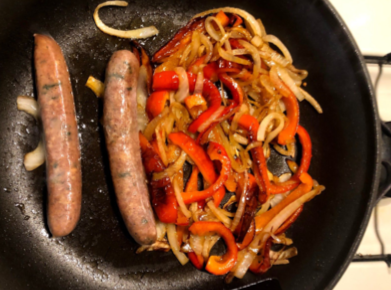 Meanwhile, cook the rice pilaf according to box instructions. To plate, add rice pilaf, peppers, onions, and chicken sausage to a bowl, and top with dijon mustard. 
Peanut Sauce "Stir Fry"
Servings: 2
Credits to my roommate for inventing this unbelievable peanut sauce and meal idea all together. If you like the peanut taste of pad thai, then this will be a new meal staple for you. This takes about 10 minutes to make, contains very few ingredients, and is perfect for a quick lunch or dinner.  
Ingredients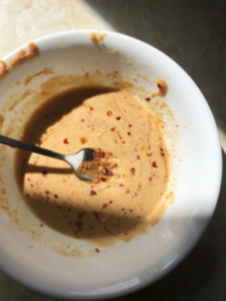 1 bag of cauliflower fried rice (Trader Joes)
2-3 boneless chicken breasts (or pre-cooked chicken) 
Creamy peanut butter 
Crushed red pepper flakes 
Chilli lime seasoning (Trader Joes)
Salt 
Pepper 
Garlic powder (optional)
Steps:
In a medium skillet, cook the cauliflower fried rice according to package directions. While this is cooking, make the peanut sauce. To do so, add about 2-4 heaping spoonfuls of peanut butter and water into a bowl. Heat in the microwave for about 30 seconds. (This is all eye-balling the measurements, so add a little water at a time.) You want this mixture to be creamy and thin. Add a generous amount of chili lime seasoning, red pepper flakes, salt and pepper. Put to the side.
If using pre-cooked chicken as I did here, just heat on the stovetop or the microwave. If using raw chicken breasts, cut into small cubes and place in a small skillet on the stovetop with olive oil, salt, pepper, and garlic powder. Cook until lightly browned. Once the cauliflower rice is done, add that to a bowl with the chicken, and top it with the home-made peanut sauce. It'll taste just like you are out to eat.
All taking 30 minutes or less to make, I hope at least one of these recipes caught your eye. Each recipe is filled with delicious and nutrient-dense ingredients that will leave you feeling satisfied and proud of what you made. 
Email Madison Bethune at [email protected].