Five safe fall activities to do around Amherst 
With these outdoor activities, you can still enjoy the fall season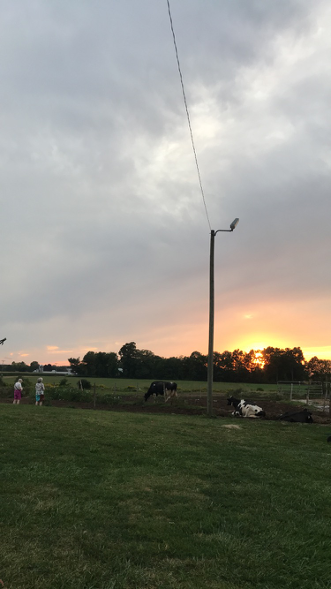 Fall has arrived in Amherst, which during normal times, would usually mean the arrival of a plentitude of fall activities including tailgates and other on-campus activities. While these events are unfortunately not occurring this year as a result of the pandemic, you should still take advantage of the season and its many offerings. If you're looking for outdoor activities that will help you escape the monotony of Zoom classes that are keeping you cooped up inside, there are a number of things to do near Amherst that are perfect for enjoying the fall weather.
1) Hike Mt. Sugarloaf 
Hiking is a perfect way to enjoy the outdoors and get some exercise while you're at it. The summit of Mt. Sugarloaf offers amazing views of the Connecticut River Valley that will only get better as the leaves begin changing colors, and the mountain's location in South Deerfield is only a short drive away from campus. There are multiple trail options available including a 1.4-mile introductory hike, that is moderate in difficulty but a somewhat steep climb that begins in the parking area at the base of the mountain. If you're looking for something more challenging, the Signature Hike offers a 4.2-mile round trip categorized as "difficult" that takes you along the blue-blazed Pocumtuk Ridge Trail to the summit of South Sugarloaf and to North Sugarloaf vistas, with a return back to the parking area via Old MT Trail. 
There are numerous other trails that vary within the categories of easy, moderate and difficult, so there is a perfect hike for everyone depending on what you are looking for. In addition to hiking, the state reservation offers mountain bike trails and picnic areas as well. Depending on the trail and the time of day, you may encounter other hikers, so make sure to have your mask with you at all times in order to stay safe.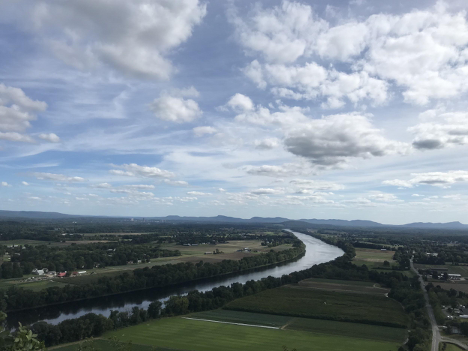 2) Apple picking 
If you're looking to take part in one of the fall's most popular activities, Kielbasa Orchards in Hadley offers apple picking four days a week. They sell by the bag—either a half bushel size (20 pound) bag or a one peck (10 pound) bag, and you are able to pick whichever variety of apple you'd like out of their selection which includes Macintosh, Macoun, Cortland, Empire and Red Delicious. The family farm is open on Wednesday from 10 a.m. to 4 p.m., Fridays from 1 to 6 p.m., and Saturdays and Sundays from 9 a.m. to 5 p.m. The farm is only a 10-minute drive away from campus and additionally boasts views of the Holyoke Mountain range. 
3) Visit the cows and get ice cream at Flayvors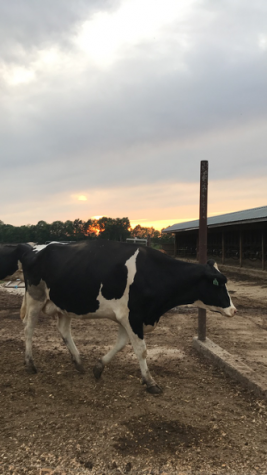 Flayvors of Cook Farm is another must-visit as it combines two of life's greatest pleasures: ice cream and cute cows. Located in Hadley on South Maple Street, the family-owned farm is home to many Jerseys and Holsteins—the dairy cows whose milk is used to make their ice cream. 
While the farm has been owned by the Cook family since 1909, Flayvors opened back in 1998 and has continued to serve ice cream and sell dairy products since then. Open from 11 a.m. to 6 p.m., their stand is open for window service to purchase ice cream and any of their other products while the inside remains closed due to the pandemic. Ice cream never goes out of season, but the window for indulging in ice cream while outdoors is admittedly closing fast as the colder weather approaches, so the sooner you visit the better! 
4) Go for a ride on a ValleyBike 
Another fun activity to try is going for a ride on one of the ValleyBike electric bicycles that are interspersed around Amherst. The bikes cost only $2 to rent if you select the pay-per-ride option, but you can also pay $6 for a 24-hour pass. While you do have to dock the bikes every 30 minutes to avoid fees, they are super easy to use as you can cruise up hills and along the road or trails with minimum effort, and without the usual sweating and panting that pedaling by yourself might entail. There are many options for places to bike throughout Amherst whether you use one of the electric bikes or a bike of your own, including around downtown, in North Amherst and the Mill district, or, albeit a little bit farther away, the Norwottuck Rail Trail and Manhan Rail Trail. 
5) Go to the farmers' market 
Fresh produce is very much in season, and there's no better place to get it than from locally sourced vendors. The Amherst Farmer's Market is open on Saturdays from 7:30 a.m. to 1:30 p.m. on the Town Common and features up to 37 vendors who sell products including fruits and vegetables, meats, eggs and baked goods. Face masks are required to enter the market and social distancing practices are being enforced, as a sequential pathway has been put in place to limit people from wandering around the vendor's stations. Attending the farmer's market is a great opportunity to find fresh ingredients that you can then use to try your hand at cooking some new recipes, especially as many of the dining halls are closed for the semester. 
Despite the pandemic, there is a lot to do in such a scenic area geared towards the outdoors, so try to get outside and enjoy the weather before the snow inevitably arrives in a few months! 
Email Christine Feeley at [email protected].