UMass Theater Department stays strong during trying times
How is the Theater Department acclimating their performances to the COVID-19 pandemic?
When students were told last March to stay home for spring break and not return it, left a lot of people wondering: "what next?"
The UMass Theater Department was hugely affected by the COVID-19 pandemic. Everything that was in the works had to be put on halt: no plays, musicals, or performances of any kind. Seniors could not put on their final show of their college career because it had to be cut short for the safety of everyone. 
However, the night before they left, the department put on a heartwarming "open rehearsal" where they performed the scenes that had been working on and could say goodby to friends before the summer.
Faculty had to adapt going into the summer. They made a virtual theatre so students could still do lighting, but online. Many people did not know what was going to happen for the fall so they came to the conclusion that some classes would become labs.
Theater Publicist Anna-Maria Goossens, described the theater classes as being very hands-on. "…When you're talking about people going into shops and learning how to build scenery, costumes, masks, props, and learning how to weld…  all of these things are kind of like labs. There's no way to learn some of that stuff that is not hands-on."
Some theater classes, like scene shop and acting, are in-person this semester. A lot of these classes are being taught outside and require social distancing with everyone wearing masks. Other theater classes are taught online, and some classes could not be offered this year.
Innovation was made though when new podcast classes were made so students could do interviews and radio shows from home. In the spring a voice-over class will be taught on how to just act with the voice.
Since many people are at home right now, it is difficult to communicate with each other. Goossens made, "The Lobbyist" to combat this. Named after the purple lobby of the theatre, "The Lobbyist" gives students enrolled in any theatre-related class to see workshops, jobs, auditions, and shows. One new segment added is the spotlight, which highlights people and their interest with quick anecdotes under their picture.
"One of the things we started doing is a little preview of spotlights of short days with people because we can't meet them in person. So, you know, let's have an opportunity to get to know them a little bit through this," Goossens said.
All performances are currently online because "it's the easiest way to plan and it eliminates a lot of the what-if's"according to Goossens.
New projects have been created from the ground up to coincide with the world that we are in currently.
"Well, we're not just going to try to stick Romeo and Juliet in little Brady Bunch boxes. We're going to invent something totally different, ….we're really creative problem-solvers in theater and I really appreciate the way all of these things are walking their talk," Goossens said.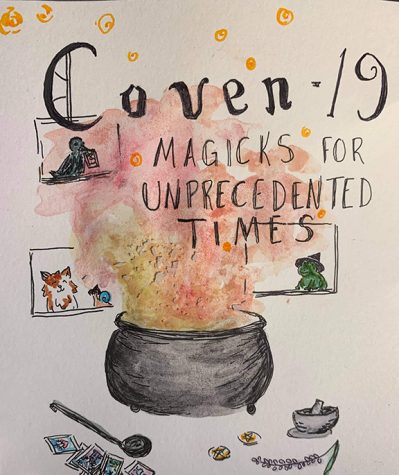 Some performances like "Coven-19" are going to be interactive and immersive, with live witchcraft, tarot card readings and the use of crystals. This show will be performed on October 29th and 31st at 7:30 pm and October 30th at midnight.
Later, the Theater Department will perform a Sci-Fi play called "Visionary Futures: Science Fiction Theatre for Social Justice Movements." This play will look into current issues that are going on in the world right now and how the future might look.
Next is "Cafe Subterranean,"another immersive performance. During this show audience members will be in an online cafe and interact with actors and actresses who are part of the resistance so that the audience can leave the experience wanting to do acts of good for their community.
Goossens reflected on the changes the Theater Department has been making this semester. "It's been a lot of, you know, raising our hopes and making plans. I guess we're all going to learn to be really adaptable at the end of this… Trying to see the silver lining," Goossens said.
To learn more about the Theater Department's season or register to see any performances, click here.
Email Ethan at [email protected].